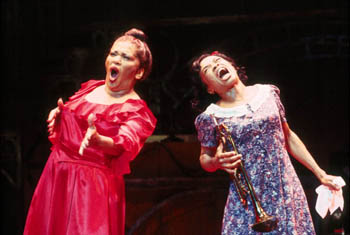 Photograph by Tom Chargin

Cutting Loose: Ann Duquesnay (left) belts out a number as Alberta Hunter with Louis Armstrong (Janice Lorraine).

A Roiling Boiling Life of the Blues

San Jose Rep lights up the life of Alberta Hunter in 'Cookin' at the Cookery'

By Marianne Messina

'LET ME SING how I feel," is Alberta Hunter's war cry in Marion J. Caffey's theatrical representation of her life, Cookin' at the Cookery. The strong forward thrust of that feisty, inexhaustible blues singer's life dominates all other elements of the current production at San Jose Rep. Though the show clearly wants to celebrate the blues, even the blues takes a back seat to the power of character Hunter evinced as she shifted careers from music to nursing and then returned to the music in her 80s. For one thing, the live four-piece jazz ensemble, visible at the back of the stage through the whole show, features only skeletal elements of the important musical evolution Hunter witnessed and sang through, choosing instead to throw the focus always on Hunter.

Thanks to Caffey's clever scripting, you get the sense that Hunter was at least two people and probably many more. The two actresses who play the young (Janice Lorraine) and the elderly (Ann Duquesnay) Hunter also play Hunter's mother (Duquesnay) and a host of other characters (Lorraine). As "Narrator" (more like storyteller, enacting characters and providing sound effects into the bargain), Lorraine and her winsome shape-shifting drew repeated applause at the show I attended.

She plays everyone from a tottering old promoter to a homely ("She looked like a horse with a hat on") pickpocket. Built like a sprite with a taut face, Lorraine even manages a convincing obese man ("Big Harry") by spreading her arms, taking wide swinging steps and mashing her chiseled jaw into her neck until she gets what distinctly suggests a double chin. And Lorraine's impression of Louis Armstrong (including trumpet parts) singing a duet with Ann Duquesnay's Hunter "stopped the show." (When she was first told, "You're stopping the show," Hunter explained to the audience, "as green as I was, I thought I did something wrong.")

By having two actresses play Hunter, and having these Hunters merge into and out of all the characters in her life, Caffey extends Hunter's personality and aura by montage. At times, there are even two Hunters onstage at the same time, as in the scene in Korea during a USO tour just after Hunter was notified that her mother had died. In this scene, elderly Hunter and 1950's Hunter blame and shout at each other for not calling home and checking on Momma.

Duquesnay's command of the Hunter character comes to a head in the final scene at the Cookery (a three-week comeback show Hunter performed in New York City in 1977), beginning when she sings the old Eubie Blake/Andy Razaf tune "My Handy Man Ain't Handy No More." Singling out her "handyman" from the real audience (the Rep had traded its optional seating space for cabaret-style tables), Duquesnay captures the frisky exuberance of the 82-year-old blues singer with winks, shifting hips and bawdy hand gestures ("Sometimes he's up way before dawn"--insert pole finger here). From racy humor, she makes a swift modulation to a bittersweet ending as Hunter/Duquesnay tells the audience, "Don't be too busy to call home," and belts out Hunter's own song, "The Love I Have for You," dedicated to her mother.

Though Cookin' may skate over some of the complexities of Hunter's long life (assigning about a 10-second quip to her closeted lesbianism, for example), a little lost depth is forgivable when the focus on Hunter's energy is so contagious.
---
Cookin' at the Cookery, a San Jose Repertory Theatre production, plays Tuesday-Friday at 8pm, Saturday at 3 and 8pm and Sunday at 2 and 7pm through Aug. 3 at 101 Paseo de San Antonio, San Jose. Tickets are $26-$66. (408.367.7255)
---
---
Send a letter to the editor about this story to letters@metronews.com.
---
[ Silicon Valley | Metroactive Home | Archives ]