---
Book a table online.
---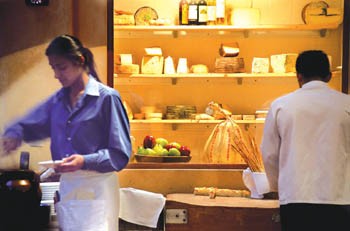 Photograph by Kingmond Young

Cheese, Please: Cetrella's expansive restaurant grounds include a cheese room, where Feta goes for a Gouda time.

Going Coastal

It's not exactly a cafe or a bistro, but Half Moon Bay's Cetrella Bistro Cafe translates to good food

By Aaron Robinson

I TRY TO refrain from judging restaurants by their descriptive titles. Nowadays, if a restaurant offers four walls and a fork, it is entitled to all sorts of exciting names, most of which sound foreign and exclusive but are misleading. A bistro, by my definition, is a small, cafelike eatery with modest décor and a menu that cultivates simplicity, using unique recipes inspired by the turns of the season. 'Cause let's face it: fresh, simple and inventive means everything.

Cetrella Bistro Cafe in Half Moon Bay may not be so bistrolike in its grand design, but the menu certainly meets the curriculum. It is not a quaint cafe, either. Cetrella is very contemporary and very big. The restaurant consists of a dimly lit lounge, a spacious dining area with window booths, large fireplaces, luxurious banquet rooms, an exhibition kitchen and, most importantly, a Mediterranean menu executed by renowned chef Erik Cosselmon (four-year executive chef at Rose Pistola in San Francisco).

Our French waiter fit the part perfectly. As he unfolded the wine list, I noticed that the wines offered by the bottle were much more interesting that those offered by the glass--testimony to Certrella's temperature-controlled wine cellar.

Because Cetrella had sold out of the poached Hudson Valley foie gras ($10), we resorted to the fritto misto as an appetizer: light battered, crispy-fried Giussti Farms artichokes, royal trumpet mushrooms, olives, zucchini and lemon joined by a mild herb aioli. Though a wonderfully rustic combination, the portion was too generous for a deep-fried starter. I almost swapped out my glass of Albarino ($8) for a beer and called it happy hour. Another appetizer read creamy corn and piquillo pepper soup ($6). There was nothing creamy about it, really; it consisted of sweet broth with whole yellow corn, diced red pepper, Parmesan and olive oil--like tortilla soup without the tortilla.

Of the two salads offered, the chopped romaine and chicory with creamy Harley Farms goat cheese dressing ($7.50) appealed to us more than the prosciutto and melon. The best part of this salad was the balsamic roasted sweet red onions draped over the top. Though the presence of the goat cheese was faint in the highly acidic dressing, the underlying nuttiness and the smoky, sour and peppery flavors of the onions made the combination totally compatible. The server even took the liberty of splitting it for us, which is always professional and appreciated.

Our afternoon of cruising the coast inspired us to order seafood entrees, in particular, the wood-oven-roasted whole Maine lobster ($32) cut right down the middle and stuffed with a creamy mixture of bay scallops and bread crumbs and served with more of those crispy-fried artichokes. The presentation was beautiful, but the tail meat was dry and chewy, remedied by the lemon butter I found hidden at the bottom of the plate. Steam seeped from the cracks I made in the claws--a meat texture that proved to be what I had expect from a well-prepared lobster.

More agreeable was the mesquite-grilled California white sea bass fillet ($19) in a basil pistou with cherry tomatoes, baby carrots and haricots verts (green beans). When grilling white fish, it's often difficult to retain moisture, but the bass arrived firm and evenly hydrated. The pistou (France's version of Italy's pesto) was prepared in its more souplike version, which in this case was watery. A little added kosher salt from the tabletop wooden bowl enhanced the flavor of the pistou and the vegetables. A side of the pommes frites with green garlic ($4) would have been a great accompaniment to the bass, but we realized it a little too late.

Excitement followed the delivery of the dessert menu, which displayed some of the innovation I had expected from dinner. Chilled rhubarb and strawberry soup with sorbet ($6.50) sounded intriguing, but we went down the road more traveled and ordered the Scharffen Berger chocolate cake ($7.50) with vanilla-bean ice cream and raspberry sauce, a melting pot of gooey rich chocolate encrusted by layers of texture. We didn't stop there, though. The Crema Catalana ($6.50), a Spanish version of crème brûlée spiced with cinnamon and lemon, really nailed it. Burnt sugar, lemon, cinnamon, crispy, gelatinous--what more could you want?
---
Cetrella Bistro Cafe
Address: 845 Main St., Half Moon Bay
Phone: 650.726.4090
Hours: 5:30-9:30pm Sun-Thu, 5:30-10pm Fri-Sat; brunch 10:30am-2:30pm Sun
Full bar
---
---
Send a letter to the editor about this story to letters@metronews.com.
---
[ Silicon Valley | Metroactive Home | Archives ]