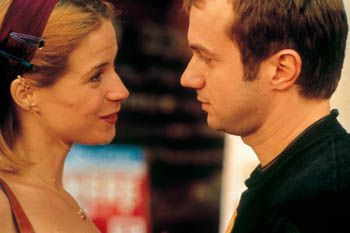 Looking for Love: Amor (Silke) hopes that Mario (Tristan Ulloa) will change his mind about getting married.

Mix and Match

Accidental encounters lead in surprising directions in lightweight Spanish comedy 'Km. 0'

By Michael S. Gant

ON HOT DAYS, really hot days, the electrical grid starts to act hinky--computer servers go on strike, fax machines sputter, voicemail detours through unknown circuits. People, too, get their connections scrambled, creating new emotional nodes where paths intersect unexpectedly. Such is the charming premise of the Spanish comedy Km. 0, directed and written by Juan Luis Iborra and Yolanda García Serrano. One blazing late afternoon and sweltering evening, 14 characters show up at Madrid's central Puerta del Sol (where the street marker reads Kilometer Zero) for rendezvous that melt away and reshape themselves into new relationships in the shimmering heat. The temperature raises new possibilities and passions in a fluid roundelay of sex and sensibility.

Young Pedro (Carlos Fuentes), hoping to share an apartment with his sister's friend Silvia (Mercé Pons), encounters a fragile prostitute named Tatiana (Elisa Matilla) instead. Miguel (Jesús Cabrero), a gay gigolo, trysts with an older woman (Concha Valasco), while his randy roommate, Benjamín (Miguel García), takes advantage of a case of mistaken identity to sex up a horny flamenco dancer (Victor Ullate Jr.). Sergio (Alberto San Juan), a virgin, arranges to meet Tatiana but ends up taking sex advice from Máximo (Armando del Río), the easygoing gay guy who missed his computer date with the flamenco dancer. Silvia, searching for Pedro, runs into (literally) a theater director, Gerardo (Georges Corraface), whose new play would be a perfect vehicle for her stalled acting career. And finally, Mario (Tristan Ulloa) and his girlfriend, Amor (Silke), get all tangled up with Roma (Cora Tiedra) and a love-struck policeman (Roberto Álamo). There's no shame in not keeping all these Madridians properly sorted out--even the press kit skipped one altogether.

The film dips in and out of the erotic adventures and frustrations of these characters with a lilting grace, bridging the free-form episodes with sprightly guitar music by Joan Biblioni. Silke is particularly amusing as the romantic-to-a-fault Amor (her nickname gives her away), who can't hang on to her wallet--or her emotions. Del Rio's Máximo, so laid-back he's practically supine, gently and effectively teases the uptight, twitchy Sergio (when he reaches under a cafe table to playfully grope his new pal, you can hear the echoes of George Costanza from the male-massage episode of Seinfeld: "I think it moved"). After a while, though, the subplots--Marga's long-abandoned child; Tatiana's makeover from cheap whore to high-priced whore; Máximo's strange transformation into some kind of real, rather than figurative, guardian angel--begin to fracture the conceit, leading to an ending that is both pat and much too freighted with uplift about the power of love. Just because the weather is sweltering doesn't mean the film has to go sticky. Km. 0 is best enjoyed if you think of it as a disposable, transitory pleasure like the ice cream cone Benjamín casts aside before teasing his date: "Now I need something else to lick."
---
Km. 0 (Unrated; 108 min.), directed and written by Juan Luis Iborra and Yolanda García Serrano, photographed by Ángel Luis Fernández and starring Concha Valasco, Silke and Georges Corraface, opens Friday at the Towne Theater in San Jose.
---
---
Send a letter to the editor about this story to letters@metronews.com.
---
[ Silicon Valley | Metroactive Home | Archives ]