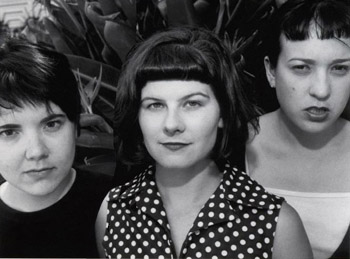 Photograph by Pat Graham

Cool Schmool: Bratmobile reunited at the first Ladyfest and will play this one.

Three Times a Ladyfest

Ladyfest Bay Area celebrates feminism from a DIY perspective

By Traci Vogel

CROUCHED BEHIND a large pool table, three spiky-haired punk-rock dykes keep doing a my-foot's-asleep jig that makes them look like leprechauns in slow motion. It's a warm night, and the bar is packed, but no one is willing to take their eyes off the stage long enough to complain. The audience is enchanted. Drinks sit ignored. Nomy Lamm is playing the accordion.

Those who've seen Lamm perform will recognize what might cutely be called the "Nomy Zone." It has to do with her innate stage presence, which has to do with her physicality (she's a large lady with one leg, kohl-rimmed eyes and a deep vaudeville singing voice), but it also has to do with something that defines all successful underground art. Something that is hard to put into words, probably because it's that dreaded thing: an aesthetic.

This indefinable DIY thing, which in no way will I attempt to define, is what Ladyfest is all about. "What six words do you use to announce yourself to the world?" is how Ladyfest participant Thea Hillman poses this question in her kick-ass book-length prose poem Depending on the Light (Manic D Press). Hillman's proposal--if you could only use six words, which would you choose?--highlights the underground artist's problems with multiplicity, with definition and with otherness in ways that simple theorizing cannot.

Born in Olympia, Wash., in the summer of 2000, in, yes, the capital of all that is riot grrrl, Ladyfest is a volunteer-organized groundswell of "music, art, performance, workshops, films, adventures, debates and laugh-until-you-cry or pee-your-pants-style fun," as the original mission statement puts it.

Some of the artists slated to appear in the upcoming Ladyfest Bay Area are making the road trip from Olympia--including Lamm herself--but the roster also includes local favorites the Donnas, Tribe 8, Bonfire Madigan, Bratmobile and Michelle Tea. Don't miss out on the workshops offered, where politics and art get up close and personal.

Here is a brief and highly biased list of picks.

Music

All-Girl Summer Fun Band
Every bit as fun to watch as its name implies, this pop band composed of four ladies from Portland got picked up by K Records because--believe it--its lo-fi summer jams are tight.

The Bangs
Juicy punk from Olympia, with a guitar that recalls '80s metal and a lead singer with a voice like Blondie. Have toured with Sleater-Kinney.

Jody Bleyle & Kate Schellenbach
Any chance to see ex-Team Dresch and ex-Hazel drummer Bleyle sweat on stage should not be missed. She teams up with Schellenbach, she of ex-Luscious Jackson, ex-Beastie Boys fame.

Film and Video

Miranda July
Performance artist July seems to approach film as if it were a large sheet of fabric she can cut up and fashion to her will. Her last film, The Swan Tool, did in fact literally flow around her, as the camera moved through office cubicles while July stood in front of the screen, interacting. She debuts her newest, The Drifters.

MadCat Women's International Film Festival Retrospective
For the past five years, the MadCat Women's film festival has been showcasing underground women filmmakers, and here director Ariella Ben Dov winnows down a selection of favorites. Includes Lyn Elliot's Cars Will Make You Free and Erica Cho's animated short Kimberly Bahp Makes Sushi for Two.

Visual Arts

Dame Darcy
One dark and full-moon night, comix artist (and doll maker) Dame Darcy discovered the wormhole that somehow connects goth, Victoriana and feminism, and it's a weird and wonderful place, with lots of bloody lace.

Performance Art

Erika Lopez
I once heard Lopez read a personal monologue about waiting at the welfare office, and it made me laugh until I cried. And I'd always thought that was a cliché.
---
Ladyfest Bay Area 2002 happens July 24-28, at various San Francisco venues. See www.ladyfestbayarea.org.
---
---
Send a letter to the editor about this story .
---
[ Silicon Valley | Metroactive Home | Archives ]