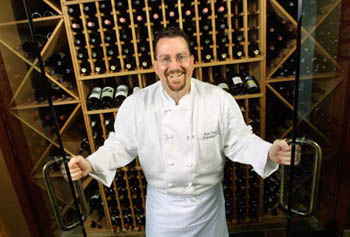 Photograph by George Sakkestad

Come On In: Executive Chef Kent Paras cooks with the exacting attention to detail that's evident in the décor of this Los Gatos establishment.

Rites of Primavera

Sophistication and the Italian countryside meet in the stylish Los Gatos installment of Cafe Primavera

By Christina Waters

CLEAN LINES, inventive accessories and earthy colors are turning up in many smart dining rooms, from A.P. Stump's to Spivac's. Add to the list the inviting Cafe Primavera, whose Los Gatos incarnation is very easy on the eyes. Stonework and brick create an elegant alfresco dining area, while indoors plush upholstery is matched by stunning chandeliers and some of the handsomest chairs in the South Bay. A veritable Antarctica of white linens and impeccably chosen roses continue the exacting attention to detail. It was a spectacular setting for what turned out to be equally appealing food.

It was past Bianca's cocktail hour and she was growing petulant. A generous pour of Kenwood Old Vine Zinfandel '99 ($8) quickly fixed that; for me, a plummy Benzinger Pinot Noir '98 ($9) to go with my first slice of a wonderful walnut-studded bread. Our server was attentive and helpful (although by the height of the dinner hour he appeared to be overextended). Heavy flatware, square white plates, hand-blown glasses for sparkling water--lots of care has been given to establishing a luxurious tone for this third member of the Cafe Primavera family.

An abundance of small summer greens arrived at Bianca's place, shimmering in a refreshing sherry vinaigrette and topped by an oblong house-made cheddar cheese cracker ($6). My Fritto Misto ($8.50) could have been shared by most of the NFL. A cloud of crisp calamari rings topped tempura-batter green beans, yellow yams and wonderful fennel. While the vegetables were warm and oh-so-lightly glazed with crisp batter, the calamari appeared to have been cooked at an earlier time. A drizzle of saffron aioli applied ample kick to this attractive dish--most of which was later boxed to take home.

When the opportunity arises, I seldom pass on a chance to eat quail. The mixed grill special ($29) offered a roasted quail stuffed with a truffle mousse (be still my heart) surrounded by a corona of sliced crimson venison in a Queen Anne cherry sauce over a crunchy, saffron-laced risotto cake. It was absolutely as good as it sounds. Sweet, salty, crunchy, satiny--luscious contrasts galore. The velvety venison was joined by grilled baby asparagus. Tender and delicious, the game bore not a trace of fat. Our red wines had opened to full flower to match the main dishes. At the new Cafe Primavera, smart presentation--highlighted by expert choice of ingredients as well as visual allure--matches the smart surroundings. Bianca's entree of fresh local salmon ($19.50) arrived crusted with a thick lattice of potato and chives on a plate prettily divided into two colorful tomato coulis, a yellow and a red. Beached, as it were, on a shore of fresh spinach, the salmon tasted sumptuous. The presentation, however, which did nothing to erase our impression of a large loaf of potato bread, should be rethought. A bit of downsizing, perhaps. Or even better, simplifying the entire fish-and-potatoes concept back to basics. Why not a moist slice of grilled fillet, joined by potato galette, or gratinée. As it was, the salmon appeared to have been smothered in a potato quilt.

Cafe Primavera desserts are designed to seduce. We applied ourselves to a stunning example in the form of Cosmic Chocolate Gateau ($7)--which turned out to be a substantial triangular creation of multiple chocolate layers filled with an unusual and tart crème fraîche mousse. A scoop of dreamy vanilla-bean gelato and pool of sauce anglaise joined the chocophiliac's fantasy. Bianca was beaming even though it was so rich we could only manage a few bites, and I found the tart mousse an uneasy flavor match with the ultrachocolaty ganache. Again, in this case, less would be more approachable. A smaller wedge of cake, and a larger scoop of gelato. An accompanying decaf espresso formed the perfect finish to a surprising and memorable meal. There will be more visits to Cafe Primavera in our future. Yours too, I predict.
---
Cafe Primavera
Address: 15970 Los Gatos Blvd., Los Gatos
Phone: 408.356.4902
Hours: Dinner nightly, 5:30-9pm, until 10 on weekends; lunch Mon-Fri, 11:30am-2:30pm
Private banquet room
Entrees: Moderate-expensive
Executive Chef: Kent Paras
---
[ San Jose | Metroactive Central | Archives ]