House Rules

Silicon Valley's hottest club DJs

By Genevieve Roja

Photographs by George Sakkestad and Sebastian Widmann

It's a balmy Thursday night and the party whores at The Velvet Shop are nowhere near must-see TV. They are busy navigating their Vans and Skechers around the wooden floors of Waves Smokehouse and Saloon, the site of one of the busiest Thursday night parties in the Valley. Downstairs, DJ Mark Johns shepherds his flock of pacifier-sucking kids, serving up beat-beat-beat in a fine dish of deep house. Upstairs, people in European-label clothing commiserate among broken glass pints and house music brewed by DJ M3. The scene could almost qualify for a latter-day Jane Austen scene, with the upstairs terrace shrouded in leafy branches and white Christmas lights. Except that the music being spun isn't soft or lilting enough to woo a young lady, but brash and peppery. With one eye on his turntables, hands leafing through his record collection, a shoulder to his earphones, and another eye on the two San Jose police cars parked in the narrow alley of Post Street, M3 is working hard enough to ensure this crowd returns.

This is the goal of every DJ and club promoter in the county: haul out the big production, provide pumping music and make the crowd--as if jonesing for heroin--ache for more.

San Jose and the rest of the South Bay may be known more for silicon rather than vinyl, but that notion is changing. Several cadres of underground and mainstream DJs are promoting parties and developing loyal followings at venues both cavernous and miniscule. And though it takes time for the crowds to catch on, they do. The Velvet Shop--run by M3 and partner Johns--went through five locations in six-and-a-half years before it became a success. Word of mouth has dragged in some of the best DJs the industry has to offer. Johns and M3 have already hosted several guest DJs from the motherland of house: Europe.

Surprisingly, house music has its roots here in the United States, when disco didn't die, but rather, went underground. Two popular clubs--Chicago's Warehouse and New York's Paradise Garage--sprinted to the forefront of the new post-disco scene and are acknowledged as the forebears of today's house and garage. The two clubs were so influential that even the term "house music" is actually coined after the music played at the Warehouse. Today there are several incarnations and interpretations of house music, like electronica or trance. It remains however, the term the world uses to define its party anthem.

Each party, each venue, each DJ in the Valley is as diverse as the population, spinning house, hip-hop, soul, garage, reggae, drum and bass and more. And while San Jose hasn't reached the echelon of entertainment that San Francisco has, it does have enormous potential. This fact could be attributed to the rise and fall of several venues downtown, such as Oasis in the '80s or F/X in the '90s. That dearth has given birth to creativity, inspiring club promoters to doctor other locales, in bowling alley lounges like Fourth Street Bowl or in rib joints like Waves. Given their unique dispositions, dance parties and venues--like other South Bay bars and clubs--have their restrictions, meaning there is the proverbial 2am closing time and no after-hours clubs. Keeping that in mind, Solid Grooves Records owner Harry Haryanto suggests partyers head for the clubs earlier, instead of strolling in two hours before last call.

All these nuances of finding the ultimate party, like the gang in 'Go' or the more recent 'Groove,' have their price. With such limiting hours, Valley residents stay here on Mondays, Tuesdays, and Thursdays--the bigger house nights--and quickly jet to the thriving scene in San Francisco during the weekend. Some DJs who were formerly based in San Jose, like M3, have discovered that having a San Francisco zip code has proved its worth in terms of marketability, respectability and star quality. Other club promoters of house music are fighting for more progressive music while battling the cover band disease that at times runs rampant in the Valley. Some clubs in the South of First district like Fuel and Agenda are trying to erase memories of awful cover band renditions of Clash songs by providing European-style clubs like Mountain View's Lime Light or Santa Clara's BackBeat. And local radio stations are turning out house and trance that isn't reserved for the vampire time slots, thus spreading the gospel to the masses.

"People like David Garcia (of 95.7) and St. John (of 94.9) really blow the electronica up on their shows," says Marco Traversa, vice president of Cool World Productions, which promotes raves and DJs nationwide. "These guys are doing a great job on their programs in marketing the music to the kids."

Traversa is confident that house and electronica will triumph, adding that it is music's face for 2000, much like hip-hop was in the late '80s and '90s. The popularity of electronic music lends itself to its transcendental quality. With sparse lyrics, music-beats pump life into dancing bodies.

"It's based on a very positive energy," Traversa says. "It's about camaraderie, everyone having a good time."
---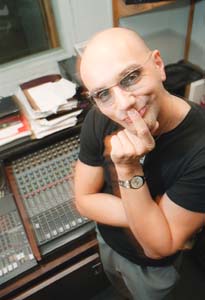 Photograph by Sebastian Widmann
DJ Julius Papp
---
Where to hear him:
Release, ;at 1015 Folsom, San Francisco 415.431.1200; Saturday nights.
Evolution, 550 Barneveld, San Francisco 415.579.2000, Fridays once a month.
Fuel, 44 S. Almaden Ave, San Jose 408.295.7374.
The Backbeat, 777 Lawrence Expressway, Santa Clara 408.241.0777.
---
SPORTING A SHAVED HEAD and wearing amber-tinted sunglasses, DJ Julius Papp is working like a schizophrenic at The BackBeat in Santa Clara. With one hand on his earphones and another on the mixer, Papp lets the music fade in and fade out several times before hauling it back in. He's eyeing the crowd and teasing their ears. The beat becomes louder, deafening, thumping with bass. It's the kind of bass that makes your teeth grind and, tonight, the kind that ropes the barflies onto the dance floor, giving their appreciation by pumping their fists and releasing rebel yells.
After his gig, he joins the throngs now squirming and shimmying among the other Thursday die-hards. Papp sways his head to the music, spins, and manages to greet some fans. At 39 years old, Papp is a man in love with his beats. Originally from Montreal, Canada, Papp grew up on disco, the forefather of house, he says.
In 1987, he scored his first club gig at Oasis in San Jose, where it was difficult to play, especially with modern rock's popularity. Now, Papp is a wanted spin doctor, rarely staying in his home base in San Jose. Like other successful DJs, he travels to Europe and guest spots at several clubs in San Francisco, and occasionally at Fuel and BackBeat in the Valley. For six years, he's been producing and remixing for other DJs. He has also produced several of his own CDs on U.K., French and U.S. record labels. He is largely credited for introducing techno to the area.
"House has survived," he says. "House has stayed true, and it seems to outlast every trend that comes and goes. It's appreciated still."
By the look of the congregation gathered tonight, the beat will live on, provided that Papp will guide them.
"I try to take them on a ride musically," he says. "The object of the game is being connected to the crowd. They appreciate you at the right time; they react at the right time."
---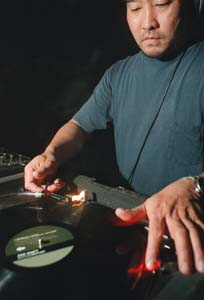 Photograph by Sebastian Widmann
DJ Harry Who?
---
Where to hear him:
Pleasure at Agenda, 399 S. First St, San Jose 408.287.4087; Tuesday nights.
Bad Puppy at Cactus Club 417 S. First St, San Jose 408.491.9300; once every 2-3 months.
---
WHO IS Harry Who? That's like asking, Where in the world is Carmen Sandiego? It depends on whom you ask. Among underground DJs, he's their number one musical source. He's the owner of Solid Groove Records at 2271 The Alameda in Santa Clara, and a hell of a partyer. Mention Jagermeister in any sentence or anecdote, and he has your attention. He'll tell you about his Jagermeister paraphernalia, his moosehead and foggy mirror. He'll tell you about the time he DJ'd at a club in Tahoe. Everyone had been drinking Red Bull energy drinks and Jagermeister. He says it smelled like "bad farts" all night long.
Harry Who? is comfortable and comical about everything, but when it comes to his true passion--music--conversation flips to serious. He began collecting records when he was a kid. His mother was a dancing teacher, so he was exposed to everything: classical music, jazz, blues, rock and roll, disco. Before moving to San Jose to earn his master's degree in computer science, Who? made mix tapes for friends in England. He'd hybrid radio and tape recordings--all without a mixer. He heard electronic music for the first time in the U.S. and fell in love with the sound. He met DJ Spun at F/X and then Who? started spinning there too.
"That's the one that made me nervous," says the San Jose resident, who is Indonesian. "I had to take a couple shots of whiskey and say, 'Okay, I'm all right now.'"
Listeners will recognize his sounds as either deep house or jazzy, with a sprinkling of vocals and a funky little beat. When asked how Harry got his name, he says some random guy belted it out at a club--Harry Who? Harry Who?--and the name stuck. At 40, he's easily the granddaddy of house in terms of saturating the area, along with Julius Papp.
"I just play what I like," says the former multimedia employee. "Music is always evolving ... that's what I try to keep--the best of the past, and I adopt a new sound to it."
---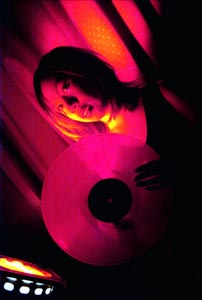 Photograph by George Sakkestad
Special K
---
Where to hear her:
Agenda 399 S. First St, San Jose 408.287.4087; Monday nights.
Fuel 44 S. Almaden Ave, San Jose 408.295.7374; Thursday nights.
---
TALK ABOUT OBSTACLES. DJ Special K--also known as Kharen Taculog in the non-DJ world--broke in, dug through and crashed down into the confines of her brother's room for a midnight sneak scratch. She had progressed from making mix tapes and sensed opportunity's door opening. Except the shitty thing was that, most of the time, the door was locked.
"My brother didn't want me to touch his stuff," Taculog says. "I put a ladder on the roof and dropped down though the attic. But he started to rearrange the room, so one time, there was no way to land."
Once in, she had "no clue" what to do, doing this and that. Then, a break in the storm.
"I put two beats together," says Taculog, who grew up in a town called Cagayan, virtually a jungle, in the Philippines. "I said, 'Omigod.' I did that mix for about a month. That was crazy."
Despite her musical epiphany, a growing vinyl collection, and casual DJ stints at parties, Taculog--a fan of soul artists Al Green and D'Angelo--didn't commit full time. She was working part time, going to Overfelt High School in San Jose, and dancing with her group, Danger Zone, which would merge with the best dancers from a rival group to become Il La Del. Then, the final answer: spinning. After a co-worker at San Jose's Upstairs Records gave Taculog a nudge, she DJ'd her first party in Palo Alto, playing old school, hip-hop and soul. That exposure gave her a regular Monday night gig at Agenda, and later, a guest spot on 94.9's Chop Shop show from 2 to 5am Saturday nights. She recently came out with her first CD, "Basic Elements," a blend of old school and hip-hop, and is coming off a gig at the Peacock Lounge on Lower Haight. Taculog also plans to work in a spoken-word night called Soul Messenger in the Agenda lineup. She's lucky, she says, in terms of snagging weekly gigs and having total artistic freedom at Agenda.
"I play Sade, Zhané, Maxwell and Les Nubians," says Taculog of a typical night under her care at Agenda.
She grasps her arms as if hugging an invisible teddy bear.
"That's the perfect ending."
---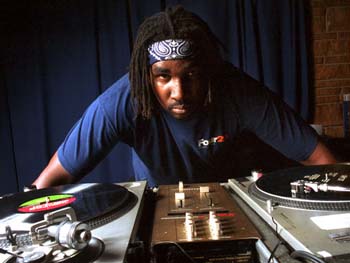 Photograph by George Sakkestad
DJ Dufunk
---
Where to hear him:
The Den at Fourth Street Bowl 1441 N. Fourth St, San Jose 408.236.2036; Sunday nights.
"Altered State" album on compact disc and the single "Hostage," with Third Sight on mp3.com.
DJ Dufunk is available for hire at 408.736.8816 or e-mail [email protected].
---
HE'S THE ONE with the dreads. He's also the one spinning hip-hop, R&B, reggae, drum and bass, and jungle in an oddity of a spot too: a bowling alley lounge. Not to say that there aren't good times to be had in bowling alley lounges, or in bowling alleys for that matter. Take Lit's video "My Own Worst Enemy," or the Grease 2 "Let's Bowl" dance number. Every Sunday at Fourth Street Bowl, DJ Dufunk reels 150 or so disciples in, playing hip-hop sounds over drum and bass. It's an art he's been practicing since he was 12 years old, when his sister's friend, DJ Flash, was visiting from Cincinnati and showcased his mixing.
"He was doing wicked scratches," says Dufunk, who is known to others as Lannie Meadows. "He was a few years older than me, rockin' with 'It's Time.' I got all excited, so I bought a Technics BL 100 turntable."
Dufunk delved into the classics at first: Grand Master Flash, Houdini, Sugar Hill Gang and Treacherous Three. At Fremont High School in Sunnyvale, Dufunk played student parties before graduating to local spots--the Omni in Berkeley, then Cactus, Agenda and Fourth Street Bowl. He's now a resident DJ for Cool World Productions and has performed at Stanford University, and Maritime Hall in San Francisco, and will be performing at Cyberfest, which takes place July 22 in Fresno.
He's also part of two underground hip-hop groups: Third Sight and Darc Brothas Production, which is based in San Jose. Many of the members are Dufunk's friends. And despite his roving DJ commitments, Dufunk still does regular and company parties, and weddings. And, he still keeps his day job, working in office services at Sandisk in Sunnyvale.
He says he'll stay in Sunnyvale for now, instead of migrating to San Francisco. Any kind of move could potentially be painful, with over a thousand records filed and alphabetized on five shelves on one wall of his house. It's doubtful he will every let any member of his prized collection go, especially when he's got ears to baptize.
"I bring [the crowd] as far back as they understand," says Dufunk, 29. "Last Sunday I brought something that was made in '87. I play stuff like Main Source, but I do that often. I'm not shy at doing that."
---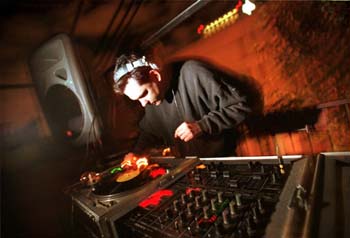 Photograph by George Sakkestad
DJ Spun
---
Where to hear him:
On the EP "Get on Up," Siesta Records.
Into the Sound at Rawhide, 287 Seventh St, San Francisco, between Folsom and Howard 415.621.1197.
The Top 424 Haight St, San Francisco, between Webster and Fillmore 415.864.7386.
The Velvet Shop at Waves, 65 Post St, San Jose 408.885.WAVE; Thursday nights.
---
CALL IT HIS musical upbringing that guided him to the forefront of the electronic landscape. He was a punk rocker back in the day, playing at age 14 with Ribzy, a band that once opened for well-known punk establishments Dead Kennedys and Social Distortion. He progressed to hip-hop, then drifted into house, soul, acid jazz and techno. His first regular stint was at F/X nearly a decade ago. Asked how he arrived at house, Spun--a resident DJ at The Gathering, one of the Bay Area's largest raves--says he wanted a new musical challenge.
"I was into jazz and into rap and all that," says the man also known as Jason Drummond, a Willow Glen High School graduate and Willow Glen resident. "But I started to get bored with punk rock. Musically, we had taken it as far as we could go. I related to some of the messages in hip-hop music. I saw it as a medium for expression in this counterculture."
As time progressed, he moved toward house, but crowds at F/X were demanding, always pushing for Top 40. Hip-hop didn't appeal to them, but somehow house did.
"You could play two hours of brand new [house] music and people would love it, whereas you play two hours of hip-hop, and people would jump down your throat."
These days, it all comes off without a hitch.
"It's nice to have the musical freedom to play," says Drummond, 30. "You can still incorporate hip-hop, jazz, soul music, and kind of have it come together as one. And the vibes are so great."
---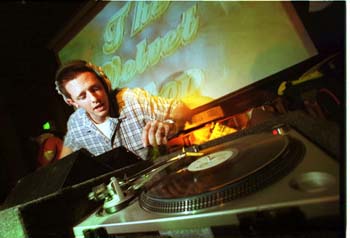 Photograph by George Sakkestad
Mark Johns
---
Where to hear him:
The Velvet Shop at Waves, 65 Post St, San Jose 408.885.WAVE; Thursday nights.
---
A DJ NAMED SPUN showed Mark Johns the way. Spun was playing at F/X, now The Usual, and Johns wanted to be a disciple. In 1991, he sold his guitar for some turntables, and hasn't stopped mixing. In addition to spinning at The Velvet Shop, Johns, 30, creates the trippy visuals projected behind the DJ table downstairs. He did the visuals, computer animation and digital mixing on six screens at Quest, a massive rave held over the July 4 weekend at the Santa Clara County Fairgrounds. He's helped fellow DJ M3 establish a six-and-a-half-year-old venue, which began at Selections, a lesbian bar (now T's Cabaret) on Old Oakland Road. They moved to Fourth Street Bowl, then Agenda, Hi-Fi Lounge (now VooDoo Lounge), and finally Waves.
Thanks to Johns' blend of deep, soulful house--even some bossa nova for the ladies--the joint is newly crowned Waves Sweathouse.
---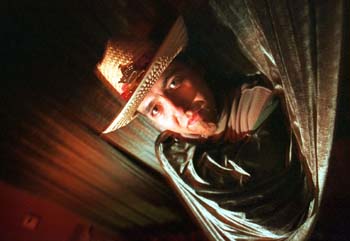 Photograph by George Sakkestad
M3
---
Where to hear him:
The Velvet Shop at Waves, 65 Post St, San Jose 408.885.WAVE; Thursday nights.
Tops of the Pops at the VooDoo Lounge, 14 S. Second St, San Jose 408.286.8636; Sunday nights.
26 mix 3024 Mission St, San Francisco; every second Saturday of the month.
Discover at Ruby Skye, 420 Mason at Geary, San Francisco, 415.693.0777; one Wednesday per month.
M3 is also available for hire. Contact him at [email protected].
---
M3'S DJ PHILOSOPHY IS simple: hit 'em with the offbeat. That's why it's not so unusual to hear a Thompson Twins B-side single laced with happy bass beats at Waves Thursday-night house party, The Velvet Shop. Not to say that his DJ influences are taken entirely from the decade of jelly bracelets and Ricky Schroeder. It just makes for a humorous repertoire of music and showcases his personal tastes.
"I like all kinds of music," M3 says. "I play stuff that's obscure, that's old, or everything else that's been made within the year. Basically the down-tempo, disco, house music."
Manny Alaserez, also known as M3, is a local boy, with roots in San Jose, Saratoga and Campbell. In the lean days, he lived in downtown San Jose before landing gigs in San Francisco, where house was being promoted and celebrated. He's now living in South San Francisco.
"I lived in downtown for forever, a century. I was just traveling everywhere, anywhere, and came back to San Jose and said, 'Okay, time to move.' It's hard to make a living as a DJ in San Jose."
Alaserez began his career not as a DJ but as a promoter, which he still is. In 1990, he turned tables at F/X, now The Usual, taking a break after a year. About four years later, he bumped into Mark Johns, who was doing visuals, and brained a regular party that would later become The Velvet Shop. In 1996, he devoted himself to the DJ scene full time. Today, he's released two records, including the EP Wig. The single "Soul Section" was listed in the DJ Music Chart's Top 20 in Spain. He's already well-traveled, spinning at parties in Spain, Prague, London, Germany, Hawaii and an upcoming trip to Turkey. To top the list, he owns a small label called Green Gorilla Recordings.
[ San Jose | Metroactive Central | Archives ]