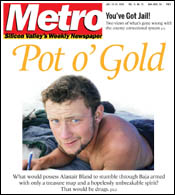 For the Week of
July 20-26, 2005
Cover Story: Pot O'Gold:
What would possess Alastair Bland to stumble through Baja armed with only a treasure map and a hopelessly unbreakable spirit? That would be drugs.
News: A Tale of Two Jails:
Our cover story on the county Department of Correction touched a nerve in this community, and the response revealed two very different—but critically related—views of the jail system.
The Fly: Hey kids, reading is fun! But giving you a place to do it is a different story.



Silicon Alleys: Counterculture A.D.
Techsploits: Cyber Heroes!
Rev: Your Gas Station: Although the Chavez plan has been mocked by conservatives who urge that Venezuela should build relations with the United States, I would argue, why should he?



Mining the Image: Edward Burtynsky's photographs at Stanford depict ravaged but strangely compelling landscapes.



Marital Misgivings: Ingmar Bergman revisits the crime-scene marriage of Johan and Marianne in 'Saraband.'
Wheel Works: Wheelchair athletics are unsafe at any speed in documentary 'Murderball.'
St. Mac Daddy: Sundance favorite 'Hustle & Flow' is sexist in every sense of the word.
Clone Bores: Director Michael Bay sucks the soul right out of 'The Island,' a sci-fi clone tale.



Rock of Lamb: Lamb of God brings its 'pure American metal' to the Shoreline.
On Her Own: Missy Elliott dishes up 'The Cookbook.'
Bach by the Beach: The Carmel Bach Festival kicks off its 68th season with a night of Johann and Ludwig.



Nice Package!: Savoring South Bay dumpling houses.
Live Feed: Silicon Valley Gets Schooled.
5 Places to Love: Restaurants Near the HP Pavilion.



Elvis Is in The Building: San Jose Stage Company brings Elvis back to life in 'Idols of the King.'



Please don't forget to write! Metro welcomes letters. Like any great work of art, they should be originals — not copies of letters sent elsewhere. Include address and daytime phone (for verification purposes only). Letters may be edited for length and clarity or to correct factual inaccuracies known to us. Postal: Metro Letters, 550 S. First. St., San Jose, CA 95111. Fax: 408/298-0602. Email: letters@metronews.com. Emailers, please include name, city of residence and phone number. Letters printed will list email address unless otherwise specified. Letters to the editor are not currently published in the online version of this paper.