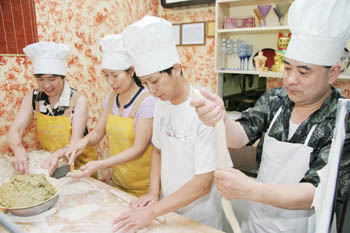 Photograph by Felipe Buitrago

Tong Is Right: Is that a dumpling, or are you just happy to see me?

Nice Package!

Savoring South Bay dumpling houses

By Stett Holbrook

I'D PUT dumplings up there with meatloaf and grilled cheese sandwiches for sheer comfort value. Most cultures feature their own version of the little doughy bundles. Russia has pelmeni. Italy makes gnocchi. America has its chicken and dumpling soup. But for me, China and Japan own the dumpling category. Served either boiled, steamed or fried, the slippery flour wrappers give way to a burst of flavor and juices and a steamy filling. A dribble of soy sauce or black vinegar enhances the experience. Hungry for dumplings, I went on a Silicon Valley dumpling tour.

Most Chinese restaurants, especially those that feature the wheat flour instead of rice cuisine of northern China, feature several versions of dumplings and their wok-fried kin, the potsticker. But a restaurant that specializes in dumplings is something of a novelty. So when I heard about San Jose's Tong Dumpling Pot, I made haste.

Set in a suburban mall on the corner of Bollinger and Miller roads, the cluttered little storefront is dumpling heaven. The menu features pork dumplings, beef dumplings, chicken dumplings, vegetarian dumplings and dumpling soup. Each day there are several specially featured dumplings as well as a freezer full of more variations. The restaurant also serves several good side dishes such as the green onion pancake ($2.25), egg rolls (95 cents) and tofu-egg porridge (50 cents).

All dumplings are handmade on the premises, sometimes while you watch. After making a batch of dough, a nimble-fingered woman rolls out the dough in a thick roll and then cuts off walnut-size pieces with a cleaver. She then rolls out the dough into a flat dish and fills it with a minced meat and vegetables, using a wooden paddle to shape and close the little package. I tried the pork with squash ($5.95 for 12) and the beef and celery ($5.95 for 12). The dough of the boiled dumplings was wonderfully silky and light. Inside, the fillings were fresh and juicy but a bit mild flavored. I would have preferred more fresh ginger to liven things up a bit. Eating 24 dumplings by yourself is not recommended. I ate about a dozen before I called it quits and decided to take the rest home. By the next day, they had grown soggy and weren't as good. Best to grab some frozen dumplings if you want to eat them at home. Check them out at tongdumpling.com.

My next stop was Hana, a bright and clean new Japanese dumpling and noodle restaurant on Moorpark Avenue in San Jose, a few storefronts down from Do-Henkotsu, an excellent ramen restaurant. The specialty here is the house-made gyoza, a wok-fried dumpling. The lunch special ($6.50) gets you steamed rice, a sweet-and-sour tofu and vegetable soup and sides of steamed broccoli and stir-fried celery and onions. With their plump center, tapering ends and frilly, finlike tops, the dumplings looked like a legless stegosaurus. At least to me they did. Outside, they were pleasantly blistered, concealing a steamy, ginger-seasoned pork and Napa cabbage filling. In spite of being fried in oil, the dumplings tasted clean and light. I also tried the negi mochi ($3.50), a fried green onion pancake. It was just OK.

For my final dumpling foray, I headed to Cafe Yulong in Mountain View. The attractive, contemporary-looking restaurant is a full-service Chinese eatery specializing in Szechuan and Mandarin food. But they also feature fish and leek dumplings ($5.95 for 12), a relatively rare dumpling filling. The dough of the boiled dumplings wasn't as light and delicate as those at Tong's but the faintly sweet, ginger-flavored filling was excellent. A dip in the soy-ginger sauce made them even better.

With my belly and refrigerator full of dumplings, my dumpling tour came to an end. Now it's off for some meatloaf and grilled cheese.
---
Cafe Yulong
743 W. Dana St., Mtn. View. 650.960.1677. Open 11:30am-9:30pm Sun-Thu and 11:30am-10:30pm Fri-Sat.

Hana
4320 Moorpark Ave., San Jose. 408.255.1187. Open 11:30am-2:30pm and 5-9pm Tue-Fri. 11am-3:30pm and 5-9pm Sat-Sun. Cash only.

Tong Dumpling Pot
6184 Bollinger Road, San Jose. 408.996.0317. Open daily 10am-10pm.
---
---
Send a letter to the editor about this story to letters@metronews.com.
---
[ Silicon Valley | Metroactive Home | Archives ]