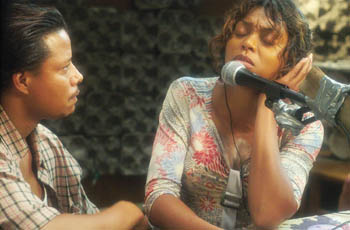 Mic Makes Right: Terrence Dashon Howard and Taraji P. Henson struggle for fame in 'Hustle & Flow.'

St. Mac Daddy

Sundance favorite 'Hustle & Flow' is sexist in every sense of the word

By Richard von Busack

AFTER BUYING an old Casio from a street wino, a dissatisfied Memphis pimp named DJay (Terrence Dashon Howard) rekindles his love for music. With the desperation of man with few options, he partners with Key (Anthony Andrews), an engineer who wires a makeshift recording studio in DJay's house. They struggle to complete a recording of crunk-flavored rap in time from the July 4 holiday. On that day, the gone-platinum recording artist, Skinny Black (Ludacris), will be coming back to his old neighborhood.

Hustle & Flow—the title sounds like an urban-marketed drain cleaner—was produced by John Singleton (Boyz N the Hood). White indie filmmaker Craig Brewer shot on 16 mm; at Sundance, it was wept over by seekers of the authentic urban movie. Brewer is no naive artist; the Tarantino love is evident in the opening monologue and in the faux-1970s typeface on the titles.

Howard's hooded yet wounded performance is star-making. His strength as an actor keeps you watching through every predictable moment. The next best thing about the film is its Memphis funkiness. The streets, bars and nightclubs look meaner than anything we've had in months: the cellulite on the worn-out go-go dancers; a girl teetering on a bar stool and letting her empty Bud bottle fall to the floor; the unnamed man swaying underneath the hot-air hand dryer in the bathroom.

But there's just one little problem. To use an old-fashioned word, Hustle & Flow is sexist. It's more than just the musical posing of the pimp—the scene of DJay trying to select a title from "Beat That Bitch" to "Stomp That Whore," before settling on "Whoop That Trick." DJay makes his hardest-working girl, the countrified, ex-lot lizard Nola (Taryn Manning), his "financial backer," in the same way that an orange vest makes a man an "associate" at Wal-Mart. Every woman in this movie learns to respect the dick: Key's argumentative, then docilely obedient wife, Yevette (Elise Neal, who is quite funny at first); Nola, who learns to not mouth off and to do what she's told; and Lexus (Paula Jai Parker), who gets herself and her trick baby kicked out for doubting Djay's calling. The pregnant Shug (Taraji P. Henson, whose heavy-lidded, half-bright sweetness reminds you of Steve Buscemi in The Big Lebowski) finds new strength singing chorus on a song about the toughness of a pimp's struggle. (I bet it's a nicer life than being a whore.) The hole in this would-be realistic movie is the question of Djay's sex life: Who is he screwing? If we knew that, we might be less inclined to believe he lives in harmony with his three-girl stable, as if they're his impetuous housemates.

The white music producer, Shelby (DJ Qualls), has an enthusiastic marijuana-fueled speech about how "Back Door Man" and "Back That Ass Up" are one musical continuum. Not hardly—one song is about a lover, and the other song is about a master. The "pimps up, whores down" message of Hustle & Flow will be swallowed whole. Few of its demographic will think twice about how Hollywood pimps them good.
---
Hustle & Flow (R; 114 min.), written and directed by Craig Brewer, photographed by Amy Vincent and starring Terrence Dashon Howard and Anthony Anderson, opens Friday at selected theaters.
---
---
Send a letter to the editor about this story to letters@metronews.com.
---
[ Silicon Valley | Metroactive Home | Archives ]