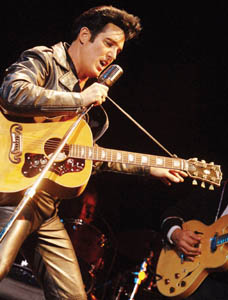 Hound Dog: Scot Bruce channels Elvis for 'Idols of the King.'

Elvis Is in The Building

San Jose Stage Company brings Elvis back to life in 'Idols of the King'

By Marianne Messina

PICTURE A lonely young woman (Lisa Recker) in a simple dress, a piano teacher living with her mama, a disembodied voice nagging from a far room: Did you let the cat out? Did you lock the doors? Patting her cat, the daughter sneaks a bottle of liquor from inside the piano, pours herself a quick shot before the voice demands to hear hymns, calling them out by number. As the daughter plays piano, a god-awful voice croaks out songs that should be sung and not heard (at least not outside the forgiving walls of a church).

Suddenly, atop a circular proscenium as big as her house, she sees a tall, slender, handsome man all in sleek black leather (Scot Bruce as Elvis Presley) singing, "I can't help falling in love with you." Behind him, star lights twinkle (lighting designer Maurice Vercoutere); he descends the staircase extending his hand toward her—he's dazzling, charming, all hers for a suspended moment in time ... sigh. This is the scene from San Jose Stage Company's new production, Idols of the King, that makes it all work, that makes you understand what Elvis meant to so many people.

The script by Ronnie Claire Edwards and Allen Crowe clearly brings out the contrast between the shabby inner worlds people make for themselves and the stellar ones they create for their heroes. For example, a cantankerous codger couple (played to type by James Reese and Lisa Recker) stay cocooned in their small-minded niggling while hiking in the Grand Canyon. In fact, Reese and Recker deftly play all the oddball characters making their way to Las Vegas for the Elvis concert. In one of his most appealing roles, Reese takes a wry, sly hand to the femme flower arranger of Pauline's Party Planners.

Coming mostly at the expense of "Southern hick" stereotypes, the Edwards/Crowe humor is not for everyone. And if you've only known Elvis vaguely as the supersized Elvis, then you might find the long parade of sad sacks, losers, trailer trash, game-show addicts and kooks the sort of geek show that crosses the line between funny and piteous. Still, there was no shortage of laughter at the show's packed opening. The cantankerous codgers were a special favorite, drawing cheers with their voices before they even took the stage.

And even if the idea of a traveling toilet (where Elvis once relieved himself) museum or a Blue Hawaii-themed wedding seems horrific beyond the willies, the show's ending mitigates the horror. In the final scene, all these characters show up at the Elvis concert. There's electricity in the air—just as in the piano teacher scene. In a brief glance or nod from the onstage Elvis, a nanosecond of Elvis' life intersects with the long emotional timeline of his fans' one-way relationships.

As Elvis, Bruce is brilliant. Yes, he looks uncannily like Elvis, has Elvis' moves down, sings in the Elvis ballpark. And he's got stunning, recognizably detailed Elvis costumes (designer Elizabeth Novak). But Bruce is good because he breaks the fourth wall in a glance; he searches with expressive eyes for connection among his California Theatre audience, and somehow Elvis comes alive.

The high-platform second stage setup is so far removed from the audience, it mutes some of Bruce's magnetic presence, which gets the Elvis mania off to a slow start. But when "Elvis" descends to take the front of the stage, the infatuated-woman screams coming from the audience are no sound effects. These are real women, in excitement that's contagious.
---
Idols of the King, a San Jose Stage Company musical, plays Wednesday-Thursday at 7:30pm, Friday-Saturday at 8pm and Sunday at 2pm (July 24) or 7:30pm (July 31) through July 31 at the California Theatre, 345 S. First S. San Jose. Tickets are $25-$60. (408.283.7142)
---
---
Send a letter to the editor about this story to letters@metronews.com.
---
[ Silicon Valley | Metroactive Home | Archives ]