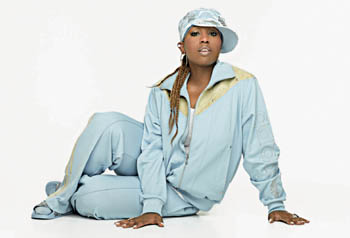 So Addictive: Timbaland produced just two tracks on the new Missy Elliott album, 'The Cookbook.'

On Her Own

Missy Elliott dishes up 'The Cookbook'

By Oliver Wang

IS THE HOT sound for hip-hop and R&B a marching band? Not that everyone is trying to jack Drumline, but Missy Elliott is clearly a fan, given that no fewer than three songs from her new Cookbook release take their musical cues from somewhere between James Brown and John Philip Sousa. For example, "We Run This" begins with a loop of the Sugarhill Gang's old-school jam "Apache," only to end with a band blaring out its rendition of the b-boy classic. However, it's "Can't Stop" that's the fourth-quarter rally anthem with its thunderous brass section and a cowbell-clonkin' breakbeat that steamrolls anything this side of Amerie's "1 Thing."

What's even more remarkable about these heart-attack tracks is that Missy's longtime studio partner, Timbaland, has nothing to do with them. You're forgiven if you just assumed he was the mastermind since, when it comes to mind-melting musical partnerships, Missy and Timbo have been the most dynamic duo since Guru and Premier, Michael Jackson and Quincy Jones, the Captain and Tennille, et al. Since 1997, they've blazed a trail with hits that don't resemble anything like one another—"Sock It 2 Me," "Get Ur Freak On," "Work It"—yet sound like nothing else except a Missy/Timbo collabo. However, for Missy's sixth CD, the former Head Knocka' in Charge produces just two songs ("Joy" and "Partytime"), neither one particularly memorable. This is a risk on Missy's part but may be the necessary gamble to validate her artistic legacy. Among R&B divas, the conventional wisdom is that most are only as crazy hot as their producers make them. To her credit, Missy has always been far more than a mouthpiece, and those who assume her hits are strictly due to Timbo's magic are instructed to pull out his records with Magoo and recognize that even King Midas Moseley can't turn everything golden.

On her own with The Cookbook, Missy has sex on the brain. Not exactly virgin territory for the salacious singer, but the mellow "Meltdown" is randy enough to make a porn star blush, and let's just say that "Mommy" isn't something you'd want to play on Mother's Day. All this sticky, sweaty sentiment might explain why Missy has more slow jams on this album than since 2001's Miss E ... So Addictive, though there are some clunkers in the batch: "My Man," featuring American Idol winner Fantasia Barrino, has insufferably corny lyrics, while "Remember When" is uncharacteristically generic. Better options include "Time and Time Again," a beautiful Sunday-in-the-park groover, and "Irresistible Delicious," a quirky remake of Slick Rick's "Treat 'Em Like a Prostitute" (complete with cameo from The Ruler himself) that adds a mellifluous marimba melody.

As usual though, Missy unwinds her tightest grooves on the party cuts. Clubs have already been pumping "Lose Control," with its electro-powered Cybotron sample (produced by Missy herself), and more recently, they've been catching on to "On & On," a Neptunes beat that sounds like the bastard offspring of a Triton keyboard and Super Nintendo console (hint: try mixing this with "Drop It Like It's Hot" and "Hollaback Girl" and be the envy of all your iPod DJ friends). Missy also flirts with crunk on "Click Clack" and dancehall hybrid "Bad Man" (more drumline!). While Lil Jon and Elephant Man purists might hate, Missy melds well with these styles without appearing like a musical carpetbagger. The Cookbook won't go down as her best effort ever. It's uneven enough to fall somewhere behind the nonstop throw-down that was 2003's Under Construction but far more memorable than last year's snoozer, This Is Not a Test. What it should cement is Missy's reputation as a creative force in her own right and not some dilettante diva who needs Timbaland as a sonic savior. For eight summers, she's been both R&B and rap's reigning queen, and this year, she's set to hold the throne alone.
---
Send a letter to the editor about this story to letters@metronews.com.
---
[ Silicon Valley | Metroactive Home | Archives ]