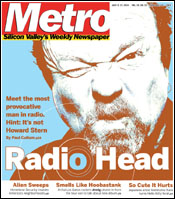 For the Week of
July 21-27, 2004
Cover Story: Hawk Radio:
Meet the most provocative man in radio: Phil Hendrie.
News: Multiplying Mayors
Under the Gonzales mayorship, councilmembers exercise unprecedented power in San Jose government.
The Fly: This week's political bites.
Here Come The Feds: Groups report rise in arrest and deportation of undocumented immigrants.



Biter: Tuning in to the 'Frasier' exhibit at Paramount's Great America.
Techsploits: The latest evolution in phone technology is 'voice over Internet Protocol.'
Rev: Biodiesel Diaries III—South America: 'I had time to wonder, "Is this car going to stop rolling? Are we rolling off of a cliff?"'



Little Triggers: Japanese artist Yoshitomo Nara's images of precocious, punk-rock children disturb and disrupt our dreams of innocence.



Meouch: Halle Berry as the feline avenger Catwoman—at least she doesn't sing 'Memory.'
Bot and Sold: Will Smith is out-acted by the robot in 'I, Robot.'
The King and I: One writer's unhealthy fixation with films about Arthur and his ka-niggits.



Delicate Crashing Juncture: The Velvet Teen and the many thought dreams of this very second.
Aural Fixation: dredg hits the road with Hoobastank to debut new material from its forthcoming Interscope release.
Club Life: Pete Escovedo's Latin & Jazz Club in San Jose.



Kick Start: A new book uses soccer to explain everything.



Hotel Minimal: An unorthodox approach gives zest to Hotel Valencia's Citrus.



Emotional Colors: TheatreWorks tackles time and red tide to mount Chay Yew's 'Red.'



Please don't forget to write! Metro welcomes letters. Like any great work of art, they should be originals — not copies of letters sent elsewhere. Include address and daytime phone (for verification purposes only). Letters may be edited for length and clarity or to correct factual inaccuracies known to us. Postal: Metro Letters, 550 S. First. St., San Jose, CA 95111. Fax: 408/298-0602. . Emailers, please include name, city of residence and phone number. Letters printed will list email address unless otherwise specified. Letters to the editor are not currently published in the online version of this paper.