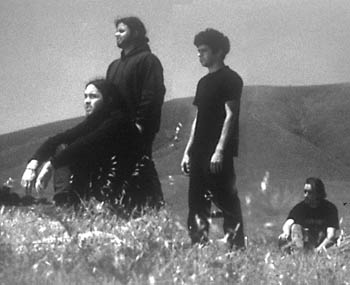 dredg's new songs explore conflict and opposition.

Studio Break

dredg hits the road with Hoobastank to debut new material from its forthcoming Interscope release

By Sarah Quelland

'WE ONLY slept like three hours last night. We drove till like 6 in the morning and then got up to drive again, so I'm a little tripped out right now," dredg vocalist Gavin Hayes says with a gentle laugh after momentarily losing his train of thought. The Los Gatos-born band is driving through the mountains en route from Phoenix to Bakersfield, where it will play its second date on a short run with Hoobastank and Phantom Planet that hits the Santa Cruz Civic Auditorium Monday (July 26) and the Warfield in San Francisco Tuesday (July 27).

For the past few months, the members of dredg (vocalist Hayes, guitarist Mark Engles, bassist Drew Roulette and drummer Dino Campanella) have been hunkered down getting the followup to 2002's El Cielo ready for release on Interscope Records.

"The whole focus has just been finishing the record and making sure that's solid," Hayes emphasizes. "That's where all our time's been going for the past five months. But we're happy with it, it's a step forward for us, [and] hopefully we'll get it out this year."

The work setting for this album was much different from El Cielo, which was written in Palm Desert and recorded in Marin County and Massachusetts. This time, they used a San Francisco studio to write, did some preproduction in Los Angeles and then headed up to Seattle to record and mix the album with Terry Date (Deftones, Limp Bizkit, Pantera). They recorded at Stone Gossard's Studio Litho, where Date also worked on Deftones' Around the Fur and Staind's Dysfunction. While they chose that studio for its comfortable and relaxed atmosphere, the members of dredg appreciated living in Seattle as well. "It's just beautiful, and it's got a great metropolitan feel to it," Hayes affirms. "I think it was the perfect environment for us this time."

While El Cielo was a concept album that explored sleep paralysis, the new album tackles themes of opposition, conflict and contradiction. "There'll be a negative and a positive," Hayes explains, using examples like addiction vs. sobriety and honesty versus deceit, to illustrate. To complement the thematic dynamics of the new record, Hayes says the music has evolved accordingly. "There's a much stronger feeling about these [songs]," he declares, describing the music is more assertive and energetic. "It has a little more edge to it than our last record." The band is still trying to settle on a title, but songs slated for the new album include "Hung Over on a Tuesday," "Ode to the Sun," "Zebra Skin," "Sang Real," "The Tan Bark Is Hot Lava" and "Jamais Vu," which means the opposite of déjà vu.

The Phoenix show was dredg's first live performance in six months, and the group was so anxious to share its new material that the only old song in the set was "Symbol Song." Hayes doesn't expect that to be the case for the home shows, and he hopes they can fit in a few old favorites in addition to a number of new songs. "If we do have fans out," he says modestly, "[we want] to give them something that is familiar and then show 'em what we're excited about right now."

The band continues to be managed by Bret Bair, who also happens to manage Hoobastank. While dredg has consistently shied away from traditional publicity, it plans to do more to actively promote the new record. Hayes says, "We realized it's still the same music; it's just getting offered to more people and allowing more people to like it, or not like it, which I think is kind of what it's about if you're going to create it."

After the Hoobastank tour wraps, dredg is taking a short break before hitting the road again. Hayes anticipates the group will headline a club tour, like it did last summer, but regardless, he expects it will play some regional dates before the end of the year. Visit www.dredg.com.

PLAN AHEAD: Mackenzie Lee and the Innocence, July 23 at the Warner Hutton House in Saratoga; Rippin' CD-release party, July 23 at the Gaslighter Theater in Campbell; Borderwars, SECURITY and the Venting Machine, July 23 at the Blank Club; Mindeye, July 24 at Waves Smokehouse; Firme, July 24 at the Blank Club; Rivals, July 25 at the Gaslighter Theater; I-Six and Red Asfault, July 26 at Waves.
---
Send a letter to the editor about this story to letters@metronews.com.
---
[ Silicon Valley | Metroactive Home | Archives ]