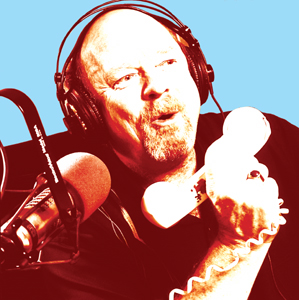 Photograph by Debra DiPaolo

Let Us Prank

In the high church of radio jokesters, Phil Hendrie plays needling priest to a clueless flock of outraged callers

By Paul Cullum
---
You can fool some of the people all the time, and those are the ones you want to concentrate on.
—George W. Bush, 2001
---
PHIL HENDRIE is coming to television. Just as soon as someone can figure out what to do with him. Much like Robin Williams when he first emerged from the improv comedy clubs of early-'70s San Francisco, Hendrie—radio dog, stellar mimic, cult avatar, metatheorist and polyphrenic zookeeper—has become something of a design problem: Everyone agrees he's the best in the world at what he does, without having the slightest idea how to translate that into film or TV.
For anyone who doesn't know who Phil Hendrie is or quite grasp what he does—and it's staggering exactly how many people still don't—he is the eponymous host of radio's The Phil Hendrie Show, now syndicated to nearly 100 stations nationwide, and airing locally on KNEW-AM (910) and Santa Cruz's KSCO-AM (1080). Broadcasting from the fifth floor of the City National Bank Building in Los Angeles, Hendrie interviews two guests per three-hour show, five nights a week, and entertains callers. When the discussions grow contentious, as they invariably do, he uniformly sides with the callers against his often contrarian guests.
The hook—the kicker, as they like to say in Hollywood—is that Hendrie does the voices of all his guests, some 40 regular characters in all, while the callers themselves are real.
So when a certain Don Parsley (a.k.a. "Don the Suicide Guy") tells Hendrie that he was fired from his job as a department-store Santa after his boss discovered he had a prison record, Hendrie is initially sympathetic. Except it turns out that Parsley ("I basically named the guy after a vegetable," Hendrie says) was convicted of armed robbery. At a mall. Well, it was a hostage situation. Involving children. Several of whom were gunned down by police. After they had been used as human shields. Well, actually, it was his own children he used as human shields.
By now angry listeners are phoning in and Hendrie is expressing disgust with his "guest." Callers vigilantly monitoring the airwaves for the first signs of threat, and not the most dispassionate observers to begin with, heatedly become invested in the material until they suddenly find it impossible to disengage.
Hendrie is aided in his deception by an almost preternatural ability to alter his phrasing, stagger his breathing, calibrate his ear for idiom and switch back and forth between voices, using nothing more than a hand-held microphone, at a speed the brain can scarcely fathom, even when you're staring right at him.
"Try this when you drive home tonight," says Jonah "Bing" Weiland, Hendrie's one-time producer and call screener. "Talk to yourself—hold a conversation with two sides. It's impossible. You can do the voice, yes, and you can answer yourself, but it won't make sense. That's the amazing thing that he can do."
This presents a unique theoretical challenge, in that the people who call in to voice their displeasure believe themselves to be the audience for a talk-radio show. But in reality, the show is merely a shill; they are the show, and the real audience is out there in the murky depths somewhere beyond the barrier reef, huge and indefinable. Counterintuitively, Hendrie doesn't make a secret of the show's central gimmick, believing there to be an infinite pool of gullible participants. He will often open the show by declaring, "It's a goof."
But that's radio. What about putting Phil Hendrie on television? Simpsons creator Matt Groening used him to voice two characters on Futurama (Free Waterfall Senior and Junior), as did King of the Hill's Mike Judge (Coach Stowers and attorney Jules Crawford). But by and large, this has only scratched the surface of what goes on inside that giant chromium head.
Which is why hopes were so high for Phil Hendrie, a Fox animated pilot, totally improvised, that almost made it into the network's 2004 fall lineup. Hendrie was set to play a radio talk-show host raising three kids in a gated community and commuting to work in the city, an urban nightmare. For the voices of his family, the producer and showrunner Steve Levitan (the creator of Just Shoot Me) scoured L.A.'s improv community. Hendrie voiced all the nonfamily characters, including many of those from his standing repertory on radio.
Levitan bowed out of the NBC pilot when the network wouldn't consider making it animated but revived the pitch when Fox was looking for an animated series. Asked for his postmortem on why the pilot wasn't picked up, Levitan aims for the high ground—after a fashion.
"I'm not going to venture a guess into the idiocy of the process," he says evenly. "We delivered exactly what we promised. I think that Phil is too fresh and edgy and funny and groundbreaking and daring, and that's probably why he can't succeed on network television."
For his part, Hendrie says he's done with pilots—at least without a guaranteed number of episodes: "That's a very wasteful process, and it's not anything I'm interested in. Our project was absolutely hysterical, and I can understand Fox being afraid of it."
Interactive Improv
Father James McQuarters from the Belmar Academy is stating his position in the dulcet tones of his native Ireland, an avuncular twinkle that soothes the soul, even as it sends up a red flag.
"As you see, now these allegations of sexual misconduct have gone off the front page, and I think are going to be forgotten—these priests have been led astray by the same demons which tried to lead our Savior astray. But it's time to forgive and forget."
"You don't seem to understand," pleads Laura on Line 1. "These people committed crimes!"
"They touched a boy," says the father. "Big wow."
"Oh, man, this guy is unbelievable."
"Laura, if you'd just pray with me. Our Father, who art in heaven ..."
"I don't want to pray with you!" Laura splutters. "I want you to understand that not everybody out there looks at things your way. You want Mel Gibson to be the pope because he made a movie!"
Laura is furious. She is flummoxed. She is beside herself—as if a member of the Flat Earth Society refused to acknowledge the curvature of the Earth simply because it did not impinge on the horizon. Her only recourse is the affable, reasoned host, who remains resolutely sympathetic, even as he gently edges her onward.
"That's a good point," Hendrie tells Laura, who has no clue where the host stops and the good father begins.
Hendrie calls what he does "interactive improv," or the more user-friendly "Mad magazine of the mind." He's often compared to Candid Camera-style prank shows—Crank Yankers , the Jerky Boys, The Jamie Kennedy Experiment, Spy TV, Jackass, Punk'd—but that really doesn't do him justice. Those shows pick their victims out of a hat—or the phone book or the National Enquirer or, with Jackass, out of the mirror—while Hendrie historically ropes in the blowhards and puffballs who imagine themselves the conscience of a media hopelessly gone to liberal seed.
He more closely resembles renegade hoaxers and media artists of the '50s and '60s like Joey Skaggs, who once placed a story about his "Cathouse for Dogs" on ABC News; Alan Abel, who staged a fake green-card wedding for Idi Amin (picked up by UPI) and whose "Society for the Indecency of Naked Animals" was once defended on The Tonight Show (by an unknown Buck Henry, no less); or Bay Area street interviewer Mal Sharpe.
Hendrie cites a host of hipster-era influences, from Lenny Bruce, whose stage patter would often employ "realistic fumbling dialogue between two completely insane people," to fearless conceptualist Andy Kaufman, to surrealist hand-puppeteer Shari Lewis.
But really, Hendrie is something like a cross between a stage hypnotist and a bullfighter: stage hypnotist because his act relies on real people who don't realize they're performing, bringing a rare spontaneity to delicately plotted comedy, and bullfighter because he shows only enough of the cape to keep the bull enraged. To turn and wave a giant red flag would be an insult—if not to the bull, who would after all just be summarily slaughtered, then to the audience gathered to judge the aesthetics of his movements. And he never, ever backs down.
"You've got to separate the callers from the audience," says Hendrie, 52, a large bald man whose Hawaiian shirt, carny's squint and the single gold hoop in his left ear suggest Mr. Clean retired to Maui.
"The audience is out there like you, like normal people," he says. "The callers are the unwitting members of the cast. And many of them think that they can control or manipulate the flow of the show simply by saying, you know, 'I had a son who died of cancer.' A lady called and said, 'My son was run over by a car, and I don't think you should be doing this.' And the character said something like, 'Oh my God, last night about 6? It was me, I hit your kid!' The butt of the joke is the person who was foolish enough to think his experience is going to be respected, just because he believes it profound enough for the world to take notice. I think the reason why a lot of people like the show is because we test the credibility of anybody who calls. We don't back off; we just push it."
"I'd put him up there with Stan Freberg, Bob and Ray, Firesign Theater, and Harry Shearer as people who have used the medium of radio to do incredibly theatrical things," says Matt Groening, a die-hard Hendrie fan who keeps boxes of old tapes on hand for his frequent commutes. "But Phil is in a league of his own, because Phil is working in the slimiest lower intestine of the medium. He's on with those yammering right-wing dimwits on KFI. And that his show completely deconstructs what the rest of them are doing every day just makes me laugh."
All of this, of course, would be so much metacritique if Hendrie weren't consistently hysterical, in a way that TV comics with 10-person writing staffs have trouble being for a 23-minute half-hour: Astrophysicist-stoner Jeff Dawder offers to drive his own excrement down to the wastewater-treatment plant; fussbudget Bobbi Dooley shoots neighborhood cats loudly having sex because cat sex should be consensual; Latin lover Rudy Canoza reports that women are helpless when seduced by the Argentine "sexual exclamation point" of repeating "lalalalalala."
Sitting in on live tapings of The Phil Hendrie Show has become something of a pilgrimage for comedy royalty: Howard Stern has been down, as have Groening (with musician David Lindley), George Carlin, Harry Shearer and Michael McKean (two-thirds of Spinal Tap) and June Lockhart (?!).
Actresses Laurie Metcalf and Glenne Headly, both gifted mimics, met Hendrie early on for a Bloody-Mary-and-mimosa-fueled breakfast that turned into lunch that turned into dinner and finally early-morning drinks, opening the gates to Hollywood proper. R. Lee Ermey called in one night to complain about a guest who claimed Full Metal Jacket was based on his life; Hendrie didn't let him in on the gag, but he did get him to do a few lines as the drill instructor. Most recently, at Aspen's U.S. Comedy Arts Festival in March, Curb Your Enthusiasm 's Larry David and Jeff Garlin enthusiastically approached Hendrie after a live broadcast, where David reportedly called him "a fucking genius."
'An Utter Failure'
Hendrie was born and raised in Arcadia in the San Gabriel Valley, east of Los Angeles, one of four children in an upper-middle-class Catholic family. His father was a salesman who made it to Los Angeles in 1950 after serving in the Canadian army during World War II, just in time for his youngest son to avoid becoming one more Canadian gift to American comedy.
By the time Phil was 12, the postwar economic boom had subsided, and his parents' marriage quickly followed suit. "In the process, my dad blew through a lot of money," he says. "He was very good at making it—my dad made a lot of bread—but he couldn't for the life of him figure out what to do with it."
After his father moved to Europe and married another woman with four kids of her own, the family home was repossessed and Hendrie spent his high school years sleeping on the couch in a tiny rented apartment. "Our home really became the House of Usher," he says, "this suburban middle-class dream just beginning to decay like Dorian Gray. Now there are weeds growing up in the yard, the swimming pool is starting to turn green and the cute little boy named Phillip that everybody used to see in the neighborhood suddenly has long hair, is smoking cigarettes and looking surly and pissed. And I learned two things: Not to trust money. And probably not to put too much faith in family either."
Left to his own devices, Hendrie was free to explore the world around him, unfettered by parental supervision. This led to his American Graffiti moment, when he rode his bike to the KRLA studios in nearby Pasadena to meet "Emperor" Bob Hudson, a Top 40 DJ whose broadcast booth was reputedly lined with exotic animal skins and populated with languid beauties who fanned him with ostrich plumes and peeled him grapes. What the 12-year-old Hendrie found instead—like Richard Dreyfuss with the real Wolfman Jack in George Lucas' coming-of-age story—was a middle-aged man in a sweatshirt and house slippers, spinning stories out of thin air.
After halfheartedly pursuing an English degree at Pasadena City College, Hendrie dropped out in the mid-'70s and made his way to Orlando, Fla., where he briefly worked construction on the burgeoning Disney World, presumably picking up tips firsthand on how to build his own magic kingdom. He landed his first on-air disc-jockey job at WBJW-AM in Winter Park outside Orlando, "spinning Robert Goulet records" at an MOR station.
This began a 15-year radio career in which he hopscotched between time zones and formats—from Orlando to New Orleans to Miami to San Diego, doing morning zoo and drive time and overnight, FM rock and golden oldies and shock jock, without his heart in it.
By the end of the '80s, he had completed what he thought was a circle, hosting his own single-guest weekend talk show on KFI, but which turned out to be merely the first loop of a double helix. When the program was canceled, he managed to find a berth on KVEN-AM in Ventura—a staid, sedate "heritage" station with a core demographic of over 50.
Ostensibly hosting a call-in show where no one ever called, he resorted to a kind of boneheaded provocation: He would present sports-trivia questions like "What professional football team operates out of Denver?" and then insist the answer was "Dolphins." Through a great deal of trial and error, much of it "extreme and experimental and tongue-in-cheek," he managed to sketch out a rough understanding of what lit up the phone lines.
"My career was an utter failure up until I got to Ventura, to be honest with you," says Hendrie. "I didn't do anything on the air I was proud of."
The tipping point, like many great discoveries, came not so much by accident as from outright boredom. During the first Gulf War, he impulsively introduced a character named Raj Feneen, an Iraqi national who counseled humility and submission on the part of the American people. Then he staged a mock "Celebrity Lettuce Picking Day" and a live, two-hour home invasion that culminated in the death of the Tooth Fairy. The retirees and veterans of Southern California went ballistic. After just 18 months, the station announced that its "brief experiment with real controversy" had not paid off. But at age 37, after two decades in his chosen profession, Hendrie finally had an inkling of what he might do when he grew up.
Four weeks later, he had a night show at WSB-AM in Atlanta. The same day he got canned from there, he was hired at WCCO in Minneapolis. Despite a plaque behind the front desk commemorating the station's many 30-year employees, Hendrie lasted only a year, bailing for the warm weather and built-in insanity of Miami and the comedy-talk format of WIOD.
One of his targets there was Dolphins linebacker Bryan Cox, who became so miffed at Hendrie's constant needling that he greeted the station's locker-room reporter with the exhortation "You can suck my dick!" Hendrie responded by announcing that Cox, in a bold and courageous gesture, had just outed himself. Cox, in turn, filed a $15 million lawsuit against both Hendrie and the station. (The matter was resolved in arbitration.) Remarkably, Hendrie insists this is the only lawsuit his antics have provoked in a 30-year career. "I think it's a dicey thing when you sue a guy like me," he says. "It's like a little barking dog and you're walking by the fence. If you stop and bark back, the little barking dog has won. It's better to walk by the fence."
When the Miami station was sold in 1996 to Paxson, a Christian broadcasting company, the network put Hendrie's contract up for open bidding. He closed up shop in Miami by killing off many of his favorite characters: Dyspeptic attorney Harvey Wireman (then spearheading a class-action suit against Hendrie by all his characters) died in a fiery helicopter crash, and blue-blooded do-gooder Margaret Grey (author of the nationally syndicated column "A Little Birdie Told Me") tried to outrace a rising traffic drawbridge on the way to Wireman's funeral. When general manager David G. Hall invited Hendrie back to Los Angeles and KFI, Hendrie repaid the favor by making Hall a recurring character on his show, the drunk and abusive "vice-president of syndication," for which the real Hall had to field frequent angry phone calls.
After being fired five times over the course of his career, he found himself in the belly of the beast—at the No. 1 talk station in the country.
Soapbox Derby
Although there is room for debate, the general consensus is that the first all-talk radio format was established at KABC in Los Angeles in 1959, followed shortly by KLAC. Figures like Joe Pyne, Alan Burke and, later, Bob Grant developed followings on both radio and TV doing confrontational talk shows, often hanging up on callers.
Working from the day's headlines, Hendrie has never been one to shy away from the slaughter of sacred cows. Like Chris Rock, he has always espoused a common-sense, post-partisan politics, even though off the air he maintained a staunchly progressive persona. Interviewed before 9/11, he could still claim, "My politics are pretty far left, but I try not to grind that political ax on the air," and as recently as June 2001, in a New York Times magazine cover story, he described his politics as "socialist."
Never one to suffer fools gladly, he routinely lit into The Drudge Report, referred to Dennis Miller as "Mr. Coulter" and nursed a longstanding feud with the loutish Tom Leykis, forever memorialized in the character of Combover Boy, a pompous twit with a ready-made radio swell in his voice. (Leykis left KFI in 1992, before Hendrie's arrival, in an acrimonious departure.)
Hendrie was opposed to the first Gulf War, once co-hosting a film with the Ojai peace group Operation Brainstorm, and is highly critical of recent saber rattling by the FCC, which has seen at least one industry titan—Howard Stern—go from reactionary Republican apologist to hard-left freedom fighter at the speed of narcissism. He is a practicing Buddhist—Nichiren Daishonin Buddhism, if you ask him—and still frequently quotes Frank Zappa.
Moreover, for someone whose livelihood is words, Hendrie's actions really do speak louder. A case in point is My Friend's Place, a charity that has assisted roughly 1,000 homeless youth each year for the past 15 years.
Since 9/11, however, Hendrie has grown increasingly vocal about his support for the war and, by extension, for the Republican president who prosecuted it. His character Dean Wheeler, for example, a Bay Area activist, urges Kerry supporters to bomb the railroads so that, like Spain, our electorate will turn out the current administration. To Hendrie these days, it seems that all antiwar protesters are as ridiculous as Wheeler.
But where his politics have really come to the fore is in the 7 o'clock hour, when Hendrie delivers rants about the state of the world and the events of the day. Consequently, this newfound political stridency does not just threaten to alienate his large, liberal outsider following—it's starting to do weird things to the emotional terrain. Culled from the soapbox derby of conservative talk radio, outraged callers used to be left pumping furiously in free fall, like Wile E. Coyote once the ground below him drops away.
But if Hendrie now finds himself in common cause with the most excitable of his respondents, it subtly begins to shift the show's point of view. When a woman calls up in response to east side LAPD wannabe Dave Oliva's plea not to fly our flags, lest we "piss off the Taliban," and screams in self-righteous anger for five solid minutes, it's hard to delight in her indignation.
These days, Hendrie is more likely to appear on Dennis Miller's new MSNBC comedy news show or even to be booed at the recent Aspen Comedy Festival, at a Saturday-morning panel on "Who's Funnier: The Left or Right?" "I'm delighted to be counted among Phil's admirers," says Harry Shearer, "although he's hopelessly wrong about the war. ... Long and short of it—he's way too good for KFI."
"Ever since 9/11," says Hendrie, "as the days tick by, I wonder if I'm insane. I wonder if I've overreacted, because I've seen the country drift back to this blasé attitude: Maybe 9/11 was this isolated thing, and maybe we should just cool out. And sometimes I doubt myself—should I be as shocked as I was? But I remember those days. Everybody felt it. And it's changed me a lot. I feel like I need to say this. I'm not going to change anyone's mind, but I've got to get it off my chest. And I'm not a Republican; I am a Democrat. I know I'm a Democrat, and I know what the Democratic Party stands for. I think the president is wrong-minded on certain domestic issues such as gay marriage. I think he's being badly influenced by, once again, the thing that's going to tear the Republican Party apart, the religious right. But that said, I don't think I need to turn my card in just because I don't hate George Bush. I know war is bad, but this is not the generation that's going to end it."
"I wish Phil hadn't been so spooked by 9/11," adds Groening. "I could see being pro-war—I think there are thoughtful people who are, even though I'm not. I just wish he wouldn't align himself with people who, if they had their way, would take him off the air."
'God's Favorite Radio Show'
At 3 o'clock every day, Hendrie huddles with Janice Ungaro, his producer, to brainstorm possible bits for the day's show. Ungaro relies on her seven years as a morning radio host and standup comic in Vancouver to serve as a sounding board for Hendrie and pitch him ideas.
She also maintains a detailed show log that functions as a character bible and keeps notes on the various voices, should Hendrie ever start to slide midcharacter (e.g., "Dean Wheeler always talks through a smile"). Nothing is scripted, although in three hours of face time, they will generally compile two pages of notes per interview, each broken down into three acts.
As an experiment, I've brought in some bits for Hendrie to consider using on tonight's show. For example: Doug Dangger, a no-nonsense entertainment writer with the unsettling habit of prefacing everything with the phrase "As a gay man and a gay journalist," advocates a constitutional amendment banning straight divorce. "The only problem is you might have a lot of people agreeing with you," says Hendrie. "And when you have a lot of people agreeing with you, it doesn't make for much conflict."
Another premise has possibilities: Father James McQuarters, who sounds identical to the Lucky Charms leprechaun, has it on good authority that Opus Dei, a secret society of the Catholics, will elect Mel Gibson as the first noncleric pope, once the terminally ill Pope John Paul II expires. In return, Gibson has agreed to use his estimated $3 billion worldwide profits from The Passion of the Christ to settle all class-action suits involving sexual allegations against the church.
Hendrie is jazzed by the Opus Dei angle, since it's been in the zeitgeist ever since The Da Vinci Code. And the ex-altar boy never likes to pass up a chance to stick it to the Catholics. So flying blind, Hendrie commits to the idea for the 8 o'clock hour.
Plausible, yet provocative, yet comprehensible, yet character-driven and with a timely hook. The lesson being that comedy, as one might imagine, is never as easy as it looks.
With Hendrie safely behind a glass wall in the cramped recording booth, we join Chris Pelton, Hendrie's screener. Bathed in tattoos, with long black hair and bright-red fingernails, Pelton identifies himself as the bass player for Screwtape (from C.S. Lewis' The Screwtape Letters) and a born-again Christian.
In between reciting his bio, he effortlessly juggles five phone lines, ferrets out callers who are in on the gag, preps those who aren't, deprograms everybody else who doesn't quite get it and operates the 10-second delay button. Ungaro takes her place at a terminal beside him, beneath a photo of Carol Channing in full drag-queen regalia with the hand-lettered caption "Corn? I don't remember eating any corn."
She scans the Internet for background on Opus Dei, and once he's on the air, feeds Hendrie possible lines. During his downtime, Hendrie jumps in and screens calls as well. "I think this is exciting for him, because it's not scripted," Ungaro says.
And then Father McQuarters is on the air, making his pitch. "Mel Gibson has done so much for the Catholic Church and repairing its standing in the international community, so badly shaken that as such, the time has come to give serious consideration to his nomination to the very highest offices of the church." Nothing. Quickly, instinct takes him into the realm of sexual abuse.
"I'm just trying to be clear," says Hendrie. "Do you believe there were some priests who were guilty of these acts?"
"Absolutely," says the father. "I believe there were priests who were guilty of overzealousness in counseling young people, yes. But why even think about that now ?" The phone bank instantly lights up, as a canned ID ("Phil Hendrie—God's favorite radio show") signals the first commercial break.
In the second act, Father McQuarters claims, "You would never have gotten a film so profound from Hollywood—Martin Scorsese's The Last Temptation of Christ, for example—because Mr. Scorsese is a Jew." On the word "Jew," his voice dips almost an octave, which Hendrie admits he stole from Anthony Hopkins' Captain Bligh in The Bounty (opposite Mel Gibson, no less).
For the third act, he quotes sidekick Father Stahley, convicted of nine counts of molestation to date, as saying the film brought on "a real tension release." "And if the molesting priest can see The Passion of the Christ," says Father McQuarters, "to use the vernacular, he can get his cookies."
Hendrie knows immediately that he's peaked. "This guy's no priest, he's a sham," says a caller.
"If I'm not a priest, may God strike me dead right now," the father says, a second before the phone clatters to the floor. Phil dumps the call.
"See? That's what happens when you go over the top," he admits when he's off the air.
'Let's Do This'
According to Levitan, Hendrie's latest pilot could still find a home on cable, maybe Comedy Central. For now, it's in the hands of the agents. But one solution to Hendrie's TV quandary may be just to put a live camera in a studio and let him go.
Hendrie instinctively distrusts the idea: "After you see it once, then seeing it again and again and again, it loses its novelty." But not to the long line of dignitaries who have made their way to his studio, many of whom come back and bring friends. Not to the cheering crowds at Aspen. Seeing him voice the Margaret Grey character live in the studio as a tacked-on coda to his NBC pilot is certainly more interesting than the 22:45 that came before it. And it still works for Howard Stern, after all the books and movies and sketch TV have come and gone.
"I really believe this," says Hendrie. "I'm like the guy who ran up the hill with the gun, and I'm going, 'Come on!' And there's some people who want to go too, but they're afraid. Howard is on up ahead of me. I think I'm like the point man—I'm out there yelling, 'Let's do this!' And one of these days, somebody's going to follow."
---
Send a letter to the editor about this story to letters@metronews.com.
---
[ Silicon Valley | Metroactive Home | Archives ]