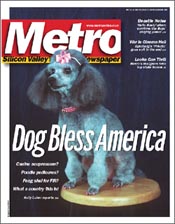 For the Week of
July 23-29, 1998
Cover: Pet Projects
From poodle pedicures to kitty acupressure, there's no end to the ways we pamper our four-footed friends. Kelly Luker takes her pooch on a tour of the latest touchy-feely services for pets.
News: Net Workers R Us
The membership of some local judges in a good old boys fishing club, Los Pescadores, raises ethical questions in the legal community.
Public Eye: Dando looks for new hope.
Please Don't Steal the Charmin: New age of TP rollers dispense with common courtesy.



The Fine Art of Turning Inside Out
'Tis the season for Metro's guide to summer indulgences, with outdoor concerts, theater and our best picks for relaxing daytrips. There's also day-by-day calendar of summer events that you'll want to bookmark for the long and luxurious days ahead.



Beastie Masterings: The Beastie Boys' new album, Hello Nasty, refines the high art of suburban rap.
Beck to the Future: Local drummer and producer Ron E. Beck switches grooves on debut album.
A Cooler Time: Jazz tradition thrives in Marcus Shelby's passionate hands.



Mexican Superman: From Douglas Fairbanks Sr. to Antonio Banderas, the masked vigilante of old California continues to make his mark.
Splatter Film: Spielberg's heart beats out his guts in Saving Private Ryan.
Vahina, Vahina: Marie Baie des Anges is a searing exposé of Vespa gangs on the French Riviera and a Gypsy girl who could not be tamed.
Beyond Hollywood: San Francisco Jewish Film Festival stretches from lesbianism to the studio system.



All Mixed Up: Everybody is Beyond Therapy in Durang satire.



Sweet Surrender: Pungent spices and genuine hospitality make dining at Gojo Ethiopian Restaurant a heart-warming experience.
Vegging Out: The fish sauce is fishless, but the food at Di Da definitely isn't tasteless.



Please don't forget to write! Metro welcomes letters. Like any great work of art, they should be originals -- not copies of letters sent elsewhere. Include address and daytime phone (for verification purposes only). Letters may be edited for length and clarity or to correct factual inaccuracies known to us. Postal: Metro Letters, 550 S. First. St., San Jose, CA 95111. Fax: 408/298-0602. . Emailers, please include name, city of residence and phone number. Letters printed will list email address unless otherwise specified. Letters to the editor are not currently published in the online version of this paper.