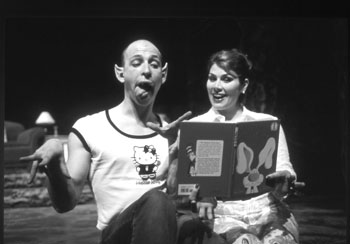 Photograph by David Allen

Be Ear Now: Bat Boy (Justin Greer) studies for the exit exam with surrogate mom Merideth (Heidi Blickenstaff).

Beast of Burden

'Bat Boy' wields quality cast and witty script but lacks the music to make cult magic

By Allie Gottlieb

A SKILLED CAST does what it can for Bat Boy, an ode to a supermarket tabloid article series about a cult-joke freak. And that much is great. But this smart, kitschy, comic mock-tragedy still falls short. Its satirical treatment of deep thoughts about human nature translate as predictable soap-opera twists when brought from the script to the stage.

ThreatreWorks' production pairs a small, religious West Virginia town of inept cow farmers with a bald, befanged but sexy and muscular, half-bat, half-human, semiwild castaway in order to make points about accepting the weird, animal side of humans. After some jolly, backhanded teenager bashing to open the first act, the story focuses on Bat Boy's indoctrination into an emotionally strained nuclear family belonging to the town veterinarian. Mirth ensues when Bat Boy, eventually fortified with blood, bounds forth in his speaking ability from preschool cave monster to multisyllabic word commander with a British, smart person's accent. Bat Boy attempts to win over the cartoonish mob-mentality townsfolk. Eventually, the vet's daughter and Bat Boy fall in forbidden love, freaking out her parents, and the clash of emotion and morality climax.

Casting directors Leslie Martinson and Alan Filderman compiled an excellent crew to bring to life this fun read penned by Keythe Farley and Brian Flemming and songwriter Laurence O'Keefe. New York-based Justin Greer stars as Bat Boy. Greer aptly skitters and lurches about and generally wears his pointy ears and fangs well. Along with the Broadway-accomplished Greer (Seussical the Musical, Annie Get Your Gun) Fresno's Heidi Blickenstaff (The Full Monty world tour) co-stars as the vet's wife. Blickenstaff demonstrates great comic timing and an impressive, broad-ranging singing voice.

David McDonald, an elastic reminder of lovable Phil Hartman, makes a great Mr. Hyde-type villain (who, at one point sings without his pants on). Actor Molly Bell, obviously a professional overachiever since in her spare time she choreographs, directs and teaches private theater, voice and dance classes, executes her flaky teen character, Shelley, with appropriate fervor. James Monroe Iglehart invigorates a series of both male and female minor characters with his beautiful, full-bodied vocals.

The play certainly delivers some laughs. But the shape-shifting songs (they instantly swerve from cracker rap to Broadway show tune) aren't catchy, and worse, the plot fails in its attempt at balancing profundity with silliness.
---
Bat Boy, a TheatreWorks' production plays Tuesday (July 29) at 7:30pm, Wednesday-Fri at 8pm, Sat at 2 (expect Aug. 9) and 8pm, and Sun at 2 (except Aug. 10) and 7pm through Aug. 10 at the Lucie Stern Theatre, 1305 Middlefield Rd., Palo Alto. Tickets are $20-$48. (650.903.6000)
---
---
Send a letter to the editor about this story to letters@metronews.com.
---
[ Silicon Valley | Metroactive Home | Archives ]