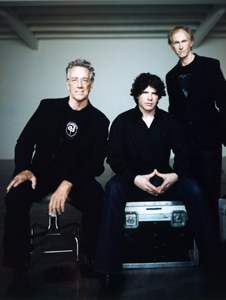 The Doors of the 21st Century set out to prove there's life after death.

Not Over Yet

With Ian Astbury on lead vocals, two original Doors make a comeback as the Doors of the 21st Century

By Sarah Quelland

Purists may scorn the reality of a Doors reunion since the death of iconic frontman and American poet Jim Morrison in 1971. The Lizard King hasn't been with us for more than 30 years, but his legend thrives. Despite releasing only six albums--from 1967's The Doors to 1971's L.A. Woman--over the short span of their abbreviated career, the Doors' music has become immortal. Their innovative blend of psychedelic jazz and blues rock, intensified by Morrison's mystical and meaningful lyrics, continues to compel listeners young and old. By reuniting under the moniker "The Doors of the 21st Century" (without Doors drummer John Densmore), Doors keyboardist Ray Manzarek and Doors guitarist Robby Krieger are giving generations of Doors fans a rare gift. For some it's a second chance, for still others an only chance, to experience live some of the magic that was the Doors in concert.

For this outing, Manzarek and Krieger recruited Ian Astbury, frontman for British hard rock band the Cult, for the daunting task of filling Morrison's role in the band. They also selected drummer Ty Dennis and bass player Angelo Barbera--whose contribution allows Manzarek, who used to play piano bass for the Doors with his left hand, more freedom on the keys.

As any fan of the Cult's might know, Manzarek and Krieger could hardly have made a more perfect choice than Astbury. The Cult frontman has all the moves, mannerisms, vocal tones and inflections down, but his delivery never seems forced or affected because he copped Morrison's tambourine-shaking rock god vibe a long time ago. He was no different at the Chronicle Pavilion in Concord last Friday (July 18) than he was headlining the Warfield in San Francisco in the mid-'90s--and he was fabulous. The only thing missing from his performance was the excitement of not knowing what Jim might do, something Astbury was powerless to do anything about.

The dramatic operatic sounds of Carmina Burana (a Carl Orff composition premiered in 1937 that Manzarek arranged in 1983 and music that was used in Oliver Stone's controversial biopic The Doors) heralded the arrival of the Doors of the 21st Century. The air on this hot summer night was electrifying and, as the band members entered the stage, the crowd greeted them with a standing ovation before they even played one note.

They kicked off with "Roadhouse Blues," "Break on Through (To the Other Side)" and the sensually psychedelic "When the Music's Over." Manzarek, Krieger and Astbury were given equal face time on the big screens mounted on both sides of the stage and the original Doors members were treated with reverence. As Astbury reminded the crowd midway through the show, "Ladies and gentlemen, these are your American idols."

Despite looking like a dentist and an accountant, respectively, Manzarek and Krieger's jams were blistering and hypnotic. They played off each other with the ease and joy of 30 years worth of musical communion while cameras broadcast larger-than-life closeups of their fingers flying. Swirling psychedelics and time-lapse photography served as a visual backdrop to some songs. Others depicted more specific images, like great Indian chiefs during "Wild Child," an homage to Morrison's connection to Native American spirituality. Manzarek and Krieger seemed to be trying to take back the meaning of "Five to One," for Morrison, showing footage of riot police, dead war victims and bombs dropping from old war planes. (If anyone thought it was a cool idea to drop acid at this show, they were surely regretting it at this point.)

They honored Morrison and his legacy frequently while still looking to their own future.

"Everything we do is, in a way, dedicated to Jim," Manzarek said, as he introduced a new song titled "Cops Talk." He and Krieger are working on a new album, collaborating with Astbury, poet and author Jim Carroll, punk icon and actor John Doe, and poet and playwright Michael McClure, all of whom are contributing lyrics to the new songs. That album, Manzarek said, should be released in 2004.

While the impact and success of that remains to be seen, the original Doors catalog is still potent and relevant. Their songs are like journeys, full of tension and calm, build up and release, that pick up their listeners and carry them somewhere fascinating. They packed as much as they could into their time onstage, including "Love Me Two Times," "Moonlight Drive," "Alabama Song (Whisky Bar)," "Back Door Man" and "The Changeling." As a trio, they played a quiet acoustic rendition of "The Crystal Ship" and "People Are Strange." Then Krieger stood alone onstage, playing flamenco music on his guitar which, after at time, slid into "Spanish Caravan." Closing out the night, Astbury announced, "This is for Jim!" before hitting the "Mr. Mojo Risin'" section of "L.A. Woman."

The band exited to huge applause, but the screen quickly filled with billowing storm clouds as the group returned for the epic "Riders on the Storm." Manzarek introduced the second song of the encore, telling the audience "Jim would say this is one of our favorite radio songs," before the band launched into an explosive version of "Light My Fire" full of jams so hot Manzarek played the keys with his feet Jerry Lee Lewis-style and Astbury wafted in and back out of Bob Marley and the Wailers' "Get Up, Stand Up."

As the house lights of the Pavilion came up, Manzarek quickly returned and said he felt like one more. Fans rushed toward the front of the stage as the band closed with "Soul Kitchen," emphasizing the line "I'd really like to stay here all night." Judging from the enthusiasm of the crowd, that would have been a welcome turn of events."
---
Send a letter to the editor about this story to letters@metronews.com.
---
[ Silicon Valley | Metroactive Home | Archives ]