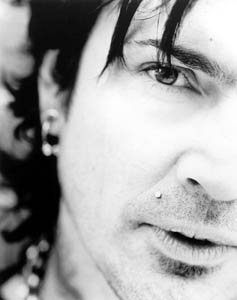 Tommy Lee brings his new crew to the Icon.





Chaos in Cabo

Icon investors prepare to bring back the big rock and take on the world

By Sarah Quelland

SOMETHING'S STIRRING at the Icon Nightclub in Palo Alto. Yes, something big is brewing. The former home of the Edge has a new lease on life and is determined to become the premier venue in the South Bay. Back in the saddle and bringing back the rock, the Icon has just booked Tommy Lee's Never a Dull Moment tour (Aug. 18) and an all-ages gig with Unwritten Law, Home Grown, Riddlin' Kids and Grint (Sept. 4).

The resurgent club is also making good on its promise to host more locals. The Icon has something special in the works for Sept. 13 and has just confirmed the booking of esteemed Los Gatos art-rock band dredg for Aug. 9 with downside, Division Day, and Keeping Ellis. Busy dredg releases its latest epic, El Cielo, on Interscope Records Oct. 8 and has another show coming up Friday (July 26) at the Catalyst in Santa Cruz with the Catheters and the Fire Sermon.

The Mas Chaos Entertainment group, which has a hand in the Icon and its in-house sushi restaurant, Mas Sake, is also expanding its horizons and looking to conquer the world--or at least the southern tip of Baja. Mas Chaos is a key investor in and promoter of the Labor Day weekend Mextravaganza in Cabo San Lucas. This south-of-the-border Lollapalooza promises to be a nonstop three-day feast for the senses with beach parties and club shows featuring Jane's Addiction, Cypress Hill, Ozomatli, the Breeders, the Crystal Method, Pennywise, the Vandals, Bad Brains, Molotov, Kottonmouth Kings and more. Superstar DJs, surf contests, guest beach bunny Carmen Electra and, ironically, flashy former NBA star Dennis Rodman (can a reconciliation be in the making?) round out the entertainment. Visit www.mextravaganza.com or www.bajaconcerts.com for the full schedule and ticket info.

ROAD TRIP: Lavabone is planning another one of its out-of-hand 24-hour party bus trips for its Aug. 17 show at the Viper Room in Los Angeles. Tickets for the designated-driver charter bus ride and entry into the Sunset Strip club are $50. Email [email protected] to reserve a seat.

KIND DEEDS: Friends of Wert Terry, a member of the dance-music community who's suffering from cancer, are throwing a huge benefit party at Cafe Cocomo Sunday (July 28), noon-2am. A spiritual gathering of healing and unity through music, this event features DJs Doc Martin, Jeno, Garth, M3, Galen, Harry Who? and others, plus a performance by reggae group Native Elements and a live/DJ set by Soulstice. Donations are $20, and all proceeds go to Terry.

HOT TOPIC: Punk and indie bands 5606, Liquid 8, Rap$callionz, the Silence and H.B.A. provide the soundtrack to an extreme sports and music festival that jumps off at noon Saturday (July 27) at Mt. Pleasant High School in San Jose. Ultimate fighting, extreme skateboarding, flea racing and slam dunking are just part of the live action at this free, all-ages event. Visit www.5606live.com for details. ... First they lost the fire balls, now they've parted ways with violinist Brandon Trahan, whose instrument was an intrinsic part of their signature dark-orchestra sound. If Lords of the Manor doesn't watch out, it could become just another black-metal band. Currently, the outfit has no prospects for replacing Trahan but will continue performing without him. ... Meanwhile, local rock band Moodfrye is searching for a new drummer. Anyone interested in the gig should email the group at [email protected]. ... Things have been getting ugly since Dallas-based Echo Drain filed suit against bassist Jason Newsted's post-Metallica project EchoBrain--and San Jose fans are paying the price. As a result of the legal assault, Newsted's new band will not appear Thursday (Aug. 1) at Metro's Music in the Park. Bad news for EchoBrain fans but good news for AC/DC tribute band Long Gone Bon, which was tapped for the spot. ... Metro's Music in the Park continues Thursday (July 25), 5-8:15pm, at Plaza de Cesar Chavez with Alien Cowboys and Dave Meniketti.
---
Send a letter to the editor about this story .
---
[ Silicon Valley | Metroactive Home | Archives ]