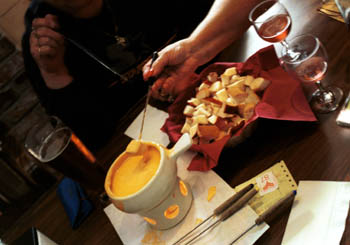 Photograph by Paul Myers

Fondue Memories: The Garret finds many uses for cheese.

Back to the Garret

A good old pub maintains its charm and pizza

By Joseph Izzo Jr.

A RECENT LETTER to my editor inquiring about the old Garret opened the floodgates to the past for me. When I was in college, the group I ran with used to hide in the shadows of this timbered cavern on weeknights drinking beer, picking at meat and cheese boards, and pledging love and affection to women we didn't know. Local rockers played at night after the grill cooled. It was a place that encouraged dubious alliances based on silly notions about life in the '70s.

Those of us who knew the place grieved deeply when the doors closed over at the Pruneyard. For some time afterward, the Garret dwelled in that Bardo state between incarnations--until, finally, a few years ago, the original owners made good on their promise, found a new crib and opened for business once again.

The new Garret is cleaner, nicer and gentler than the old place. I like to come here after surfing. It's cool inside. I sit at the bar, often with a crew of jolly strangers, sipping cold Bass, watching sports. No matter what's on the tube--auto racing, baseball, football, iron man, golf, whatever--it all seems right and sociable at the Garret. The old charm still prevails, even with the new dark-wood fixtures and shuttered windows. The place has good karma, and I can feel it against my skin like the soft pelt of a kitten.

The Garret is not a gourmet dinner house, that's for sure. It's a pub, and like nearly all pubs it serves high-fat, cheese-oozing, salt-laden grub that tastes, oh, so good, especially on those days when you could give a damn about diet. This is down-home comfort food. Somewhere between a bite of a Vintner sandwich and a gulp of beer, the meaning of life is restored.

The letter-writing Garret fan loves the pizza. I call it a baseball pizza, simply because on three separate occasions I ate innumerable slices while watching baseball. This is no thin-crusted Neapolitan pie with froufrou toppings flung from the universe of Wolfgang Puck. This pie has weight and girth, and when you pick up a slice its substance can be felt in the palm of the hand.

The best choices are the Garret signature pies. My favorite is the Gilroy Special ($13.60 small, $17.55 medium, $21 large), loaded with garlic, chives, green onion, pepperoni, sausage, mushroom, fresh tomato and two varieties of cheese: Jack and mozzarella. Sometimes it's not cooked well enough, and the center is doughy, so I like to ask for it crispy. That usually solves the problem.

As with the pizza, no fancy New Age sandwiches will be had at the Garret. They come in baskets with chips or fries and are usually heavily dressed and dripping with melted cheese. I can't eat them all the time, but I like them, especially that Vintner ($6.95), which features several types of deli meats warmed on the grill and served with melted cheese on a king-size bun.

In second place is the hot pastrami ($6), hot and crispy along the edges and deliciously salty. It's dressed with mustard and mayo, cheese, lettuce and tomato. Recently, I sampled a better-than-average Philly cheese steak ($7.35), layered with slices of beef with minced onion and green pepper bonded in--you guessed it--melted cheese.

Keeping up with the times, the Garret has added salads to its menu. Pope Bob Russell had nothing good to say about the chicken Caesar ($6), and I've had much better, but I see a lot of them leave the kitchen, so it must be popular. As basic as it is popular, with romaine and chicken breast tossed in a dressing that doesn't offend the palate, it could use a few tweaks in flavor.

The Garret maintains a loyal following. I see faces I recognize from the old place. The food is just an aside, really. The personality is what makes it so special.
---
The Garret
Address: 1777 S. Bascom Ave., Campbell
Phone: 408.559.7930
Hours: Daily 10am-1:30am
Price Range: $2.30-$21.70
Cuisine: Pub grub
---
---
Send a letter to the editor about this story .
---
[ Silicon Valley | Metroactive Home | Archives ]