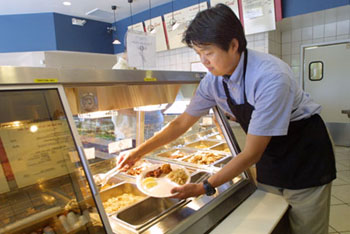 Photograph by George Sakkestad

Tokyo To Go: Seto Deli owner Susan Yoshimine offers the kind of comfort food many third- and fourth-generation Japanese-Americans were raised on.

Shining Seto

Sunnyvale's Seto Deli is a folksy Japanese country deli that offers hot and cold, takeout, eat-in and made to order

By Lori Reiko Higa

SPARKLING CLEAN interiors, bright Saharan Desert-colored floors, Japanese folk art, floor-to-ceiling windows that stream in broad beams of summer light--Sunnyvale's Seto Deli offers a vibrant array of familiar and not-so-familiar Japanese dishes at prices that beat just about any restaurant's. New to the valley's thriving global food scene, Seto Deli is what this Japanese-American Japanophile believes is the valley's first and only Japanese delicatessen. Well-traveled foodies only see this kind of setup in the basements of chi-chi Japanese department stores in the old country.

For around $5, diners can put together a filling, tasty and nutritious lunch plate from a variety of items (almost like a Japanese tapas bar) to eat there or take out and be the envy of everyone back at the office.

Pick and choose from freshly made, steaming o-nigiri--rice ball wrapped in nori (seaweed), filled with a choice of salmon, umeboshi (pickled plum), shitake mushrooms, bonito flakes or grilled saba (mackerel) for $1.50. Complement these with stewed tofu and green beans ($1.25), a bowl of made-from-scratch miso soup ($1), steamed Japanese spinach ($1.25) or kimpira gobo (julienned burdock root, braised in sesame oil and soy sauce ($1.25) and we're talking seriously tasty, good-for-you lunch.

For those who like pickles with lunch, the deli has a generous portion of tsukemono for $3 and variety that ought to please vegetarian, vegan, macrobiotic as well as meat- and fish-eating palates. In the more substantial entrees department, Seto Deli has just the ticket--a mind-boggling selection of bento and teriyaki, sashimi and cutlet curry plates, as well as donburi (prepared meat/fish over steamed rice), maki sushi (rolls), nigiri sushi (finger-sized pieces of sushi rice topped with wasabi [Japanese horseradish] and slice of fish) and udon or soba (buckwheat) noodles, from $4.95 up to $9.95. Visitors can also get hot-off-the-broiler chicken, beef and fish teriyaki, freshly made veggie croquettes, pork cutlets and crispy green bean tempura.

Across the street from Seto Tempura House (on the corner of Maude and Borregas, long a favorite lunch spot for Silicon Valley denizens who like a little green tea or Japanese beer with their business meetings), Seto Deli is owned by Susan Yoshimine, the hardworking brains behind the eponymous tempura house and sushi restaurant on El Camino. Named after the Seto naikai (inland sea) region around Yamaguchi prefecture, where Yoshimine was raised in Japan, the deli was Yoshimine's way of addressing the constant requests of loyal customers at Seto Tempura House for catering services.

Coming to the valley 30 years ago, Yoshimine went from being an "office lady" secretary making tea for her Japanese bosses at Ford Electronics in Palo Alto to thinking, "There's got to be a better way to make a life for myself." The enterprising Yoshimine bought out the original owner of the Tempura House (back then it was much smaller than it is today, she points out) and built the business into her miniempire of three Japanese eateries today. Situated in the middle of Japan, the Seto region is famous for its middle-Japanese style of cooking, the kind of comfort food many third- and fourth-generation Japanese-Americans like me were raised on, and for its white/yellow-colored kombu (seaweed) used in one of the deli's signature sushi dishes.

Not only are the prices of Seto Deli's a la carte items surprisingly reasonable (items range from $1 to $3.50), but the noodle, donburi, bento and other specials are also competitively priced. Yoshimine's also made sure to include exotica (or perhaps curiosities is a better word) such as ball sushi--a dish created by the chef on the premises--hefty, round balls of rice wrapped with slices of raw fish (a variation on the traditional nigiri sushi). She also serves regional dishes such as soboro donburi, which is ground, crushed or chopped eggs, chicken with veggies over a bed of noodles and rice. And battera sushi, consisting of eight bite-sized delectable pieces of marinated mackerel and white sliced kombu pressed over sushi rice.

For this reviewer's money, Seto Deli's potato salad, while not a traditional Japanese recipe, offers a refreshing twist on an favorite theme--distinguished by tasty sweet-and-sour slivers of marinated carrot and cucumber, it's the freshest, tastiest potato salad in these parts--for $1.50 a serving.
---
Seto Deli
Address: 155 E. Maude Ave., Sunnyvale Phone: 408.735.7777
Hours: Mon-Fri: 10am-8pm, Sat: noon-7pm
Catering seven days a week
www.setodeli.com.
---
[ San Jose | Metroactive Central | Archives ]