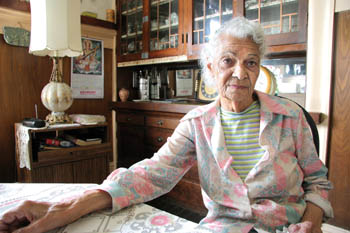 Photograph by Felipe Buitrago

Not Without a Fight: Isabel Santiago is up in arms that her son Donald has been moved from San Jose's Agnews Developmental Center—which is slated to close—to a for-profit home in Union City. Hundreds of other Agnews residents have yet to be placed.

No Direction Home

Judging from one controversial case, there's going to be plenty of fighting over what to do with the residents of San Jose's Agnews Developmental Center

By Najeeb Hasan

IT IS a hot Saturday afternoon, and Isabel Santiago is sitting on a cushioned chair on her porch at her home about five miles from downtown Hayward. She is 86 years old, and it is evident that she's had the chair—and the porch—for a good while; the chair's armrests are streaked with dark age-marks while the porch's wood is peeling and dry. She has a black cordless phone resting nearby, in case her daughter calls, and she likes to quip that she's old and has nothing to do.

Santiago has stately white hair, with streaks of gray, which she pulls back, and her face—she's quite pretty—has angular, delicate features. She is at an age where perhaps her worries should be behind her, and, indeed, she has had enough to worry about for the past 80 years.

Her worries, though, are far from behind her. She just spent three nights and two days of the past week at the hospital; her family was afraid she might have another stroke. But that's not what is on Santiago's mind; it's her third son, Donald, she's worrying about. He's 62 years old and has been living as a ward of the state in the California Department of Developmental Services (DDS) system since he was 10—at a developmental center in Porterville for the first dozen and at Agnews Developmental Center in North San Jose for the last 40.

The problem, of course, is Agnews' impending closure—the tentative deadline is June 2007 (already moved once from July of 2006). Agnews is the latest victim of California's trend toward outsourcing its developmental care to community-based (and privately run) services. Big, bureaucratic development centers like Agnews—dormitory-style institutions that boast trained medical staff and around-the-clock care—have been marked for closure across California, abandoned in favor of poorly regulated community homes, which often house six to eight residents (or "clients") who are cared for by staffs with minimal required medical experience.

Where Do They Go Now?

In January, when the deadline for closing Agnews was extended, DDS officials explained that the state was still trying to figure out what to do with the 360 residents left at Agnews. In a town-hall meeting in Sacramento, Cliff Allenby, the director of the DDS, declared that the 50 residents with the most severe disabilities would be transferred to Sonoma Developmental Center, about 100 miles from San Jose. An additional 120 residents would be placed in newly created community-care settings (hence, the extension of the deadline) with regulation standards that would ostensibly be higher than those that currently exist, and the remaining residents would be filtered into existing not-for-profit community-care homes.

Donald, however, apparently didn't fit into any of Allenby's categories, and, since last year, staff at Agnews and at the Regional Center of the East Bay, a nonprofit, quasi-governmental body charged with distributing the developmentally disabled to various community-care settings in the East Bay, have been actively pushing him to be placed at Justin's Home, a new, for-profit community home for the disabled in Union City. Santiago and her daughter, Angie Abreu—Donald's two strongest family advocates—have been fighting the decision, believing the home's staff won't be able to care for Donald appropriately. After a caseworker from the Regional Center requested a writ of habeas corpus for Donald's immediate placement to Justin's Home, a Santa Clara County judge heard Donald's case on June 27 and ordered he be moved there. Santiago has been at Justin's Home for the last three weeks.

At a time when a few hundred residents still need to be moved from Agnews, a family-support group has voiced concerned about the Santiago decision.

"Our concern is that this not become a precedent when families disagree with the Regional Center about placement," says Brian Boxall, a member of the Association for the Mentally Retarded at Agnews, a family-support group. "We believe that the appropriate course of action is what is called a fair hearing. By filing a writ of habeas corpus, that supersedes the fair hearing process." Boxall contends that by bypassing an established hearing process, Donald's case wasn't able to be heard adequately.

But Harold Pitchford, the director at Agnews, says that family members are always given "great credence" when Angews residents are relocated. In certain cases, Pritchford says, like when a resident indicates a desire to leave Agnews, then a writ could be filed that supersedes the family's misgivings.

For Santiago, it hasn't been easy.

"My niece came and took me to the hospital," she says. "I told her I wasn't feeling well—all the stress from what they are doing to Donald. I just don't think it's right. They said my son wants to be there. He can't even talk. That's ridiculous. I know he can't be happy there. They say he was in prison at Agnews; now he's in prison."

Ward of the State

Donald was always a quiet boy, Santiago says; he would have tantrums once in a while and also have a tendency to strip off his clothes and parade around the neighborhood naked, but one of her neighbors always collared the boy and brought him back home. "Everybody used to take care of him—the whole neighborhood," Santiago recalls. "Everybody loved him."

Santiago lost her son when he was 3. "But it took them seven years to take him away from me," she recalls proudly.

One afternoon, the neighborhood fruit vendor came by her house. Santiago took her eyes off Donald momentarily, and the next thing she knew Donald was curled up in a little ball dangerously close to the vendor's tire. "Donald had jumped the fence, and he ran off," explains Santiago. "He was under the truck. The truck didn't hurt him, but someone called the police, and they took me to court. That's how they took him."

By the time Donald was 10, he was officially a ward of the state and was sent first to Porterville, where Santiago and her husband would haul their two children to visit Donald every month. Finally, he made it to Agnews, where he has been residing happily for the last 40 years.

In May of last year, Pacifico Ruiz, the chief financial officer of Malama Hale Inc., the private company that owns Justin's Home in Union City, made a "vendor visit" to Agnews. There, he reviewed the records of various Agnews residents, including Donald. By June and July, Donald was taken for both lunch and overnight visits to Justin's Home.

Later that same July, Santiago and her daughter made an unannounced visit to Justin's Home. The two were denied entry, they say, because the staff couldn't speak English and didn't understand why the two were there. Distraught, the Santiago family submitted a document to Agnews that formally laid out what kind of care they felt Donald would need at his new home; among their requests were that the vendor would have operated for at least three continuous years at its current location and that it would have had zero major violations or deficiencies according to the regulating body during that period. They also requested an experienced, English-speaking staff. Justin's Home met none of the criteria.

Crisis of Confidence

By January 2005, Santiago was informed that Justin's Home's staff had been dismissed, and that an English-speaking staff was hired. Nevertheless, Santiago still requested that she be shown other homes that might be more appropriate for Donald's care.

In March, despite repeated objections by Santiago and her daughter, Donald was officially scheduled for placement at Justin's Home. The same month, regulation records surfaced from California's Department of Health that indicated Mika's Home, a second home in Union City operated by Malama Hale Inc., had received numerous citations by regulators (Justin's Home was too new to have any inspection reports available). The number of violations for Mika's Home, in fact, grew over the years: In 2002, there were three violations in two categories; in 2003, there were eight deficiencies in five categories; and, in 2004, there were 30 deficiencies in 13 categories.

The findings did not engender Santiago's confidence in the operator, Malama Hale. However, at Agnews, Donald's placement team described the violations as "par for the course" and as "growing pains," according to Santiago, and continued with Donald's placement at Justin's Home. The deciding factor which led to the June court hearing, according to Angie Abreu, Donald's sister, was one of Donald's case workers making the claim that Donald, who is nonverbal, wanted to go to Justin's Home. Abreu says she was told that Donald indicated his desire by placing his radio in his bag before leaving for a visit to Justin's Home. "That's ridiculous—his radio is his favorite thing," she says, with exasperation. "He takes it everywhere."

Abreu contends that Donald's family isn't being given enough choices about Donald's future. "They didn't give us a choice and said they didn't have anything available," she says. "We asked, 'Can't he stay at Agnews until you have something else available?' They kept saying, 'It's Donald's turn.' I said why do you guys keep insisting on Donald? And they keep saying, 'It's Donald's turn.' We didn't have any choice at all. It makes us feel really stressed and depressed about the whole thing. Gosh, if we can't even have a choice of him going into a home, then we won't have a choice for anything in his life. We really feel that we're just kind of left out, with no choice or anything."
---
Send a letter to the editor about this story to letters@metronews.com.
---
[ Silicon Valley | Metroactive Home | Archives ]