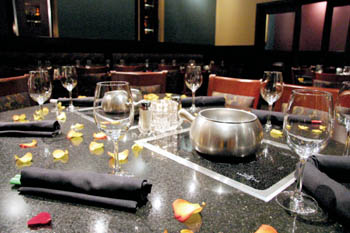 Photograph by Felipe Buitrago

Fondue Me: The Melting Pot leads a cheesy revolution.

Pot On

The Melting Pot is leading an unexpected fondue renaissance

By Stett Holbrook

FONDUE IS BACK. It faded from the scene in the 1970s along with CB radios and Burt Reynolds' popularity, but the hot pots of molten cheese and chocolate are enjoying a revival of sorts. Come to think of it, so is Burt Reynolds. They're both kind of cheesy.

Anyway, leading the fondue renaissance is the Melting Pot, a Tampa, Fla.-based chain that's in the middle of a nationwide expansion. In April, the restaurant opened on South First Street in downtown San Jose.

Fondue has its appeal. Like grilling a slab of meat or sitting around a campfire roasting weenies on sticks, spearing bits of food and dipping them into a simmering pot is a primal pleasure. I think it harkens back to the days when our ancestors sat in their caves grilling hairy beasts over open fires. Fondue is a bit more refined than that and is a slow and sensual way to play with you food.

It's too bad then that prices and quality at the Melting Pot are out of synch.

The choices at the Melting Pot can be confusing to first-timers. Each table has one burner, so that means your group has to agree on what to order. On each of two visits, we went for the "fondue for two," a meal that includes a choice of cheese fondues, salads and entree fondues. You can get different salads, but you have to order the same cheese and entree fondues. Once you've made those decisions, you have to decide what kind of broth you want to cook your meat in. Got it?

We tried the "garlic-herb cheddar" fondue one night and the "Wisconsin trio" on another visit. For dunking, the fondue is served with a pile of lackluster bread chunks, vegetables that looked like they were cut a long time ago and green apple slices. The fondue itself is pretty good. Then again, what's not to like about melted cheese?

The salads, especially the iceberg lettuce-based chef's salad, are unremarkable, but they do provide a ration of vegetables to offset the rich pot of cheese.

Once the cheese fondue pot and salad plates are whisked away, it's on to the main course. After swirling together our cooking broth tableside, our server gave us a quick tutorial in fondue 101 that included warnings to avoid burning ourselves, proper cooking times and how to rescue wayward chunks of food from the pot. Left to our own devices, we began to skewer, dunk and cook the array of meat before us.

The "signature selection" ($58 for two) includes shrimp, teriyaki beef, chicken and salmon. On another visit, we went for the Pacific Rim ($59 for two), some of the same stuff but with the addition of pork loin, marinated duck and a couple of pasty dumplings erroneously called potstickers. (Potstickers are pan-fried; dumplings steamed or boiled.)

It's the surplus of sauces and dips served with entrees (green goddess, barbecue, curry, cocktail, blue cheese and others) that pushes the meal over the top. Our server told us what sauces go with what, but it all became a jumble of conflicting flavors. But without a little sauce, the poached meat and fish is bland in spite of its time at the end of a long fork in the fondue pot.

Desserts are more straightforward. The "original" chocolate fondue ($12 for small, $28 regular) combines milk chocolate and chunky peanut butter. Like melted cheese, molten chocolate is easy to love, and it masks the freezer taint that pervades the pound cake, brownies and cheesecake served with it. The strawberries, bananas and pineapple that accompany the dessert are better.

The restaurant makes a big ado about its wine list, and the glassed-in cellar on display near the bar is impressive. But for all the hype, the list is doesn't offer anything you couldn't find at a well-stocked Safeway.

Service is attentive and friendly, but the waiters can sound like they're reading from a script as they run through the menu and school you in fondue. That doesn't do much to soften the restaurant's corporate, prepackaged image.

While the food can be jumbled, the Melting Pot is a pleasant place to eat, especially for couples. The restaurant seems to have been designed for a romantic night out. Walking through the glass doors, it took several seconds for my eyes to adjust to the opium-den lighting. When I was shown my table, I couldn't make out where to sit because it was so dark. The restaurant is long and narrow, and most of the seats are in deep booths where you sit hidden from other diners. It was only when I went to the restroom that I saw there were other people.

Once my eyes adjusted, though, the restaurant revealed its good looks. The booths are dark wood, and the tabletops are covered in sparkly black granite. Dining out isn't just about what's on the menu—it's the ambience and the company you're with, too. With the right companion, a good bottle of wine and a dark booth to call your own, the Melting Pot can be a good time. Just don't expect much from the food.
---
The Melting Pot
Address: 72 S. First St., San Jose.
Phone: 408.293.6020.
Hours: 5-10pm Sun-Wed, 5-11pm Thu and 5pm-midnight Fri-Sat.
Price range: $14-$44.
---
---
Send a letter to the editor about this story to letters@metronews.com.
---
[ Silicon Valley | Metroactive Home | Archives ]