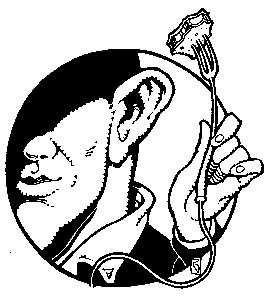 Live Feed

Eat Great and Smash the State

By Stett Holbrook

EXCEPT FOR my birthday, there's no reason to celebrate the month of August. It's the only month of the year without a holiday. But a Bay Area group of self-proclaimed "culinary adventurers" called the Locavores is leading a movement urging people to think globally and eat locally, and this August they're challenging themselves and others to eat only food grown and harvested within a 100-mile radius of the Bay Area.

It's estimated that food travels an average of 1,500 miles before it reaches our plates. This long-distance journey (1) is fuel-intensive, (2) is expensive, so it squeezes out everyone but the biggest agribusiness operations, (3) is dependent on hazardous pesticides and fertilizers and (4) makes food taste like crap.

Eating locally grown and harvested foods is just the opposite. Eating homegrown food, be it from the Bay Area or elsewhere, dials you into the local environment and the seasons the way a walk down the aisle at Albertson's never could.

Eating locally is a highly political, even subversive act, too. By choosing to eat food from local farmers and producers, you're saying no to costly agricultural subsidies that prop up big agribusiness conglomerates, no to the petroleum-intensive distribution systems that ship food around the world, no to the use of pesticides and fertilizers that imperil the environment and farmworkers alike, and no to mushy apples and flavorless tomatoes. Instead, eating locally is saying yes to small family farms, cleaner air and water, better health and nutrition and superior-tasting food.

Eating locally for a month is easier than you think, especially in August. Local farms are at their peak of production. Peaches, tomatoes, corn, grapes, watermelon, onions, herbs, beans and scores of other crops abound. Given that the Bay Area has become a culinary mecca, eating locally means eating very well. A diet that draws on cheese from Point Reyes, grass-fed beef from San Juan Bautista, salmon and halibut from Half Moon Bay fishermen, tomatoes, basil and watermelon from inland valley farms, wine from Santa Cruz Mountain wineries and beer from local breweries hardly sounds like roughing it.

In fact, once you savor juicy August tomatoes, Dungeness crabs in November or asparagus in April, it's hard to go back to out-of-season crops from Mexico, Chile and elsewhere.

Of course, things like salt, coffee, tea, pepper and other staples can be hard to source from within a 100-mile radius. If you can't procure local goods, the Locavores urge you to seek out organic, sustainably produced or fair trade foods from small family farms.

For more information and tips on where to find a wide variety of local food, go to locavores.com.

Eat and Drink For The Red Cross

On the subject of local causes, the 24th Annual MacArthur Park Fine Wine and Food Festival is set for Aug. 13 in Palo Alto. The event will feature tons of local wineries and food, cheese and chocolate tastings, a silent auction and live music. Tax-deductible tickets are $65 in advance and $75 at the door. The festival benefits the Palo Alto Chapter of the American Red Cross.
---
Send a letter to the editor about this story to letters@metronews.com.
---
[ Silicon Valley | Metroactive Home | Archives ]