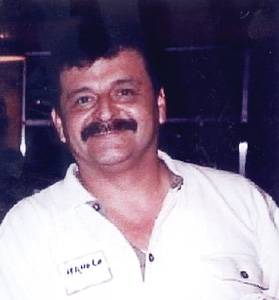 Coello: Tragic loss.

The Fly

Death in the Family

For 10 years, MANUEL COELLO was known as a dependable newspaper deliveryman, first with the Bay Area Guardian, and more recently with Metro Silicon Valley. As his family's primary breadwinner, Manuel was so concerned about losing his routes that he trained his wife and kids where to drop the newspapers in case he was ever injured or sick. His 15-year-old son KEVIN sometimes helped even though the papers took all night to deliver, for three days straight, Tuesday through Thursday. Manuel was known to stay up 48 hours without sleep, Italian music blaring from his truck speakers to ward off drowsiness. When he didn't arrive home on time, his wife, YOLA, would call, only to have Manuel answer the phone from downstairs. He'd fallen asleep in the driveway of the family's Daly City home. But last Wednesday, July 20, a lone gunman approached Manuel's F-150 pickup as it was parked at the Launderland Laundromat in East Palo Alto, not far from where the new Four Seasons Hotel is due to open by the end of the year. According to the Coello family, the gunman first approached Coello's younger brother, FABRICIO LEON, as Leon sat in the truck's passenger seat. Leon tried to signal to Manuel to run. But Coello was in the back of the truck, organizing newspapers. He apparently failed to hear Leon and walked around to the front of the truck, where the gunman, a black male in his 30s, fired a shot into his chest. Manuel died shortly after. The gunman fled toward Highway 101, and was still at large as Metro went to press. A former Peruvian Air Force pilot, 47-year-old Manuel was known as a bit of a daredevil, but also as a family man. Photo after photo in the family album shows Coello huddled with his wife and kids together in Disneyland or Sausalito or one of the other places the family took weekend trips. Family members say the last year of Manuel's life might have been his best—skiing, singing Italian songs, taking his 5-year-old son to swimming lessons. "He was a happy person," says his oldest daughter, DORINE, a San Francisco State psychology student. "He lived life to the fullest. He said when the end comes, it comes." News of Manuel's death last week sent waves of shock and sadness through Metro, which has set up a fund in his honor; donations can be sent to Coello Family Fund, 550 South First St., San Jose, CA 95113. A viewing of Manuel's body will be held at Duggan's Mortuary in Daly City from 3 to 9pm Thursday. His funeral will be held at Holy Angels Church in Daly City 10am Friday.

Chewed Out

For 17 years, he has cruised City Hall in a pair of roller skates strapped to his tennis shoes. Last week, BILL CHEW's reign as the city's only skating political junkie officially came to an end. Two of the city's public relations directors, TOM MANHEIM and DAVID VOSSBRINK, told Chew he'd no longer be permitted to skate in the new City Hall as he had in the old building. Chew, a 55-year-old public access talk show host who has run for mayor four times, accepted the news with grace. He removed his skates and proceeded upstairs. "He said he was surprised it hadn't come up sooner," says Manheim, the city's public outreach manager. Manheim says he approached Chew spontaneously; it was the first time he saw him in the new building. The no-skating rule, he added, is not a significant policy change. "It's more like a reflection of the new environment," he says. City officials want the building's carpeting to last as long as possible and the theater-style seating in council chambers is too dangerous for skaters, Manheim says. Chew says he might appeal the decision to the council but doesn't plan to press the issue. Even so, he doesn't understand what the fuss is about. "There's never been a complaint before," he says. He's already been in the new building about a dozen times, he says, and rode the elevator with Councilman CHUCK REED July 15. Chew says the skates have been a kind of political statement. "I wanted to show them I wasn't one of them. I'm not a city employee. I'm a regular guy."

Getting Clean

City Auditor JERRY SILVA has taken the first steps toward hiring investigators who will explore civil grand jury allegations that Mayor RON GONZALES undermined the San Jose City Council by withholding information during recycling negotiations with Norcal Waste Systems Inc. Silva has asked three Santa Clara County judges with "incredible reputations," whose names weren't available at presstime, to select the investigative firm. Silva said the judges will act as a "fire wall" between city officials and the investigatory process. In addition, the auditor is contracting with Judicial Arbitration Mediation Services, a national dispute resolution company, to help the judges with the selection process and to act as a financial intermediary. Silva will pay JAMS and JAMS will pay the investigation firm. Silva must take the extra precautions to avoid the appearance that the city is paying investigators to whitewash the grand jury investigation. "The process has been about as clean as I can get it," he says. Silva said he is uncertain when the judges will hire the investigation firm.
---
Send a letter to the editor about this story to letters@metronews.com.
---
[ Silicon Valley | Metroactive Home | Archives ]