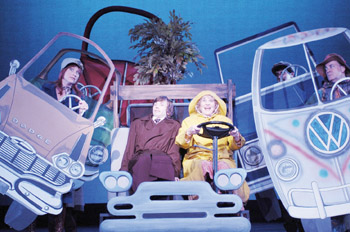 Photograph by David Allen

Tripping: Maude (Pamela Myers) takes Harold (Eric Shelley) for a wild ride in TheatreWorks' new version of a famous movie.

Musical Maude

TheatreWorks adds lyrics and music to cult movie in 'Harold & Maude: An Intimate Musical'

By Marianne Messina

AFTER EARLY apprehension over how to translate the 1971 film Harold and Maude to the stage with its frequent, nimble scene changes, TheatreWorks' West Coast premiere of Harold & Maude: An Intimate Musical (with book and lyrics by Tom Jones of Fantasticks fame) proves that memorable scenes are memorable scenes, no matter how you get in and out of them. Moreover, the production works hard to have lively visuals and frequent scene changes on the Lucie Stern Stage (scenic designer Thomas F. Langguth), with three tiers of scrim panels moving in and out and stage business just short of magic. People holding cardboard cars in front of them (as in a first-grade pageant) help create the highway on which Maude (Pamela Myers), the driving dervish, terrorizes her protégé in life lessons, Harold (Eric Shelley).

But with or without visuals that are moving and interesting, this story, in any incarnation, is all about the characters. In that, TheatreWorks has struck gold. Myers gives the wacky widow a hometown feel, slightly more flower child (in her buskin boots) than feisty renegade radical. Jones has written her softer—"You're so fragile" is Harold's gateway to the kiss—and Myers makes her eminently huggable.

In the beginning, Harold only lives life internally. Outwardly, he's still mother's dress-up doll, a poor smothered rich boy. Shelley's sensitive portrayal gives early Harold the personality of an inventor-geek in sore need of a lifetime membership to the Society for Creative Anachronism. Harold's way of "acting out" is to stage painstakingly researched enactments of self-destruction. Costume designer Cathleen Edwards starts Harold out in three-piece suits, throttling, Windsor-knotted ties and neck-chaffing collars. Under Maude's influence, as his attire devolves from three- to two-piece suits to plaid dress pants to, finally, casual jeans, Shelley judiciously lets stiff, repressed Harold Chasen unfold into exuberant, infatuated Harold ready to act on the world.

Jones' play favors a looking-for-love Harold, toning down the more subversive idea that the adult world has few answers to offer suicidal teen angst. But Jones also handles the way youth blends into age with admirable gentleness and wonder, especially in the lyrics to "Two Sides of a River." However, the choice of musical styles in the Broadwayesque Joseph Thalken jars at almost every turn (where are White Stripes when you need them?), stifling the spirit of the story. This music melts edgy angst into baleful yearning and plasters over "quirky" as if it can't wait to pull a Mrs. Chasen number on the beautifully misfit themes. (The story of a suicidal, attention-seeking geek teen and an almost 80-year-old free-spirited car thief who briefly share something like puppy love is so not The Little Mermaid.)

But this cast is perfectly capable of swimming upstream. On opening night, Alison Ewing as Sunshine, a melodramatic actress whose sensual cup spilleth over, brought the audience to a roar when she outdid Harold in dramatic mock-suicide. And Alice Vienneau was delicious as Harold's self-absorbed mom, Helen Chasen (more props to Cathleen Edwards for the stunning black-and-white outfit). Vienneau is great in "Mirror, Mirror," a juicy dressing-table lament that begins "Mirror, mirror on the wall, when did my bosom start to fall?" (The music actually works here.) Daniel Marcus also drew applause when he came out as everything from a motorcycle cop to a martinet ex-military man to a priest, who gets into singing duels with his altar boy (Ewing)—here, too, the baroque liturgical music works.

In spite of the rest of the music, it's a totally engaging production that includes a fun explosion, a hanging, severed-hand special effects and loving detail in the set pieces for Maude's home, down to a decorative dress form with bunt pan head and two cooking-pot breasts.
---
Harold & Maude: An Intimate Musical, a TheatreWorks production, plays Thursday-Saturday at 8pm, Saturday at 2 and 8pm (8pm only Aug. 13) and Sunday at 2 and 7pm (2pm only Aug. 14) through Aug. 14 at the Lucie Stern Theatre, 1305 Middlefield Road, Palo Alto. Tickets are $20-$54. (650.903.6000)
---
---
Send a letter to the editor about this story to letters@metronews.com.
---
[ Silicon Valley | Metroactive Home | Archives ]