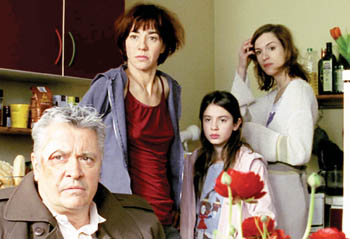 The Hustler: Harry Hübchen copes with the women in his family in Dani Levy's comedy 'Go for Zuker.'

Cantoring

The SF Jewish Film Festival comes to Mountain View with 'Go for Zucker' and 'A Cantor's Tale'

By Richard von Busack

THE 25th edition of the Bay Area-wide San Francisco Jewish Film includes a swath of screenings in Mountain View, July 31-Aug 4. The biggest treat shows July 31 at 6pm. Go for Zucker is Dani Levy's lively, fluffy comedy about a conniving pool-hustling rascal. Jakob "Jaeckie" Zucker (Harry Hübchen) is a skidding ex-celebrity, "the typical reunification loser," a big-time sports announcer in the DDR but now just the owner of an indebted B-girl bar he euphemistically refers to as "a lonely hearts club." Unfortunately, he's forced by the terms of his mother's will to make peace with his estranged Orthodox Jewish brother, despite the fact that Zucker would have to start practicing to be called a nonpracticing Jew. ("I know Zucker sounds Jewish, but I'm not a member of that club," he wisecracks over a pool table.) Go for Zucker has a broad Billy Wilder streak in it—the film is apparently narrated by a cadaver, like Sunset Boulevard. Still, it transcends strictly Jewish subject matter—the two quarrelling brothers, separated by the Berlin Wall, symbolize the estrangement and reunion their native country underwent.

On Aug. 1 at 4:15pm, the festival screens Isn't This a Time!, the serious version of A Mighty Wind. The film documents the 2003 folk concert in honor of Harold Leventhal, manager of the Weavers, Pete Seeger, Theodore Bikel and Peter Paul and Mary. The same day at 6:15pm: A Cantor's Tale. Meet a mensch's mensch: Cantor Jack Mendelson, originally of Boro Park—a Brooklyn neighborhood where the only more important topic than the Brooklyn Dodgers was the quality of a given shul's cantor. Director Erik Anjou makes a reasoned, if overlong, case for the rise and fall of a tradition, rescued by the witty and highly likable Mendelson. Anjou also touches on the controversy of allowing female cantors to sing; it's hotly argued against by the old guard, but we see Mendelson bringing around a new generation of singers at the Cantor's Assembly.

Aug. 2 features two films about Jewish neighborhoods: Maidan, Nave of the World (2pm) and 4:15pm Odessa ... Odessa! (4:15pm). Maidan was and is the cosmopolitan district in Tbilisi, capital of the Georgian Republic; Odessa, the Ukrainian port city, is as visited as Brighton Beach, the New World version—known to everyone as "Little Odessa." The next day, at 4:15pm, the festival shows Ydessa, the Bears and Etc. The one and only Agnès Varda investigates an unusual art show in Munich: Ydessa Hendeles' collection of teddy-bear photos. What sounds whimsical turns out dire. The collector, Hendeles, is a witchy millionairess, who is the daughter of Auschwitz survivors. The images induce what Varda describes as "a feeling of irredeemable loss." Rather than take Varda's word for it, see the slide show of the anonymous, long-gone people with their inanimate pets. The only words to describe it all are Dante's: "I had not thought death had undone so many." I already felt unease around teddy bears—I share Barbara Ehrenreich's fear that if I ever got really sick, someone would slip one in my deathbed, as a way of infantilizing me when I was too weak to fight back. But seeing the legions of shoe-button-eyed teds cradled in old photos causes a sense of melancholy, a sense lifted somewhat by a brief discursion on the subject of Tomi Ungerer's hero-teddy book Otto.
---
The San Francisco Jewish Film Festival plays July 31-Aug. 4 in Mountain View at the Century 16; see www.sfjff.org for details.
---
---
Send a letter to the editor about this story to letters@metronews.com.
---
[ Silicon Valley | Metroactive Home | Archives ]