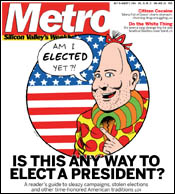 For the Week of
July 28-August 3, 2004
Cover Story: Is This Any Way to Elect a President?:
A reader's guide to sleazy campaigns, stolen elections and other time-honored American traditions.
News: Teaching Torture
Despite agitprop about torture being 'un-American,' Congress has quietly kept alive the School of the Americas, our country's infamous torture-training school.
The Fly: This week's political bites.
Stocks Still An Option: Feds move to derail valley gravy train.



Biter: Asiel Design grows a Gothic fantasyland.
Techsploits: What message is the government sending with their treatment of Steven Kurtz?
Rev: This summer's biggest movies seem to be getting all political about cars.



Picture Puzzles: An interactive show at the Cantor Arts Center raises a 'Question' or two about what makes art.



Cash and Carry: A young woman braves customs and dealers to survive as a cocaine smuggler in 'Maria Full of Grace.'
Bourne Again: 'The Bourne Supremacy' is more marketing strategy than movie.
Two Men and a Baby: Colin Farrell looks for 'A Home at the End of the World.'
Taken for Grant: 'Touch of Pink' is a farce of a different color.
Riding High: Joplin, the Dead and more take the electric Canadian Club test in 'Festival Express.'



He Wants to Tell You: Dale Ockerman has got lots to say about the White Album Ensemble's 'Rubber Revolver.' Too bad our reporter is totally tripping out.
Aural Fixation: Papa Roach hits the clubs to debut songs from its forthcoming 'Getting Away With Murder.'



Playing Favorites: Hidden gem Bangkok Taste is almost too good to share.
Club Life: The Wave Room in Los Gatos.



Is There a Doctorow in The House?: Foothill College mixes myth, magic and courage in 'Ragtime.'
Growing Up: Children's Musical Theater takes on adult themes in current 'Miss Saigon' production.



Please don't forget to write! Metro welcomes letters. Like any great work of art, they should be originals — not copies of letters sent elsewhere. Include address and daytime phone (for verification purposes only). Letters may be edited for length and clarity or to correct factual inaccuracies known to us. Postal: Metro Letters, 550 S. First. St., San Jose, CA 95111. Fax: 408/298-0602. . Emailers, please include name, city of residence and phone number. Letters printed will list email address unless otherwise specified. Letters to the editor are not currently published in the online version of this paper.