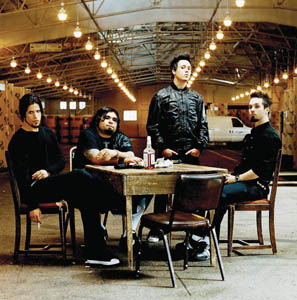 Photograph by Olaf Heine

¡Viva la Cucaracha!

Raid the Nation

Papa Roach hits the clubs to debut songs from its forthcoming 'Getting Away With Murder'

By Sarah Quelland

'THE ENERGY LEVEL is fuckin' through the roof, 'cause it's in such a small environment, and everybody's going apeshit!" frontman Jacoby Shaddix raves about Papa Roach's exciting return to the club circuit. He's calling from the band's tour bus, which is parked outside the Engine Room, a Houston club with a capacity of about 800, where the band will perform that night. The Vacaville-sprung band is about halfway through a national tour with Instruction and Dead Poetic that brings it to Slim's in San Francisco Tuesday (Aug. 3) and the Catalyst in Santa Cruz next Friday (Aug. 6), and things are going very well.

Papa Roach erupted from the California underground, packing the Cactus Club and the Cocodrie early on. Its DreamWorks Records debut, Infest, went triple platinum, and though the follow-up, 2002's lovehatetragedy, met with comparatively disappointing sales, the explosive album demonstrated a progression in the band's songwriting and detailed emotional struggles with complex adult themes like marriage, exhaustion and depression. For the past four years, it's been almost impossible to catch Papa Roach outside of a large venue. But this club tour gives fans the full P-Roach experience and offers a taste of the new record, Getting Away With Murder, which comes out Aug. 31 on DreamWorks/Geffen.

The album was produced by Howard Benson, and Shaddix says Benson's focus on vocals and lyrics appealed to the band. Shaddix recorded his parts in an 8-by-8 room with no windows and no light: "Just a microphone, headphones, my lyric book and a candle, and I would just go up there and go fuckin' crazy for as long as I could sing," he relates.

Thematically, Shaddix suggests, "There's moments on this record where it's definitely the traditional style. I'm baring my heart and my soul." He was also determined to shake people up and motivate them to start paying attention to what's going on in the world. Referring to the new song "Not Listening," with the chorus, "I'm not listening, not anymore/ The more I learn, the more I ignore," Shaddix says, "I'm reading about politics, and the shit is just shady! People need to wake up and look at what's going on. I don't give a fuck as far as what side politically you're going to be involved in, just be involved." Another new one, "Blanket of Fear," is influenced by Barry Glassner's The Culture of Fear. "That's another rattle-your-bones kinda track," Shaddix says. "The chorus is saying, 'Hold onto your dreams because your nightmares might become your reality.'"

This isn't the first time an author has influenced Shaddix. Perhaps most obvious is Infest's "Between Angels and Insects," an anti-consumerism song inspired by Chuck Palahniuk's Fight Club. "Art and film and painters and books are a great influence on what I do in music," Shaddix declares.

Papa Roach recorded 17 songs, and 12 made the cut to Getting Away With Murder, including "Blood," "Stop Looking, Start Seeing," "Be Free," "Do or Die," "Sometimes" and "Scars."

Live, Shaddix says the band's been playing a balanced set that includes new songs "Getting Away With Murder," "Not Listening," "Done With You," "Tyranny of Normality" and "Take Me." "It's a pretty good mix of songs," he says. "We didn't abandon all the old stuff."

In the past four years, Papa Roach has played on big tours and festivals, and some of its most recent South Bay appearances include 2001's OzzFest and 2002's BFD and Not So Silent Night. While the band can work a big crowd into a frenzy, there is nothing quite like the rush of seeing Papa Roach in a club.

"Reconnecting with that vibe has been fuckin' important for us," Shaddix stresses. "We've been going around to these places, and people are like, 'I've never seen you in a club before. This is insane!' It's good stories for the street, you know. Get the kids buzzing on the underground level." Visit www.paparoach.com.

HOT TOPIC: There's a blue moon this Saturday (July 31), which seems an appropriate occasion for Kung Fu Vampire to emerge for a show at the Blank Club. Lords of the Manor, Delta Activity, Rebelskamp, Esoteric and Headshop also perform and ladies get in free all night. Visit www.kungfuvampire.com.
---
Send a letter to the editor about this story to letters@metronews.com.
---
[ Silicon Valley | Metroactive Home | Archives ]