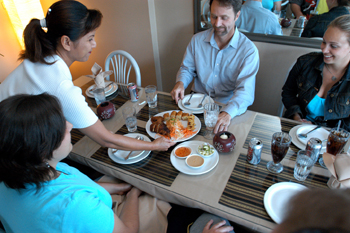 Photograph by Charlie Nucci

Winning Thai: Dishes are big enough to share at Bangkok Taste—but keep the address to yourself.

Playing Favorites

Hidden gem Bangkok Taste is almost too good to share

By Jim Harrington

SOME readers will be upset to see a story on Bangkok Taste in Metro. They don't need a review—they already know it's good. For 11 years, Bangkok Taste has been a "hidden gem" in the most classic sense of the term. The Thai restaurant has been cherished by locals living near the intersection of east Los Gatos and San Jose and ignored by others who zoom by its strip-mall location on Blossom Hill Road.

It's a rare occasion when there isn't at least one table open, even on a Friday or Saturday night, which makes Bangkok Taste an attractive alternative to battling the busy downtown Los Gatos dining scene. But the cuisine compares favorably with most of the other Thai spots in the South Bay, which also makes Bangkok Taste a true treat in an area where good ethnic (or other) food is hard to find.

Chutima Thongpreecha carries on a family tradition at Bangkok Taste. Her father, who trained at the largest culinary institute in Bangkok, was the head chef at Los Angeles' acclaimed Arunee, reputed to be the first Thai restaurant in the country. After working at various Thai houses in Southern and Northern California, Thongpreecha and her dad opened Bangkok Taste in 1993. The father has since passed away, but a picture of him hangs above the counter. And Thongpreecha can be seen in the restaurant on most nights, moving hot plates of red curry beef, garlic pork and other Thai treasures from the small kitchen to the cozy tables.

Befitting its hidden-gem status, the restaurant's exterior doesn't say much—it's just a basic storefront that blends into a spot between a gas station and a liquor store. Inside, there's enough green to make a jolly giant happy: green bamboo plants, green place mats, green carpet, green chairs. The walls are decorated with Thai tapestries and other artwork.

So, really, there's nothing visual, inside or out, to prepare diners for the superb culinary experience they are about to enjoy at Bangkok Taste.

My most recent meal began with a few quick picks from the appetizer list. I purposefully skipped the satay dishes, which I knew from previous visits to be excellent, to try something new. The Thai Angel Wings ($8.95) didn't disappoint, offering two huge chicken wings, hollowed out and stuffed with thin shreds of cabbage and carrots and then wrapped in a crispy deep-fried breadcrumb coating. They're nicely accompanied with a hot-and-sweet plum sauce dotted with flecks of red pepper and served over a cucumber salad.

A "small" order of chicken in coconut-milk soup ($6.95), which easily serves three, proved to be the perfect complement for the fried wings. The soothingly rich blend of creamy coconut milk and chicken broth was given a noticeable kick with a squirt of lime juice, bits of red chile and plenty of lemon grass and cilantro.

The beef pi-roj ($9.50) is a house favorite, offering thin slices of tenderly sautéed beef, crunchy bell pepper chunks and perfectly cut bamboo rectangles in a very wet and elusively spicy green-chile paste. It's a complex tangle of flavors and textures meant to be soaked up over a bowl of steamed rice.

The yellow curry chicken ($9.50) was nearly as good, although, in general, Bangkok Taste does a better job with beef than with bird. Slowly simmered chicken is matched with gigantic potato chunks (which actually need to be cut before attempting to shove them in your mouth) and more reasonably sized carrot and onion slices in a creamy shake of coconut milk and bright yellow curry.

To even out the curry and chile dishes, my party made exactly the right choice with the rama tofu ($8.95). A warm vegetarian dish that can also be shared as a side or used in place of a salad, the rama is a delicious offering of still-crunchy cooked spinach and pillowy cubes of steamed tofu covered in a sweet peanut sauce.

Finally, we split dessert, a deep-fried banana served with vanilla ice cream and dressed up with sweet honey. As we finished the last bites and scooped up the runny melted ice cream with our spoons, I again thought twice about sharing this hidden gem with readers.
---
Bangkok Taste
Address: 1769 Blossom Hill Road, San Jose
Phone: 408.358.2525; www.bangkoktaste.com
Hours: Lunch 11am-3pm Mon-Fri; dinner 5-9:30pm Sun-Thu, 5-10pm Fri; lunch, dinner 11am-10pm Sat
Cuisine: Thai
Price Range: $6-$11
---
---
Send a letter to the editor about this story to letters@metronews.com.
---
[ Silicon Valley | Metroactive Home | Archives ]