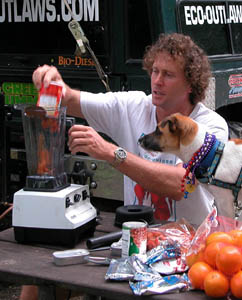 Murphy: Fueling up, with dog Sparky.

The Fly

Junk Food Gas Guzzlers

Several weeks ago, we published a story asking what will happen when the world inevitably runs out of petrol. ("The End of Oil," July 7). A 38-year-old Australian returning from a cross-country odyssey has answered the question for us. If Shaun Murphy's journey is a glimpse of the future, cars of the 22nd century will run on nothing more than leftover table scraps and moonshine. Murphy returned last week from an eight-month trek—from San Francisco to the Canadian border, over to New York, down to Miami, across the south to Los Angeles and back to San Francisco—in vehicles powered by food stuff shoved into a gasifier and converted to fuel. "It's been a long time living out of an RV, mate," says Murphy, whose office is in Los Gatos. Several years ago, Murphy, a horticulturalist-turned-television producer, decided to travel across the Australian outback to Sydney, an 800-mile journey, in vehicles powered by non-petroleum-based fuels. An American investor saw the television show and asked Murphy to duplicate the feat in the United States. To navigate the continent, Murphy drove 28 vehicles (including a Harley Hog, an airplane and a boat) using 12 different fuels (from soybeans to pop tarts). People who were aware of Murphy's journey, either through word of mouth or his website, donated the vehicles. He drove out of New Orleans, for example, in a Hummer fueled by 100 beignets (a donutlike delicacy), which landed him about 70 miles outside the city. "It's not very practical but it proved we can take the nastiest, biggest gas guzzler and make it run on food," he says. He made it across Alabama in a pickup truck two guys from Louisiana equipped with a jet turbine engine. The fuel? Restaurant grease. He powered a stretch Hummer limousine out of Los Angeles using five fuels, including solar panels, soybeans and corn whiskey. "We got a higher mile-per-gallon [than gasoline] because of all the substances," Murphy says. Most cars can be easily converted to burning edibles, he says, especially diesels. "Oil and gas are hydrocarbons," he explains. "So is most of our food." Look for Murphy's show, Eco-Trekker, on one of the cable channels next spring. Murphy isn't saying which one—he's still in negotiations—but says most television watchers can probably guess where the program will land. "The crazy thing is, it's all so doable," he says. "There's not a lot of infrastructure change [in the cars] and you can get super mileage."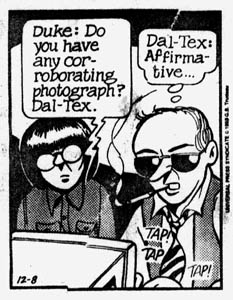 King Duke: Downsized.
The Incredible Shrinking Dailies
The San Jose-based Knight Ridder company, which owns 31 papers across the country, including the San Jose Mercury News, has apparently borrowed a page from Wal-Mart, which routinely forces manufacturers to lower the price of products before the retail giant will stock them. Last week, Newsweek reported that Knight Ridder has demanded syndicates drop the price of cartoon strips by 20 percent or face a loss of $100,000 worth of business. The effort follows newspapers in Dallas, San Francisco and Atlanta that have cut costs by eliminating cartoon strips. Attempts to prompt cartoon syndicates to discuss the issue failed, though Universal Press Syndicate sent a press release saying the Kansas City company, which distributes Doonesbury, Boondocks and other strips, does not discuss negotiations with newspapers. Knight Ridder's PR flack also failed to respond. But if the company does cut the comics page, it will be another example of the dwindling content family newspapers offer. The Mercury News, as one example, has enraged its reporters, if not its readers, by cutting pages and enlarging graphics so that front-page stories are barely four or five paragraphs long before jumping to the back of the section. Sadly, as newspaper content dwindles, so does the reason to read the paper. "Comics are a newspaper-born art form that offers a proven value in holding and growing a passionate readership," the UPS news release said. That doesn't mean anybody at Knight Ridder is listening.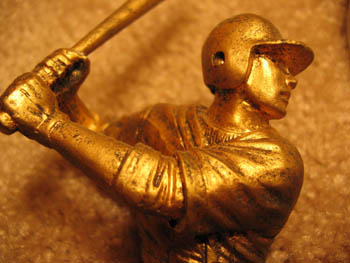 You're Out!: SJ stays in the minors.
No Way for Baseball SJ
Fly wishes we could have seen the looks on faces of Baseball San Jose members when they read the Oakland Tribune last Friday. Oakland A's bigwigs said they decided not move the team to the South Bay. "We want to be where there is good transportation, we want to be as urban as we can, and we don't want to be the first to go to the suburbs," said Lew Wolff, the A's vice president for venue development. So much for Baseball San Jose. But it does give Fly another opportunity to put in a plug for the major league championship team already here. The San Jose Earthquakes are looking for a new home—which means they're looking for someone to spot $45 million for a stadium, close to either Great America or the County Fairgrounds. San Jose city officials prefer to remodel Spartan Stadium, primarily because it's cheaper. "[To build a new stadium] requires more than just the land," said Dean Munro, executive director of the San Jose Sports Authority. "It requires a public entity stepping up and spending $40 million ... It's difficult to see, at this time in California, with governments being so stretched financially, anyone having the financial wherewithal to do that." Undeterred, a grassroots coalition called Soccer Silicon Valley (SSV) will stage a noon rally Aug. 20 at Plaza de Cesar Chavez. "On top of the stadium deal, we're also having a two-pronged thing," said SSV's John Jussen. "[We're] trying to find a local investor for the team." Of course, it will come down to the Benjamins—and a sugar daddy with as much fondness for soccer as for America's former favorite pastime.
Fly Swatted
Fly had a few numbers flip-flopped in last week's piece about the Housing Authority of Santa Clara County. It seems board member Carl Guardino, who's better known as the CEO of the Silicon Valley Manufacturing Group, was not absent from 62 percent of the authority's board meetings since 2001. He was present for 62 percent, which, as he points out, is well above the 50 percent participation rate required by the authority. As always, Fly regrets the error.
---
Send tips to 'The Fly': .
---
---
Send a letter to the editor about this story to letters@metronews.com.
---
[ Silicon Valley | Metroactive Home | Archives ]