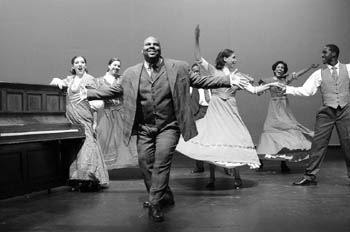 Photograph by David Allen

Hoofing: Coalhouse Walker (James Monroe Iglehart) cuts loose in 'Ragtime.'

Is There a Doctorow in The House?

Foothill College mixes myth, magic and courage in 'Ragtime'

By Marianne Messina

IN THE MIRACLE melting pot of America, land of opportunity, anyone with a dream and a strong sense of industry can go from rags to riches, etc., etc. If larger-than-life icons and recitations of this American myth make you misty, you'll want to see Foothill Music Theatre's production of Ragtime, based on the novel by E.L. Doctorow. But even if 50-odd years of melting-pot musicals have worn your love for the genre a little thin, Ragtime comes through (especially after the first half, which introduces the icons: like Henry Ford (Kevin Kirby), J.P. Morgan (Ray Renati, riding in on a green bag of money), Booker T. Washington (Kieleil-DeLeon Frazer), Harry Houdini (Stephane Alwyn), Tateh the Jewish immigrant (Paul Araquistain), Coalhouse Walker the black musician (James Monroe Iglehart), and the generic wealthy white family (Mother, Mary Melnick; Father, Gregory Tittle; Younger Brother, Robert Brewer; and Little Boy, Andrew Sanford).

Thanks to director Jay Manley's ambitious scope, the 60-member-plus cast makes the production truly impressive. Though the solo numbers can be a mixed bag in terms of vocal command, and the orchestra had its bumpy moments on opening night, when the three ensembles come together and sing, a thrilling sea of voices, volume and harmony fills the stage. And designer Fumiko Bielefeldt (who designed the costumes for the original TheatreWorks production) visually enhances harmony by lining the stage with costumed striations—the pristine peach of New Rochelle's upper class against the dark motley of the immigrant ensemble against the floral cotton of the Harlem ensemble. Also inherited from TheatreWorks were J.B. Wilson's set pieces: the movable train caboose with back-lighted doors, the countless bits of furniture seamlessly carried on and off by both cast and crew.

The story becomes interesting when Mother finds an abandoned black baby in a field. Breaking with her princess-bride past, she makes the bold move (while her husband is away) of taking both the child and his mother, Sarah (Julie Valentine), into her home. Pianist Coalhouse Walker, the child's father, comes courting Sarah, and things are going well until Walker's fine new car is disrespected and scuttled by a bunch of "mick" firemen (to its credit the script does not spare racial/ethnic epithets in the interest of revisionist history). Coalhouse Walker pursues justice through proper channels at first, but as redress eludes him and his quarrel escalates, it reaches a flash point that draws in the social and racial tensions of the day. (Realists will also be pleased that Walker's sadly typical demise is not whitewashed.)

Iglehart gives a powerful performance as Walker, and there's some nice music around the Coalhouse/Sarah love story. But Stephen Flaherty's score seems to blossom, possibly peak, on a duet in Act 2, "Our Children," between immigrant and princess (Araquistain and Melnick, who rise to the occasion). As Tateh and Mother stand on the Atlantic City Boardwalk and watch their children play together, they observe how children take us "toward the future, from the past." It's a love song, but Melnick also gives us Mother's moment of realization: that while it comes naturally for the next generation to overlook old class/race/ethnic boundaries, for her and Tateh it will take endless small acts of courage.
---
Ragtime, a Foothill Music Theatre production, plays Thursday-Saturday at 8pm and Sunday at 2:30pm through Aug. 15 at Smithwick Theater, Foothill College, Los Altos Hills. Tickets are $10-$24. (650.948.4444)
---
---
Send a letter to the editor about this story to letters@metronews.com.
---
[ Silicon Valley | Metroactive Home | Archives ]