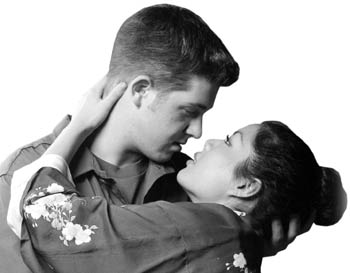 Photograph by Kyle Chesser

Embraceable You: Eric Krop of Almaden plays an American soldier in love with a Vietnamese orphan (Katharine Liu of Fremont) in 'Miss Saigon.'

Growing Up

Children's Musical Theater takes on adult themes in current 'Miss Saigon' production

By Marianne Messina

'EVERYBODY talks about the helicopter, but it's not about the helicopter," says Children's Musical Theater artistic director Kevin R. Hauge. "It's about humanity." He's referring to the well-known scene in the musical Miss Saigon that depicts "people wrenching and clutching" to get on the last airlift from Saigon at the end of the Vietnam War. Hauge has just come from rehearsing two separate casts in the scenes where the newlywed Ellen meets her husband Chris' wartime lover Kim, learns Chris and Kim have a child together and must decide how to build a life with Chris while doing right by the child.

In rehearsal, the 19- and 20-year-olds Hauge is working with can transition on a dime, between embodying intense emotion (while singing) and stepping outside the work to take in Hauge's directorial comments: "We don't want to lean on the furniture too much—bad energy, bad chi" or "Could you make it more like it's not the WWF" (referring to a hug that resembles a choke hold). When people hear "children's theater," they often wonder how a story with the adult themes of Miss Saigon is going to ring true. And certainly the musical might be beyond the reach of CMT's two younger groups, called the Rising Stars program. "But this is a play about a 17-year-old girl and a 20-year-old guy," Hauge points out. "These girls [Katherine Liu and Sarah Statler, both playing Kim] are 20; they're already playing younger than they are." Besides, the youthful cast is long on professionalism and talent. They study theater at competitive arts schools such as NYU and UCLA. At rehearsal, when Sarah Statler isn't performing, she's accompanying on piano. More to the point, Statler, Chelsea Stock (playing Ellen) and Nick Spangler (playing Chris) have been with Hauge and CMT since they were in grade school—and since 20 is the cutoff age, some of them are culminating their CMT careers with Miss Saigon. That's the bittersweet part of directing children's theater. "It feels like the movie Logan's Run," Hauge confesses. (In Logan's Run, citizens are disappeared on their 30th birthdays.)

The material has brought Hauge and his young actors into some complex discussions on war. But being the same age as American soldiers in Iraq (Chris' line, "Christ, I'm American, how could I fail to do good?" has a post-Abu Ghraib familiarity), the male actors respond readily to the subject of war. Hauge admits that the college girls may have a bit more trouble taking on the idea of "a mother's ultimate sacrifice," which Hauge sees as the heart of the story. But Hauge is happy to trade off the professional and life experience of older actors for the energy and willingness to experiment of younger actors. His enthusiasm is the reason that when CMT became the first non-Equity theater offered the rights to do the jealously guarded property, Hauge couldn't resist bringing Miss Saigon to his troupe, with all its challenges. "It'll be a long time before they get to do it again."
---
Miss Saigon plays Friday at 7pm, Saturday (July 31) at 2 and 7pm, Saturday (Aug. 7) at 2 and 8pm, Sunday (Aug. 1) at 1 and 6pm, Sunday (Aug 8) at 1pm and Thursday (Aug. 5) at 7pm at the Montgomery Theater, Market and San Carlos streets, San Jose. Tickets are $12/$18. 408.288.5437.
---
---
Send a letter to the editor about this story to letters@metronews.com.
---
[ Silicon Valley | Metroactive Home | Archives ]