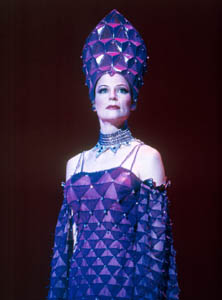 Photograph by Joan Marcus

Queen of Denial: Egyptian princess Amneris (Lisa Brescia) can't believe her betrothed has got his eye on another woman in 'Aida.'

Sir John's Opera

Disney's take on 'Aida' rocks right over Verdi's version

By Michael J. Vaughn

MY FIRST REACTION to the news of an Elton John-scored, Disney-produced Aida was, Why? Didn't Verdi get it right? The Italian composer's 1871 creation, based on a novel by Auguste Mariette, is widely considered to be one of the best operas ever written. As it turns out, Sir Elton is a natural. Blending the classical training of his youth with his apprenticeship in bands like Bluesology and Long John Baldry, John peppered early albums with orchestral mini-rock-operas like "Indian Sunset" and "Funeral for a Friend/Love Lies Bleeding." And his concert life has been nothing if not theatrical.

On the other hand, the book writers--Linda Woolverton, Robert Falls and David Henry Hwang--have fallen into that nasty Disney habit of deleting gray areas. Specifically, they turn the original's warfaring Ethiopians into captive Nubians, producing an easily identified villain nation. (Nubians good! Egyptians bad!) Granted, the Aida story has always been purely fictional, but Mariette was a lifelong archaeologist, honored by the Cairo government for his devotion to Egyptian culture.

The best testament to the original story is that, even after the Nubian changeover, there's plenty of conflict to go around. Egyptian captain Radames (Jeremy Kushner) falls for a slave, Aida (Paulette Ivory), from the very country he's pillaging. Both are torn between country and love, and once Radames' betrothed, Egyptian princess Amneris (Lisa Brescia), starts to catch on, she's caught in the same torturous taffy pull. The most touching scenes come not from the star-crossed lovers, but from the two women, as their devotions waffle between Radames and their native lands.

The Disney touring production is dazzling. Amneris makes her entrance at the shallow end of a vertical swimming pool. Declaring that superficiality is her "Strongest Suit," she proceeds to a rock & roll fashion show of outlandish Bob Crowley designs. Crowley also provides the coolest uniforms in the world--long, black Matrix-cum-Cossack jackets--for the secret troops of Zoser (former Monkee Micky Dolenz), who dance against a red James Bond background.

The three principals are top-notch. Kushner's voice wanders between a typical Broadway ring and a dead-on Elton John snarl. Ivory plays Aida with unmistakable nobility, a tremendously powerful voice and half-sung dialogue that threatens to turn into recitative. Brescia lends Amneris a comic vapid charm, jacking up the sense of surprise when she begins to mature into her country's next leader. It is Amneris who greets us at the beginning, stepping from a display box at an Egyptian museum to proclaim, "Every Story Is a Love Story." The return to ancient Egypt is announced not so much by her words as a thunderous guitar power chord, loud notice that Sir Elton has not forgotten how to rock, and that we are in for a stirring, albeit flawed, evening.
---
Aida, presented by American Musical Theatre of San Jose, plays July 30-31, Aug. 1, 4-6 and 8 at 8pm, Aug. 2, 7 and 9 at 2 and 8pm, Aug 3 at 1 and 6:30pm through Aug. 9 at the Center for the Performing Arts, 255 Almaden Blvd., San Jose. Tickets are $43.50-$68.50. (888.455.SHOW)
---
---
Send a letter to the editor about this story to letters@metronews.com.
---
[ Silicon Valley | Metroactive Home | Archives ]