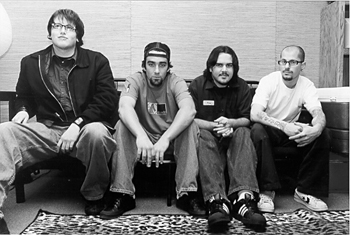 Divided headlined Sloppy Joe's local showcase.

Crop Circles

Local bands busted out new tunes for KSJO's 'Home Grown' show at the Edge

By Sarah Quelland

NEW MUSIC WAS the common denominator last Friday (July 25) at the Edge in Palo Alto, where a diverse crop of Bay Area talent was rounded up to play KSJO and Sloppy Joe's Home Grown show. The original lineup was Skinlab, Divided, Lords of the Manor and Drist. But Skinlab's last-minute cancellation (in a posting to fans on the band's website, frontman Steev Esquivel said the band was going on an indefinite hiatus effective immediately) caused the show's coordinators to scramble to fill its spot. Greenhouse Effect and Unjust were recruited and made for nice additions to the already eclectic local rock and metal roster.

Lords of the Manor may have just released their full-length Blood of Time (featuring Lords classics like "Ode to the Weak," "The Wheel of Corruption Turns" and "Below the Breathless Black"), but the young band didn't play so much as one song from that album. Instead, Lords of the Manor used their time onstage to play newer material, like "Seize the Day" "Liars Lullaby" and "No Bloodshed." Backed by drummer Taj Valadez, keyboardist Jessica Zumwalt, guitarist Julie Matthews, frontman Jot Dickerson, bassist Derek Elliott and guitarist Dean Celentano stood in a formidable line at the front of the stage, dressed in black from head to toe. Fierce and forceful, they're the epitome of the bright young things. Their dark orchestral metal has elements of a gothic Broadway musical full of grinning gargoyles, and this six-piece storm of energy continues to be one of the most exciting live bands in the county.

Unjust also played new material off its latest album, Glow, including "Falling," Facepaint," Tired" and first single "Way Out," which sounds like an instant radio hit. With guitarist Mike Merino, bassist Eric Wong, keyboardist Thom Tucker and drummer Brian Palkowski, Unjust also features frontman Paul Mendoza, whose vocals move appealingly from a soaring croon to a spitting rage.

Similarly, Divided frontman Ryan Reynoso's vocals jolt from sweet to scarring in an instant. Closing out the night, Divided also shared new material but was plagued by problems with the bass that put a crimp in its style. Charismatic and comfortable onstage, Reynoso made the best of the delay, stalling for time by tossing out free CDs, trying to auction off guitarist Paul Borges and generally entertaining the audience. "Thanks for comin' out to the Ryan show," he told the crowd. "I'll be here all week." The band did manage to play a full set of 11 songs, including "Untitled," "Karma," "Self-Sufficient," "No Regrets" and "The Scars I Wear," plus older favorites "Icarus" and "One Breath."

Home Grown plays songs by these and other Bay Area bands weekly. The show, hosted by Sloppy Joe, airs every Sunday at 11:30pm on KSJO-FM (92.3). Bands can mail their CDs to Sloppy Joe c/o KSJO Radio, 1420 Koll Circle, Suite A, San Jose 95113.

ROCK AND COLE: Local bands Krenshaw, Rivals, SORA and thought crime participate in a benefit concert for Cole's Cure Thursday (July 31) at the Edge. Tickets are $12 in advance and $14 at the door, and proceeds benefit Cole's Cure Org. (CCO), a nonprofit organization and support network founded to help child patients and their parents cope with long hospital stays due to debilitating illnesses. Visit www.colescure.org.

HOT TOPIC: Johnny V's held its first live rock show last Saturday (July 26) with Bodies in the Basement and the New Strange. Pleased with its success, owner Johnny Van Wyk says he'll definitely continue to do live shows on a sporadic basis until he gets the upstairs open, which he hopes to do by the end of the year. This is good news for bands that used to play at the Caravan, which is not currently hosting live music. ... Former Moodfrye frontman Mo has joined Northern California-based outfit UVR. ... Lavabone has finally replaced former frontman J.C. Franklin. Its new vocalist, Seth Heitzmann, hails from Benicia. The band expects to start booking shows in September.

PLAN AHEAD: My Rival Sun, Mercury Sound, Delta Activity and Life With Jonas, Aug. 1 at the Gaslighter Theater in Campbell; iNQ and the Whey, Aug. 2 at Club Four; Out of Fiction, N.M.E. and Empty Office, Aug. 4 at Waves Smokehouse; Something Must Die, Sora, the Sky Is a Wall, Hostility and Krucible, Aug. 4 at the Gaslighter Theater.
---
Send a letter to the editor about this story to letters@metronews.com.
---
[ Silicon Valley | Metroactive Home | Archives ]