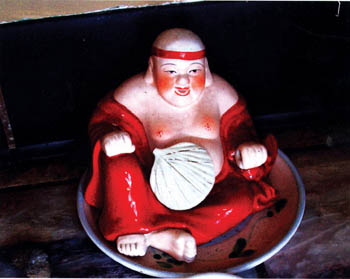 Photograph by Chris Revell

Fan Base: Citronelle's way with flavor promises to renew your love for Vietnamese food.

Zest for Spice

Citronelle takes California cuisine's fresh ingredients and high-grade meat and adds a kick of sophisticated Vietnamese spicing

By Christina Waters

EVERY DISH is a miniature garden at the reinvented Citronelle. Plump Kaua'i shrimps, aromatic mint and the heady touch of red chiles--these are the show peonies wrapped in the soothing lemony greens and yellows that grace the Vietnamese restaurant, where service is smart, and the cuisine goes miles beyond pho.

Citronelle hugs the corridor between Campbell and San Jose, where, despite its stylish interior, original artwork and spicy seductions, it is in danger of going unnoticed. Di and I brought major appetites with us last week. From the well-formed wine list, we chose glasses of Toad Hollow Chardonnay ($7) and a crisp Zonnebloem Sauvignon Blanc 2002 from South Africa ($5.50), both perfect with the bold seasonings of our multicourse dinner.

We began with a square platter piled high with spring rolls ($5.50) and a gorgeous presentation of Vietnamese turmeric crepe filled with goodies ($8.50). The transparent rice-paper wraps revealed fillings of succulent shrimps and slices of pork, as well as vermicelli noodles, fresh mint leaves and the ubiquitous mung bean sprouts. Dipped into a pool of peanut and chile-infused tamarind sauce (which definitely added a zesty kick), each bite took us through an Eden of bright flavors. I especially love what happens when mint, cilantro and shrimp all get together in a gastronomic ménage à trois.

Our upbeat waitperson instructed us in the art of the crepe. Select a huge red lettuce leaf, wrap it around a bit of the crispy crepe--filled with natural Niman Ranch pork, shrimp and caramelized onions--and then dip it into a hot and sweet Viet fish sauce. Sensational flavors, gorgeous eye appeal--Citronelle had already won us over. But it just kept on unfolding, this dreamy dinner of freshly wok'd creations.

A cool salad of ripe mango, more of the succulent shrimps, thin shavings of hot Bermuda onion and lovely lettuces went supernova thanks to an inventive "vinaigrette" made with sweet/tart Meyer lemons ($9). Each dish seemed to logically follow its predecessor, and the flavors of mint, lemon, garlic and chiles all cascaded into each other.

Entrees continued the handsome presentation. On a large, square black platter, briskly wok'd cubes of rare filet mignon arrived embraced by caramelized onions on a bed of lettuces and watercress ($15). A lemon dipping sauce laced with black pepper made a wickedly distinctive partner for this satisfying Niman Ranch beef specialty. Citronelle has given beef lovers an opportunity to enjoy rare, lean filet mignon at an astonishing price.

Di's seafood "mélange" was constructed on a platform of unassertive red coconut curry broth studded with brilliant emerald pea pods, prawns, calamari, strips of red bell pepper and succulent fish fillet. "I want to bathe in this," Di declared, as she spooned the exquisite curry sauce over a mound of jasmine rice. I loved her dish but shamelessly coveted my own main course.

One fresh bouquet of flavors after another, each dish retained its own distinctive identity. The sheer diversity and depth of seasonings--and, of course, we took much of our meal home for one of those to-die-for lunches the next day--was the stuff that dining excitement is made of.

Armed with one of those industrial-strength yet nonstrident cups of Vietnamese drip coffee, I joined Di in a shared dessert order of tender baby bananas ($5.50) that had been braised in a cognac-rum caramel sauce, tasting as good as it sounds. The warm bananas were joined by impossibly creamy coconut ice cream, also a sensational foil for the buttery rum sauce. The warm creamy dessert made for the perfect finish to Citronelle's brilliant, highly keyed main course flavors.
---
Citronelle
Address: 826 S. Winchester Blvd., San Jose
Phone: 408.244.2528
Hours: Lunch 11am-3pm Mon-Sat; dinner 5-9pm Mon-Thu, 5-10pm Fri-Sat
Cuisine: California Vietnamese
Prices: Inexpensive to moderate
Beer and wine
---
---
Send a letter to the editor about this story to letters@metronews.com.
---
[ Silicon Valley | Metroactive Home | Archives ]