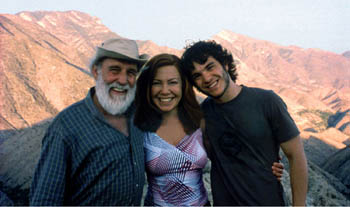 The Searchers: Carlos Álvarez-Novoa (left), Cecilia Roth and Juno Becker track down a missing man's fortune in 'Lucía, Lucía.'

Mexican Mix-Up

Romantic thriller 'Lucía, Lucía' can't keep up its game of remaking 'Charade' in Mexico

By Richard von Busack

BENJAMIN FRANKLIN'S concluding argument for why a young man ought to get involved with an older woman: "Because they are so grateful." Maybe a better way of putting it: "Because they are certain." Because they know what they're doing. And in the Mexican import Lucía, Lucía, there are several reasons why the heroine's a bit annoying: she's a fibber, rewriting her story as she goes along (which is cheating the viewers, rather than outwitting them). Moreover, Lucía also doesn't have that older woman's seasoning and certainty; she persists in dithering around like a schoolgirl when she has a young suitor.

Lucía, Lucía isn't even the original name of this new film by Antonio Serrano (Sex, Shame and Tears). The double-barreled title, so reminiscent of the Seinfeld foreign film parody Rochelle, Rochelle ("a young girl's strange, erotic journey from Milan to Minsk"), replaces The Cannibal's Daughter, the title of the Rosa Montero bestseller that this romantic thriller was based upon. Lucía (Cecilia Roth), a woman of a certain age, is a popular children's-book writer living in Mexico City. She exists in perfect marital happiness, or so she thinks. At the airport, about to leave for Christmas in Rio, her husband, Ramón, disappears. Upset at the loss of both husband and vacation (she'd bought a new bikini, damn it), Lucía is further shocked to learn that her husband has been kidnapped by a group of Maoists called the Worker's Pride. These revolutionaries have learned about a huge stash of money that Ramón had hidden. The police--thoroughly inept--aren't much help. Fortunately, two men come to her rescue: a good-looking, spaniel-eyed youth from upstairs, Adrian (Kuno Becker), and a courtly old man named Félix (Carlos Álvarez-Novoa), who was a revolutionary firebrand when he was young. Other herrings--herrings not red enough by far--are Lucía's parents. Her mom, Amparo, is a fancy, drawling actress. Just as a big-shot actress in a bad American movie would set the word "darrrrllliiing" into seven syllables, Lucía's mom trills around on "Mi viiiiiiiiiiida." This little linguistic detail stands out against the forced whimsy and a plot that is unnecessarily cluttered and yet not nearly twisty enough. Mysterywise, Scooby Doo and Shaggy probably could have sorted matters out about as well as Lucía does.

Since this is essentially a Latin version of Charade, in which a single woman has to figure out the friends from the foes, the Mexico City locations are a plus, just as the Parisian ones are in the Grant/Hepburn movie. No sign of Cary Grant here, though. Becker is studly enough but not particularly mysterious, even though we're lead to believe he's too good-looking to be trustworthy, that there's more to him than a kind of middle-aged fantasy of a young lover who goes or comes as the elder lover pleases. (He's kind of a lapdog.) In the lead, Roth works a winsome Mary Tyler Moore cuteness that isn't visible in her Almodóvar movies, such as All About My Mother. There's an age when a woman ought to surrender coquetry, and Roth is at it.
---
Lucía, Lucía (R; 110 min.), directed and written by Antonio Serrano, based on a novella by Rosa Montera, photographed by Xavier Pérez Grobet and starring Cecilia Roth, Carlos Álvarez-Novoa and Juno Becker, opens Friday at the Towne Theater in San Jose and at the CinéArts in Palo Alto.
---
---
Send a letter to the editor about this story to letters@metronews.com.
---
[ Silicon Valley | Metroactive Home | Archives ]