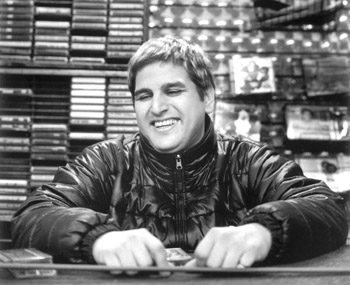 DJ Doc Martin helps christen the new spy.

Energy Rush

With super sound and super songs, Krenshaw was in top form last Wednesday

By Sarah Quelland

IT'S HARD TO GET people to come out on a weeknight, but last Wednesday (July 24), local rock fans packed into the new soon-to-be spy (formerly the Usual) to catch Karate High School, Krenshaw, Lavabone and SECURITY. It was an impressive turnout for an impressive midweek show.

Armed with new material and the new Double Wide three-song sampler, Krenshaw made an impact on nearly everyone. People like me, who have seen the band more times than we can count, were buzzing about how great it was. The sound from the system the club rented was superb and, as the second band of the night, Krenshaw played tighter and better than any time in recent memory. Maybe they should go on early more often.

Krenshaw's new songs are heavy and bludgeoning with clean, stop-on-a-dime breaks that keep listeners on their toes. With a deep, sexy, prowling groove and frontman Kelly Dalton's strong, raspy voice distorted by a bullhorn, "Drain" makes for an easy favorite. After a long, exhausting day at the office, I was dragging when I showed up to the club, but Krenshaw's set left me feeling invigorated and energized.

Krenshaw just got added to Nadine's Wild Weekend, a blowout four-day multiclub music festival in San Francisco. The South Bay group plays the Pound on August 24 with other notable heavies Rivals, Ones and Zeros, Drist, Shortie, Scorched-Earth Policy and Technocracy.

FIRED UP: Like a band with a mission, last Sunday (July 28), Lords of the Manor waged a full-scale attack at the Gaslighter Theater. Playing hard with an added, unyielding determination, the band even brought back the fire ball. Sunday's show proved, violin or no, Lords can still be one of the most entertaining live metal bands and a leading force in the South Bay metal scene.

MISSION POSSIBLE: Operation club launch takes place this Friday (Aug. 2) at the new industrial espionage-themed club, spy, at the former home of the Usual. Code name KOVERT, this 007 affair features an industrial light exhibit and a fashion show presented by Nigel Who? The club has also secured DJs Doc Martin, M3, PJ, Grev and Chris Aralius for the night. Visit www.thespynightclub.com for full details.

ON THE ROAD AGAIN: Admittedly a little belated, the Odd Numbers are striking out on a cross-country tour in support of their latest release, The Trials and Tribulations of the Odd Numbers. This Friday (Aug. 2), Plant 51 is giving the trio a proper San Jose sendoff with plenty of $1 Pabst--let's hope they don't run out this time! The What Four? and the Extras kick off the show.

HOT TOPIC: The Mexican Heritage Plaza and Giant Creative Services are launching the new Live in the Plaza Latin music series which begins this Saturday (Aug. 3) with Albita and Ricardo Lemvo & Makina Loca. Latin cuisine, sangria, agua fresca and dancing spice up the festivities. Tickets are $25 advance and $30 at the door and the concert starts at 8pm. Upcoming performers include Lila Downs and Martha Gonzales (Aug. 18); Susana Baca and Claudia Villela (Oct. 6) and a Dia de los Muertos carnival and Chicano Groove Festival with numerous Latin groups (Nov. 2). Visit www.mhcviva.org for more info. ... Metal bands Machine Head, Death Angel, Skinlab, One Man Army and more are storming Treasure Island this Saturday (Aug. 3). Visit www.vulturesrow.net for details. ... A favorite of San Francisco's über-hip Anon Salon crowd and Burning Man's cyberhippie art-tech wizards, freaky interplanetary emissaries of sonic shamanism, the Venusians, play Plant 51 this Saturday (Aug. 3). Ecofolk outfit Clan Dyken, which records using solar power, opens. ... Panic! returns to the Icon Nightclub this Friday (Aug. 2) with stacks of Britpop, indie, New Wave, mod and punk. ... Metro's Music in the Park continues this Thursday (Aug. 1) 5-8:15pm at Plaza de Cesar Chavez with Ones and Zeros and AC/DC tribute band Long Gone Bon. Afterward, the party continues until 10pm with the Josh Williamson Band playing on Post Street between Market and First streets as part of the new Music After Dark series.
---
Send a letter to the editor about this story .
---
[ Silicon Valley | Metroactive Home | Archives ]