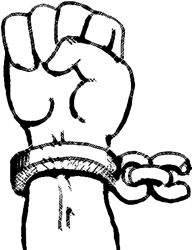 Illustration by Jeremy Russell

Books Are Dangerous

By Annalee Newitz

IT'S DÉJÀVU all over again. A Russian has been imprisoned for criticizing the ideology of a major state power. And, to compound his thought crimes, he's been helping people gain access to books. Is this a USSR horror story from the Stalin-Era vaults? A cautionary tale from Ray Bradbury?

Nope. Unless you've been buried under a rock for the past couple weeks, you know that it's taken directly from headlines in the good old USA On Sunday, July 15, Russian graduate student researcher Dmitry Sklyarov was arrested by the FBI shortly after leaving hacker conference DefCon, where he'd delivered a fairly academic treatise on why Adobe's eBooks software isn't as secure as the company claims.

Apparently, Adobe had been gunning for Sklyarov's company, Moscow-based Elcomsoft. They manufacture a program called Advanced eBook Processor, which, among other things, lets readers enjoy their legally purchased eBooks from more than one computer--in other words, it allows users to copy their eBook onto another machine. And that's what pissed Adobe off. Moreover, Sklyarov wouldn't keep his mouth shut. Like a responsible consumer advocate, he pointed out publicly that Adobe was lying when its spin doctors claimed the Adobe eBooks format was secure.

When Adobe execs heard Sklyarov would be in the country for DefCon, they tipped off the Feds, who arrested Sklyarov under one of the little-used criminal sections of the Digital Millenium Copyright Act (DMCA). Under the DMCA, it's a crime to "manufacture products that circumvent copyright safeguards." The DMCA, however, is a U.S. law. According to Electronic Frontier Foundation (EFF) lawyer Robin Gross, who is aiding efforts to free Sklyarov from jail, this situation is particularly ironic because "much of Adobe's software would be illegal in Russia because it doesn't allow you to make backups [of the books you bought]."

Gross and EFF representatives met with Adobe on Monday, July 23, urging the company to withdraw its complaint against Sklyarov. Late that afternoon, an exultant Gross spoke to me on the phone. "Adobe and EFF are issuing a joint statement calling for the release of Sklyarov," she said (see www.eff.org). "Adobe feels strongly that they want to protect copyrights and they respect the DMCA, but they agree that the criminal provisions in this case are inappropriate." Meanwhile, protests organized by hackers, software developers and freedom-of-speech advocates were being held across the country on Monday.

Despite Adobe's statement and escalating protests (see www.freesklyarov.org and www.boycottadobe.org), Sklyarov is still in jail. Gross met with representatives from the office of the U.S. Attorney for the Northern District of California on Friday, July 27. As of this writing, the DOJ has issued no decision about whether they'll pursue the case or not.

Regardless of the outcome, the fact that Sklyarov wasn't released quickly after Adobe dropped their complaint speaks volumes about future U.S. policies regarding electronic freedoms. (Robert Mueller, the attorney who instigated Sklyarov's arrest, is about to go through confirmation hearings for his nomination for FBI Director.)

The implications of the DMCA for the publishing world are far broader than keeping rampant copyright violators at bay. What the Sklyarov arrest demonstrates is that anyone who defies the corporate control of books can go to jail. And oddly enough for this digital age, the Sklyarov case reminds us that books are still a threat to state power, just as they have been for thousands of years.
---
Annalee Newitz ([email protected]) is a surly media nerd who reads and reads and reads.
---
[ San Jose | Metroactive Central | Archives ]