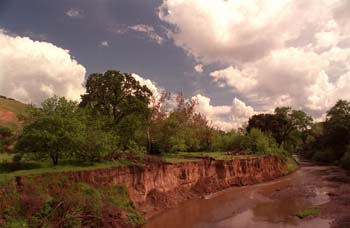 Photograph by Andy Kjellgren

Take Me to the River: This open-space land in Pleasanton has been identified as a place once belonging to the Muwekma.

Taking a Gamble

In a desperate fight for federal recognition that will give benefits to their people, the local Muwekma Indians have formed partnerships and cut deals to amass money and influence. But some say their newest investors have only one thing on their minds: a casino near cash-fat Silicon Valley.

Will Harper, Kelly Luker, Corinne Asturias and Traci Hukill worked on this report.

DON'T SAY THE "C" WORD around Rosemary Cambra. Or the "G" word, either. These days in particular, the Muwekma tribal chairperson gets a little tense at the mention of casinos or gaming.

Cambra has a point. Since the passage of Prop 1A last year, two subjects--California Indian tribes and gambling--have become molecularly bonded, inseparable, no matter the conversation. Today's interview is no different and the tiny yet powerfully built Muwekma native is courteous, but not happy. With a walnut-toned face framed by snow-white hair, Cambra's eyes are surrounded by laugh-lines, but those lines aren't getting much exercise today.

For a previous interview, the volatile Cambra--who once smacked an archeologist on the head with a shovel over a disagreement about Ohlone remains beneath what is now San Jose's convention center--sent a business associate in her place to answer questions. But today she personally wants to address the rumors swirling around the valley that she is working with investors with gambling connections who want to build a casino in the Bay Area, namely on land the tribe has laid ancestral claim to in Pleasanton.

Cambra maintains she only wants to do what is best for her people, the Muwekma, by getting the tribe the federal recognition it has sought for more than 12 years and which it recently sued the federal government to obtain. To do that, it takes money. She resents speculation that she will benefit personally or take the tribe down a path it does not want to travel.

"The whole thing about gaming?" Cambra says. "It's all about money! Don't let Rosemary make money. Don't let her make it here in Pleasanton, even though that's her land."

"All we want," she adds, "is the right to preserve ourselves and our economic rights."

But the questions about future plans for casinos just won't go away, especially now that her tribe won its court fight and is on a faster track to receiving federal recognition.

Tribal Maker: Local ethnohistorian traces Muwekma roots to Sunol, Pleasanton and San Jose.

Ready or Not
THE NORTH SAN JOSE offices of the Muwekma Ohlone Indian tribe do not have a down-home look to them. Quite the contrary. The plush, refrigerated waiting area is appointed in leather furniture. The conference room, where the region's elected council members meet to discuss tribal affairs, is dominated by a beautiful table inlaid with green marble. Pedestals arranged throughout the suite show off Ohlone artifacts. This new space, occupied since September of last year, stands as a symbol of the tribe's newfound status and an infusion of capital from their investors.
On the wall, plaques from Bay Area government agencies, among them San Francisco County and the city of San Jose, proclaim in the archaic rhythms of legalese that the Muwekma Ohlone are the aboriginal inhabitants of the San Francisco Bay Area, which includes the South Bay.
The declarations of legitimacy, however, haven't counted for much with the federal government, which holds an important key to the tribe's future. Unlike the Cherokee, the Sioux or the Navajo, the 413 enrolled members of the Muwekma are not a sovereign nation, and the housing, education and medical benefits available to federally recognized tribes are beyond their grasp. There is no compensation for wrongs against their people, past or present.
This is not a condition the Muwekma have suffered meekly. In 1989, under the leadership of Cambra and tribal executive director Norma Sanchez, the tribe sent a formal letter of petition to the Bureau of Indian Affairs asking to be federally recognized. In response they got a list of requirements that translated into time-consuming, expensive tasks: they would have to prove their ancestry and legitimacy before Uncle Sam would give them the nod.
Funded by its archeological consulting firm, Ohlone Families Consulting Services, the tribe spent thousands of dollars paying experts to tediously examine genealogical records and mission archives from the Santa Clara, San Jose and Dolores missions, tracing their ancestry back as far as 1773, four years before the Spanish started building Mission Santa Clara using Indian labor.
In 1995, the Muwekma formally applied for recognition. In what could, in a certain light, be considered a wry bureaucratic joke, the BIA's Branch of Acknowledgment and Recognition asked for yet more information and clarification and finally, in 1998, placed the Muwekma 26th on its "Ready" list. With the BIA's track record of making determinations for about 1.3 tribes per year, it meant the South Bay area tribe wouldn't even be considered until 2020 or so.
"That's too long," commented Norma Sanchez, Ohlone Families Consulting Services vice president. "We don't have the next 19 years to wait around. The elders of the tribe are dying. People aren't getting the medical benefits, the money for housing."
Realizing the expensive and time-consuming fight ahead, Cambra began looking for ways to expedite, forming partnerships, making alliances.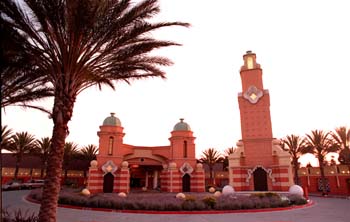 Photograph by Andy Kjellgren
Moor Than Ever: The Muwekma aren't the only tribe open to the possibility of gambling in the Bay Area. The Lytton band of the Pomo Indians is currently seeking federal approval to turn Casino San Pablo in Contra Costa County into a Vegas-style casino.
Time Out
IN DECEMBER, the tribal council directed the Washington, D.C.-based legal firm of Sonosky Chambers Sacshe Endreson & Perry to file a lawsuit against the Bureau of Indian Affairs in Washington, D.C., seeking review of their petition within 12 months.
On June 30, a U.S. District Court judge, Ricardo Urbina, agreed with the tribe, calling the BIA's delays "extensive and unacceptable," and ordered the bureau to set a reasonable timeline to consider the Muwekma's application.
Just one week ago, Kevin Gover, the assistant secretary for Indian Affairs in the Department of the Interior, came up with a proposal for the court to consider: The BIA would spend 90 days reviewing the five feet of documents provided by Muwekma leaders and decide whether the tribe indeed had been previously recognized. If BIA officials decide the Muwekma have a legitimate claim, then Gover promised to bump up the tribe on the waiting list by putting it on so-called active consideration.
Muwekma attorney Colin Hampson says that even if all goes well, the accelerated recognition process could take at least three years--not the 12 months the Muwekma asked for. Still, that is a lot better than the 20 years Cambra and her peers were looking at just a few months ago.
The court has yet to approve Gover's proposed timeline.
If the BIA ultimately awards the tribe recognition, the Muwekma will be the first Ohlone group to attain sovereign status. Tribal members will receive the social benefits they've been missing all these years. They'll be able to buy their ancestral lands and place them in trust. As the Muwekma's ethnohistorian will tell you, those ancestral lands range from Half Moon Bay to Pleasanton, and from San Francisco to Santa Cruz. [see related story, right.]
And under the constitutional amendment enacted by Prop 1A, the Muwekma will be entitled, if they so choose and if the Department of Interior approves it, to operate gambling establishments on their tribal property.
At this point, Cambra says, the Muwekma hold title to no land, though that's not for a lack of trying. A few years ago, she confirms, the tribe tried and failed to acquire land in Pleasanton near the Bernal Road exit off Interstate 680. The Muwekma's objective in getting land, says a development partner, was and is to build housing for tribal elders. Not to open a casino.
It is here that the cultural and racial divide yawns wide. Cambra insists that questions about the Muwekma's financial future reveal a decidedly pale bias, an insult to their more noble intentions of preserving the tribe's heritage.
"I feel offended when people accuse the tribe of fighting for their cultural rights because of money," Cambra says. But in Southern California, gambling operations have made millionaires out of Native Americans who used to live in dilapidated single-wides.
Win-Wynn Situation
THE PHRASE "economic development" paints a much more politically becoming landscape than harsh portraits like Donald Trump or Mirage/Bellagio owner Steve Wynn, both of whom Cambra readily admits have approached her tribe about gaming possibilities.
"I've been in political settings where investors from all over the country and the world have introduced themselves to us," Cambra says. But, so what? As far as she's concerned, it is much too early in the recognition process to seriously entertain the idea of a Muwekma casino. But Cambra has no qualms about considering it.
"I would be lying to you if I said I was going to turn my cheek to the whole gaming law and the constitutional commerce clause that legally gives us the right to do this. I want to address this in due time.
"After federal recognition, I welcome you to come back in my office and focus on the point, 'Do you want gaming?' And I'm going to say, 'Based on the law, sir, yes, I want to do gaming.' If you say, 'I beg to differ with you,' I'm going to say, 'Prove to me where the law says to you and me that I can't exercise my constitutional rights.'"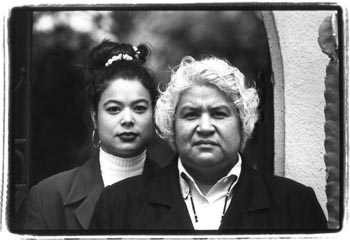 Photograph by Christopher Gardner
Rosemary and Time: Muwekma Chairperson Rosemary Cambra (right, with daughter Charlene) would prefer to keep discussions about investors and gambling on a back burner until her tribe receives federal recognition, a goal which could be achieved within three years.
Howdy, Partners
WHEN IT COMES TO details--the names of her investors, their gambling connections, the amount of money invested--Cambra says that information is all part of "confidential, privileged documents."
"We're not going to share those documents with you or anyone else until after recognition," she says.
However, Sanchez, perhaps unintentionally, reveals startling numbers when discussing the high cost of their recognition fight.
"I'm sure we've spent over $2 million by now. Last year it was $1.7 million. We know most of the tribes do not have the money to do that."
Although Cambra insists most of it has come from the coffers of Ohlone Family Consulting Services, it is hard to imagine a small archeological consulting firm netting enough to spare a couple of million for such a battle. Rumors say that gaming money is already here, helping to fund the tribe's quest for federal recognition, paying for the cushy offices, bankrolling the top-tier legal firm in Washington, D.C. Pointed questions about that source of money upset Cambra, leading to today's interview. To meet with the two reporters, Cambra is accompanied by Norma Sanchez, Muwekma Ohlone Tribal Council Vice Chairperson Monica Arellano, and Cambra's friend Cathy Oesterreich.
Cambra insists that Ohlone Family Consulting Services is paying for the majority of the expenses.
"I've worked hard to develop partnerships," explains Cambra. "We have a history of developing relationships and partnerships with tribes, communities, even the government."
She has also developed a partnership with Oesterreich, a commercial developer who has worked with Citation Homes and currently works for Duc Housing Partners in Los Gatos. She has known Cambra for 20 years and says she also feels passionately about the Muwekma's right to federal recognition. For that reason, Oesterreich has advanced Cambra a "substantial" loan, although she will not reveal the amount.
But Cambra also admits to having had "talks," since 1996 or 1997, with Frank Shunock, an associate of North American Sports Management Co., a Florida-based company specializing in developments involving Indian gaming.
In recent years, North American Sports Management has formed business partnerships with the Little Traverse Bay band of Odawa Indians in Michigan and the Wyandotte tribe of Oklahoma, which is seeking to build a casino in Kansas. Peter Kenny, an accountant for North American Sports Management, says, "We've assisted the Muwekma in some of ther projects." When asked if that meant financial assistance, Kenny nervously replied, "I think that's as far as I can go."
Cambra acknowledges having spoken with Shunock of North American Sports Management as recently as two weeks ago.
It may seem like a crapshoot for a Florida development company to be wooing a tribe like the Muwekma, which has neither land nor federal recognition. But then again, the financial prospects are awesome given the Muwekma's geography near Silicon Valley, one of the wealthiest regions in the country.
To the north in Contra Costa County, another tribe is already trying to cash in. The 217-member Lytton band of Pomo Indians have their eye on a 10-acre confection called the Casino San Pablo and even have a financial deal with current owner, Ladbroke, pending approval by the feds. The Lytton might even make the casino their reservation.
Meanwhile, the Muwekma aren't giving anything away. When asked if the passage of Prop 1A has changed anything for the tribe's plans, Sanchez answers, "It's made our investors feel more secure."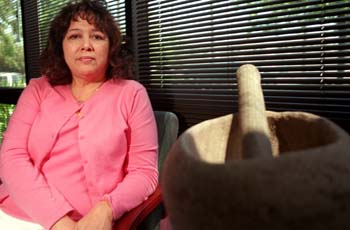 Photograph by Andy Kjellgren
Artifacts and Figures: Norma Sanchez, executive director of the tribal council of the local Muwekma, laments the millions needed to secure federal recognition, a feat beyond many tribes without bankrolled investors.
Trust Me
THE SUBJECT OF casinos is becoming a touchy one for Californians. As big-name casino developers make deals with Indian tribes--Donald Trump with the Twentynine Palms band of Mission Indians near Palm Springs, Harrah's with the Rincon tribe near San Diego, and the Mirage with the Big Sandy tribe near Fresno--people are starting to get nervous.
Some, like Cheryl Schmit of Stand Up for California, an Indian gaming watchdog group, worry that neighborhoods' rights get overlooked when a casino comes to town. A community's chances of keeping a casino out are slim, she says.
"You would have to get the governor of the state to oppose tribal gaming in your neighborhood, and he has no veto power when it comes to landless tribes. He can send a strongly worded letter and that's it."
Sara Drake of the attorney general's office backs up Schmit's assertion that communities have little say and must hope for a cooperative relationship with the tribe.
When a tribe applies for land to be put in trust, says Drake, it has to state the purpose for the acquisition. At that point, state and local governments have a chance to comment, but their influence is mostly resigned to administrative matters like law enforcement.
"You can comment," she says, "but that doesn't mean it prevents it from happening. All you are allowed to comment on is jurisdictional matters. Only in one instance have I seen [the BIA] deny a land acquisition request."
Department of Interior spokesperson Stephanie Hanna, however, says taking land in trust for gaming purposes is difficult, and is only going to get harder.
"There's only been a few cases where we've taken land in trust off reservations for gaming purposes," she says. "The Department of Interior has to determine [two] things: Number one, Is it good for the tribe? Number two, Is it detrimental to the surrounding communities?"
Larry McElroy, a political consultant and former journalist who worked on the "No on Prop 1A" campaign, takes a somewhat jaded view of the Muwekma's push for recognition, saying he would not be surprised at all if a casino were in the tribe's future.
"That's the usual reason for tribes attempting to reconstitute," he says. "There are companies who make a living out of seeking out tribes."
On April 9, the Hartford Courant reported that the Paucatuck Eastern Pequots, who are currently seeking federal recognition and received a preliminary approval from the BIA last month, had actually inked a deal with Donald Trump in 1996 to build a casino upon receiving federal recognition. The story reported that Trump had assisted with the Paucatuck's recognition effort.
Rosemary Cambra bristles at the mention of any similarities between the Muwekma and the Mashantucket Pequots, another Connecticut tribe that runs the successful Foxwoods Casino, reported to be a billion-dollar-a-year venture. She gestures disgustedly toward a book propped on her conference table. Written by Jeff Benedict, Without Reservation chronicles the Mashantucket Pequots' efforts to get federal recognition--and a casino operation--in a less-than-noble light.
"I'm afraid of this," Cambra says, pointing an accusing finger towards Benedict's book. "This journalist makes millions of dollars on slanderous remarks about this tribe."
Tension still crackles in the air until Cambra is asked about the beautiful pendant worn about her neck. Its ochre and pearl colors glistening in the light, Cambra holds it out for better viewing and explains that the shell is burnished abalone.
Asked if the abalone pendant has any symbolism, the laugh lines around her face crease.
"Money," she smiles. "It represents money.
"Of course," the Muwekma chairperson adds, "I'm only being facetious."
[ San Jose | Metroactive Central | Archives ]