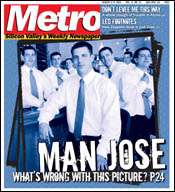 For the Week of
August 3-9, 2005
Cover Story: Man Jose:
Is San Jose really one big sausage party, or is the 'bachelor capital of the world' tag that's been slapped on this area just a cruel myth?
News: No Captain's Mess:
The situation in Alviso has turned ugly between one larger-than-life property owner and—well, everybody else.
The Fly: Grand Heft Auto: The Grand Prix was the most exciting auto-related thing to hit San Jose since Clint Eastwood filmed that car chase on what's now known as Highway 85 (that's how old that movie was).



Silicon Alleys: Waiting for Miss San Jose Grand Prix.
Prix Qualified: More post-Prix coverage.
Techsploits: Machinima.
Rev: This Is Not a Car Review: Why would I cruelly choose to review a car not available to you? Because, dear reader, I want you to go to your Honda dealership and demand—demand!—the Tourer.



Three by Three: A trio of Bay Area art veterans outshine their choices for the next generation at the San Jose Institute of Contemporary Art.
Mixing Medias: Three artists at MACLA explore a wide range of techniques and materials in 'Connecting Forms' show.



Sex in the Souk: A blonde nymphet wreaks havoc in the Arab quarter in 'Lila Says.'
Truly, 'Malady,' Deeply: 'Tropical Malady,' a gay romance from Thailand, ventures into unexplored territory.



Does Anybody Remember Zoso?: A new book overanalyzes 'Led Zeppelin IV.'
Kiss Off: Sure sign of aging musicians: outdoor winery concerts.
Talent Pool: Music@Menlo's opening concert showed off the chamber-music festival's deep bench.



Bookbox: 'The Historian' by Elizabeth Kostova and 'The Last Expedition: Stanley's Mad Journey Through the Congo' by Daniel Liebowitz and Charles Pearson.



Seoul Searching: San Jose's Red Charcoal could help Korean cuisine find its way into the American mainstream.
Silicon Veggie: Eat Like Animals?
5 Places to Love: Great Burger Joints.



Time Bandits: City Lights explores the tricks of time in Craig Wright's 'The Pavilion.'



Please don't forget to write! Metro welcomes letters. Like any great work of art, they should be originals — not copies of letters sent elsewhere. Include address and daytime phone (for verification purposes only). Letters may be edited for length and clarity or to correct factual inaccuracies known to us. Postal: Metro Letters, 550 S. First. St., San Jose, CA 95111. Fax: 408/298-0602. Email: letters@metronews.com. Emailers, please include name, city of residence and phone number. Letters printed will list email address unless otherwise specified. Letters to the editor are not currently published in the online version of this paper.