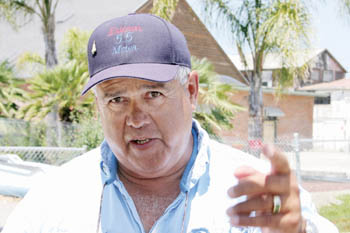 Photograph by Felipe Buitrago

How to Not Make Friends But Still Influence People: A lot of people in Alviso don't like John Asuncion right now, but nobody would dare ignore him.

Captain's Mess

The situation in Alviso has turned ugly between one larger-than-life property owner and—well, everybody else

By William Dean Hinton

JOHN ASUNCION bought a reed-infested piece of land on the northern tip of Alviso five years ago and since then nothing in the town has seemed quite right. According to some of the townspeople, Asuncion, a self-proclaimed 57-year-old golf course designer, is an intimidating presence, harassing pedestrians who want to walk on the levee holding back the murky waters of the Alviso Slough.

"I've had people come into my restaurant with tears in their eyes, saying they were thrown off the levee," says George Trevino, who sold his Alviso diner, the Marina Seafood Grotto, late last year. "Some of the people said they were never coming back to Alviso."

Several months ago, Trevino himself was detained for two hours by police for walking up Asuncion's driveway to the levee. Trevino escaped arrest, he says, only because Asuncion had left the gate unlocked.

Trevino is part of a 10-member task force advising the Santa Clara County Water District on flood control issues and recreational opportunities in and around Alviso, which was a thriving maritime port in the 1850s, a decade before railroad lines from San Francisco rendered travel up the Alviso Slough obsolete.

Task force members have been among the most visible of Asuncion's targets. He says—apparently seriously—that they are part of the Ku Klux Klan, claiming they've harassed students of color who attend his sailing school. He forced Trevino to resign his position as head of the task force by revealing that Trevino was a registered sex offender. Trevino, who is 51, says the violation occurred about 30 years ago, when he was in his early 20s and slapped a 16-year-old girl on the behind. He took a two-month vacation in an RV, returning to find the task force had not accepted his resignation.

"I shouldn't have been on the website in the first place," Trevino says, referring to the site run by the state which posts names of sex offenders. What about the KKK charges? Most of the task force are Latino or black or are government officials.

However strong he's been coming on, Asuncion sees himself as the victim—from his perspective, he's being persecuted by government officials because he had the wisdom to buy a key piece of property along the slough.

"I hold the key to the realm," the portly, tanned Asuncion says. "I hold the center. I hold the port."

Most of his property, which he says he paid $700,000 for, is either consumed by a levee or behind the levee, ending at several points in the slough. Asuncion says the acreage, which he estimates at just under 1 acre, is one of the few places left in the area zoned residential and light industrial.

He says Santa Clara County Water District officials, specifically present and past chairmen Richard Santos and Robert Gross, want to drive him off his property so they can buy it and reap the profits. Asuncion points to a map with a number of civic projects either completed or in the works: two million spent on improvements to Hope and Elizabeth streets; $5.1 million for two phases of a county marina and boat ramp.

Santos and Gross are using the task force to drive him out, Asuncion says. "There are six or seven players in this area who are jealous of my money and everything like this," he says.

The battle between the sides has spilled over into public forums. Asuncion has traveled to Sacramento to talk to the California State Lands Commission and the Water District board, to which he complained that Santos was trying to kill him. He's even twice dropped in on Assemblywoman Sally Lieber's office unannounced.

"He wanted every record we had—anything to do with Alviso," says Harry Adams, Lieber's principal consultant. Adams says it is difficult for him to know how to interpret Asuncion's claims. "If you talk with him, he appears credible. But if you try to get more information, like on his educational foundation, you can't find information on them. He's making comments, saying people are threatening him. Overall, it's an ugly situation. City and state agencies have to get involved before it gets worse."

Master Plan

As a way to show he's connected and valuable, Asuncion likes to drop names. He's friends with Dick Montgomery, Warrior coach Mike Montgomery's brother, who Asuncion says endorses his sailing school. (Dick Montgomery did not return a phone call.) Lt. Gov. Cruz Bustamante asked Asuncion to adopt him when Asuncion boasted to the State Lands Commission that he'd cleaned part of the slough, taking out car engines, tires and 26 sunken boats. (One of Asuncion's colleagues, Doug Boyd, confirms Bustamante's adoption request.)

And Asuncion has a legion of supporters, who help repair the dozen boats dry-docked on the levee, and who are in agreement that he's being persecuted by Water District officials. Richard Santos, the District's current board chairman, is also a member of the South Bay Yacht Club, whose two-story, blue headquarters sits about 100 yards from Asuncion's boats. The Yacht Club's dock has seen better days, with rusting, dilapidated boats sitting among head-high tule reeds.

"John has a nice place," says Bruno Gallelli, who owns a cleaning business and whom Asuncion taught to sail five years ago. "The South Bay Yacht Club has a bad reputation. They don't abide by weed abatement. I sent a letter to Gray Davis about it when he was in office. They have boats with engines leaking. There's pollution. The South Bay Yacht Club does what it wants and they don't want anybody else in the area."

Gallelli says he was with his 11-year-old son and Asuncion a year ago when a driver approached the three on the levee. When Asuncion told the driver he couldn't park on the levee, the driver became belligerent, asking to see a deed to the property. The driver made a three-point turn, backing into Asuncion's leg and almost hitting his son. "He made a comment like, 'I'm going to get you,'" Gallelli says.

Now, Asuncion believes that Water District officials are intent on harming him. His main piece of evidence is a comment Santos made at a District meeting last year. Responding to another board member who said he was meeting with Asuncion in Alviso, Santos alluded to "pirates" and said he'd be willing to accompany the District official and protect him with a shotgun.

"I caught them with their pants down," Asuncion says. "He was stupid enough to make the statement at a public meeting."

Santos, a former San Jose fire captain, says he never threatened Asuncion and went against the judgment of other board members when he allowed Asuncion to speak at a June meeting and repeat the allegations. Santos says the main issue is selective enforcement. Asuncion has cut down weeds, put down wood shavings inside the levee and parked his boats without obtaining permits from the San Francisco Bay Conservation and Development Commission, which regulates activities that could pollute the bay.

"The BCDC has never cited him for operating without permits," Santos says. "That's their obligation. They haven't stayed on top of it. For years, they have refused to enforce the law out here. They do it in Sausalito and more affluent areas. But they don't do it here."

Judgment Won

The Water District won a judgment against Asuncion and his school, the Blue Whale Sailing School. The judgment, written by Superior Court Judge William Elving, clarified access to Asuncion's property—both on the levee and on a concrete dock on Asuncion's property. Elving found that Asuncion had "verbally assailed, challenged and/or otherwise menacingly approached district employees" and ordered fences, signs, poles, sheds and structures to be removed.

But the Water District never moved on Elving's ruling. Santos says the district has to wait for the Conservation and Development Commission to act first.

Asuncion, meanwhile, says he lost the case because his attorneys failed to show for the hearing. He plans to appeal and has documents to show that the dock he owns is open to the public "for the loading and unloading of freight" and that "reasonable regulations may be imposed."

Even so, not everything he says adds up. His piece of property, which he said was worth $700,000, was purchased in 2000 for $150,000. Not long afterward,

Asuncion put it on the market for $1.1 million, but there were no takers. The land is also closer to a half acre than a full acre.

Additionally, it doesn't appear the land will be developed in the way Asuncion claims it will be. His property is on top of and behind a levee. He'll need permits to build from the Conservation and Development Commission, which is unlikely to issue building permits in a highly flood-prone area. Asuncion says there are big plans for Alviso—and he's right. There are plans to put a trail on top of the levee.

And what about the Master Plan that has already brought new two-story homes to the area? "That doesn't mean we'll be building stuff on top of levees," says Councilman Chuck Reed, whose district includes Alviso.
---
Send a letter to the editor about this story to letters@metronews.com.
---
[ Silicon Valley | Metroactive Home | Archives ]