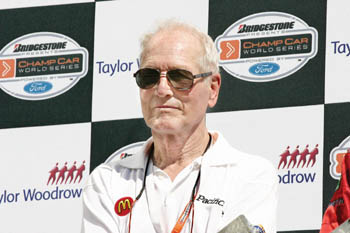 Newman: Elder Statesman.

The Fly

We Like the Cars

Pretty much everyone agreed: it was the most exciting event to hit San Jose. Ever. As the whine of the engines and smell of rubber wafted through the warm, dry July air, downtown proved a hospitable venue for Northern California's first urban street race. Given the, uh, speed with which the TAYLOR WOODROW SAN JOSE GRAND PRIX came together, it was a remarkably smooth affair. Finally, the palm trees that the Redevelopment Agency spent tens of thousands to install in the 1980s enjoyed their day in the sun. PAUL NEWMAN, ever the gentleman, mixed with locals and proved an elegant elder statesman of the sport without betraying a hint of vulgar celebrity glitz. Even MAYOR GONZALES, not normally a relaxed dude, looked positively glowing as he made the rounds in a dark Hawaiian shirt at Friday's Canary Fund gala at the Fairmont with the B-52's, municipal first lady GUISSELLE by his side, her locks in a high pony. Hotels, and a number of restaurants, did bang-up sales. Sure, there were some minor gripes. The first day got off to a late start. The event's success—can 150,000 fans be wrong?—called for about four more pedestrian bridges to accommodate crowd movement. The kidney-rattling trolley tracks contributed to what champagne-spraying Grand Prix winner Sebastien Bourdais called "a demanding course, the roughest one we've ever been on." A few parking lot owners gouged, with fees of up to $35 a spot. But organizers, overall, delivered an adrenaline-inducing spectacle that showed the city off in a fine light. Ticket holders enjoyed good views from the bleachers, sponsors appeared pleased with the promotional branding, suite holders praised the food, the attentive service and comfortable digs, and even holders of the midlevel $125 silver tickets were shown love with complimentary glasses of California wine and spreads of fruits and soft French cheeses.

Tracking Hits

Confidential to district attorney candidate MARC BULLER: Dude, www.bullerforda.com is still unregistered. You really ought to grab it before someone else does. We only mention it because in this race, it seems, you can't take any chances. First it was the anti-RON DEL POZZO website www.delpozzoforda.com set up by JAMES SIBLEY, on which he urges voters to "just say no" to the 51-year-old judge's district attorney candidacy. But now Del Pozzo's not the only one getting his identity jacked by the opposition—www.sinunuforda.com is an arguably even nastier anti-candidate site set up to knock around another candidate in the race, KARYN SINUNU. This one seems to have a Del Pozzo-supporter payback angle to it, as a weeping jester in the upper right-hand corner of the home page says, "James Sibley, are you proud of yourself? Are your actions endorsed by your superiors?" apparently in reference to Sibley's protest site. The Sinunu spoofer used a "domain by proxy"-type hidden registration, in which you can pay a company to cover your tracks, so there's no way to know who's behind it—and Sinunu herself isn't in a guessing mood. "I'm a prosecutor, so if I can't prove it beyond a reasonable doubt, I'm not going to speculate," she says. In fact, it's hard to say if she even cares—while she calls the e-attack "ugly," she also considers it pretty lightweight. Mainly it goes after things like her very public support of medical marijuana—just the kind of attack that's likely to backfire around here. "The harshest thing it says on there is that I didn't have someone arrested for smoking dope," she says. "That's so profoundly sad." Del Pozzo, for his part, feels like this is one race he might have to run in mud boots just to get through the slime. "It's just disgusting," he says of the get-Sinunu site, "and people shouldn't be able to do that." (By the way, Sinunu did register www.sinunu4da.com and www.karynsinunu.com; Del Pozzo has "rondelpozzo" registered under several suffixes, and says he's launching an official site soon; Buller is at www.marcbuller.com.) As far as the first skirmish in this deepening online drama, Sibley says he was motivated to criticize Del Pozzo because many political observers were questioning why Del Pozzo would run for DA when he'd served less than half of his six-year judicial term. "Somebody had to point out the emperor had no clothes," Sibley says. Del Pozzo, meanwhile, stopped short of calling the site a cheap shot. "I don't know what to say. The most bothersome thing is that if some guy said I shouldn't run for DA, no newspaper would print it. But if the same guy puts up a website, using my name and taking my possible domain name, newspapers will run it." At the very least, Sinunu and Del Pozzo agree they had nothing to do with the other's smackdown, though that's a small bright spot in what's shaping up to be an ugly race to replace the retiring DA, GEORGE KENNEDY (who has, by the way, endorsed Sinunu). And, hey, what the hell happens if Del Pozzo wins the election and becomes Sibley's boss? Hmm, well, the two have been friends for years—they attended each other's weddings—so maybe Sibley can convince Del Pozzo the site was a momentary lapse of reason.

Chamber Pat?

Former San Jose Councilwoman PAT DANDO is expected to be a busy woman in the coming year. She was widely expected to return from Sacramento, where she's been working since February as the governor's director of government outreach, to run for mayor. Now word comes down that she's interested in the executive director's position at the Silicon Valley Chamber of Commerce, recently vacated by former Assemblyman JIM CUNNEEN. Neither Dando nor a Chamber representative returned a phone call. But one insider says ARNIE's administration has already granted permission for Dando to depart Sacramento.
---
Send a letter to the editor about this story to letters@metronews.com.
---
[ Silicon Valley | Metroactive Home | Archives ]