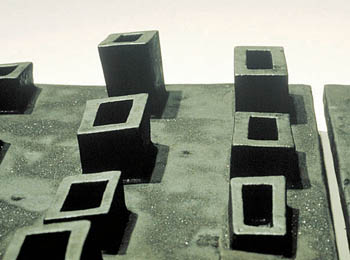 Piping Up: Francisco 'Pancho' Jiménez creates openings to nowhere in his wall sculpture 'Niches.'

Mixing Medias

Three artists at MACLA explore a wide range of techniques and materials in 'Connecting Forms' show

By Michael S. Gant

JOSE MARO Alvarado's prints at MACLA are by their very nature life-size. Alvarado's nude models, covered with gum arabic, press their bodies onto aluminum plates that the artist manipulates and inks. It is a kind of fleshy half-lithograph, half-painting that produces stunning results. The prints are framed to the torsos, and sometimes heads, of the subjects. The impressions are vague in outline but often show extreme details of chest and pubic hair. Most of the paintings are gray on black, although a few are done on red and pale-yellow backgrounds.

The Kiss depicts two male torsos from the genitals up, with their heads turned toward each other, lips about to touch. From Human to Angel shows a single body with curved winglike forms rising from the shoulders. These tortured torsos remind me of Rico Lebrun's ink-wash drawings for Dante's Inferno done in the 1960s, in which the human form is concentrated in the curved volume of the rib cage and hip bones, divided down the center by the sternum.

MACLA's current show, "Connecting Forms," also features mixed-media pieces by Aida Gamez and sculptures by Francisco "Pancho" Jiménez. Gamez creates intriguing mini-installations using papery dried-and-dyed corn husks huddled close together, pointed ends facing up, in Orderly II, and out from the gallery wall, in Cabal. In the latter, green threads, like the silk tassels on freshly picked corn, connect the husks, which resemble cone-shaped hats. Gamez also flattens out corn husks to create squares, rectangles and interlocking circular disks on which she stitches patterns. The abstract circular pieces, dotted with splotches of color, are more affecting than the representational ones, particularly an outlined image of JFK—the literal reference overwhelms the humble material.

Jiménez uses clay to create gray-on-gray ceramic plaques in four-square arrangements (Eclipse, Ripples) with incised abstract patterns of circular waves and markings. In other works, Jiménez goes for 3-D effects, either adding strange black drain-pipe extrusions in multiple variations (Niches) or, in a vertical work called Spine in Red, converting these openings into bright-red vertebrae forms as if he had pressed his clay against the backbone of a mutant.
---
Connecting Forms runs through Aug. 27 at MACLA, 510 S. First St., San Jose. The artists in the show will talk about their works Wednesday, Aug. 3, at 6:30pm at the gallery.
---

Opening Gambits
The San Jose Museum of Art's ambitious multimedia show, Brides of Frankenstein, about women artists breathing life into strange new creatures, opened last week, but in deference to the San Jose Grand Prix, all of the attendant events take place this week. On Thursday (Aug. 4), the museum and Gypsy Cinema host an outdoor screening of James Whale's Frankenstein at 8:45pm at the Circle of Palms outside the museum. The official reception takes place Saturday, 7-10pm, in the museum, with music by the Evolution Control Committee and DJs Friendly and Otis Fodder. Elsa Lanchester drag is encouraged; free to members, $10 for nonmembers. The next day, at 2pm, participating artist Gail Wight and new-media professor Antoinette La Farge will discuss some the issues raised by the show.
Also opening is Food, Frogs, and Fido, a new exhibit of works on paper by the famed ceramicist David Gilhooly. The show commences Aug. 10 at the Cantor Arts Center at Stanford, and anticipates a fall show about the funk ceramics movement at UC-Davis, where Gilhooly taught.
—Michael S. Gant
---
Send a letter to the editor about this story to letters@metronews.com.
---
[ Silicon Valley | Metroactive Home | Archives ]