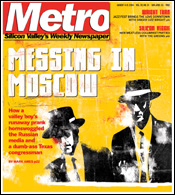 For the Week of
August 4-10, 2004
Cover Story: Messing in Moscow:
How a valley boy's runaway prank hornswoggled the Russian media and a dumb-ass Texas congressman.
News: Showstopper
Fairgrounds venue confronts court battles over whether the county followed the law.
The Fly: This week's political bites.



Biter: Why is Ann Coulter so angry? Maybe it's because she's hungry.
Techsploits: Imagine a world without political parody.
Rev: Suzie Baxman talks about her experiences as a lady truck driver.



Red Scare: 'The Manchurian Candidate' and 'The Village' offer a double bill of good ol' American paranoia.
Blair Shark Project: Sharks circle a squabbling, alienated couple in 'Open Water'—who ya gonna root for?
Medical Magnets: Provincial Canadians will stop at nothing to get good health care in 'Seducing Dr. Lewis.'
After Life: The Vietnamese-American ghost story 'Spirits' outscares 'The Village.'



Wright Stuff: Hotlanta vocalist Lizz Wright warms up the San Jose Jazz Festival.
Beats for Peace: Is Ozomatli the most dangerous band in America or just a bunch of beat-crazy dreamers?
Aural Fixation: The San Jose rock band Divided debuted all-new songs at the Blank Club last Friday.
Bach to Back: The real passion at this year's Carmel Bach Festival came from the works of Haydn and Beethoven.



Seasons In the Zen: Kaygetsu's take on Japanese cuisine presents food as edible art.



Saving Graces: Relationships and ghost stories make museum relics come alive in 'Conserving Melissa.'
Turn of the 'Shrew': Danny Scheie returns with Fletcher's Shakespeare-twisting 'The Tamer Tamed.'



Please don't forget to write! Metro welcomes letters. Like any great work of art, they should be originals — not copies of letters sent elsewhere. Include address and daytime phone (for verification purposes only). Letters may be edited for length and clarity or to correct factual inaccuracies known to us. Postal: Metro Letters, 550 S. First. St., San Jose, CA 95111. Fax: 408/298-0602. . Emailers, please include name, city of residence and phone number. Letters printed will list email address unless otherwise specified. Letters to the editor are not currently published in the online version of this paper.