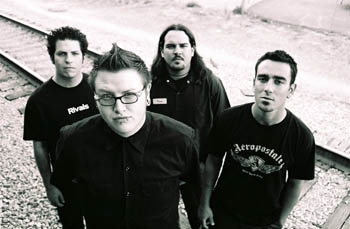 Divided attention.

Divided Returns

The San Jose rock band debuted all-new songs at the Blank Club last Friday

By Sarah Quelland

'WE GOT THE JITTERS right now," Divided vocalist Ryan Reynoso told the crowd packed inside the Blank Club last Friday (July 30). It's been about eight months since Divided's last live performance. After parting ways with their former guitarist, vocalist Reynoso, bassist Nelson Candido and drummer Paul Avila spent months regrouping, rehearsing with new guitarist, Josh Hernandez, writing new material and ultimately abandoning attempts to come up with a new band name.

If the members of Divided were nervous on Friday, it didn't show. The third band in a four-band bill that included Second Face, Nonfiction and Called to Ruin, Divided took the stage with confidence and played a six-song set of all new songs that kicked off with "110%." The band has been redefining its heavy rock-fusion sound, but with Reynoso's versatile vocals, which alternate from a high, sweet croon to bursts of harsh, abrupt screams, there's no mistaking who's on the mic. The shift in the band's emotional musical style is subtle: tighter, funkier and poppier.

The second song, "The Fall," was thick with heavy rage as Reynoso sang, "But she said you put me up on a pedestal/ But I can't help but feel that you're setting me up/ Right for the fall." "Collapse" proved to be a funky, punchy, high-velocity number that swirled with atmosphere at its close. Reynoso's words were full of pain and regret, as he sang, "I still can't find the answers/ I keep spreading myself thin/ It's no way to live/ Something's got to give." Meanwhile, "This Perfect Moment," came across as dramatic, serious and strong.

Midway through the show, Reynoso paused and told the crowd, "We've been busting our ass for the past couple months, 'cause we wanted to make it good for you." The audience response was positive as it cheered its appreciation for the new songs.

With impossibly sweet vocals and a meaningful promise, "Mantra" was one of the prettiest songs of the night. "I won't fight, I won't/ Just to prove I'm right/ I won't fight, I won't fight," Reynoso repeated, as the title of the song suggests. While vowing to learn from his mistakes, he still suffers: "Broken hearts are healed over time/ But my lifetime isn't enough for mine."

Divided closed with "Memories of You," an angry and sad reflection of the emotional tug-of-war that occurs when one's struggling to sort through feelings after a relationship has run its course. Reynoso's lyrics express a painful loss: "Everything that we were was for nothing, all for nothing/ Without you by my side, this means nothing, I am nothing/ Without you in my life, this means nothing, less than nothing."

After a successful return, Divided dives back into the live circuit. The band's next scheduled appearances are Aug. 17 at Mountain Charley's in Los Gatos with Called to Ruin, Trip Device, Morning Donovan and Mindeye and Aug. 24 with Insolence and Delta Activity at the VooDoo Lounge in San Jose. Visit www.dividedmusic.com.

HOT TOPIC: Sloe celebrates the arrival of its second full-length, The Night All Systems Fail, with two CD-release parties this weekend. On Friday (Aug. 6), Sloe plays the 21-plus Blank Club with Saturday Saints (featuring members of the Odd Numbers and Whiskey Sunday), the Traumedies and the Stars Misplaced. The next night (Aug. 7), Sloe plays an all-ages show with Fighting Jacks, Maida and the Northeast at Dance Unlimited located at 15650 Vineyard Blvd. in Morgan Hill. Visit www.sloemusic.com. ... The Pacific Art Collective is planning a PAC Session Las Vegas, with participants voted for by the local community. In the meantime, PAC goes north this Friday (Aug. 6) for an event at Hotel Utah in San Francisco that includes live music by Otto, iNQ and Odd Times and spoken word by Michael J. Vaughn. The next night (Aug. 7), PAC holds a night at Johnny V's with live music by FTB, Iari and Evan Gold and more. Visit www.pacsession.com. ... My Former Self gives a free in-store performance and signing at the Tower Records on Blossom Hill in San Jose this Wednesday (Aug. 11) at 6pm. Visit www.myformerself.com.

PLAN AHEAD: Drunken Starfighter, Aug. 6 at Johnny V's; Morning Donovan, Paladin, Forthmorning, This Providence and Moments Over Us, Aug. 8 at the Gaslighter Theater in Campbell; Sonic Orange, Nuralisis, Little Yellow Perfect and Drill, Aug. 9 at Waves Smokehouse.
---
Send a letter to the editor about this story to letters@metronews.com.
---
[ Silicon Valley | Metroactive Home | Archives ]