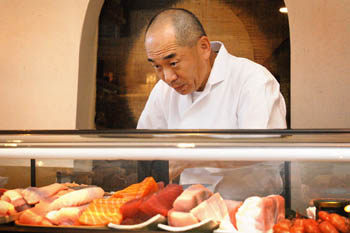 Sushi, Take Two: Owner/chef Toshi Sakuma checks out his artist's palette.

Seasons In the Zen

Kaygetsu's take on Japanese cuisine presents food as edible art

By Stett Holbrook

HUNDREDS OF years ago, Japanese Zen Buddhist monks in Kyoto were said to tuck small warmed stones in the folds of their kimonos to assuage their hunger after long hours of meditation. The heated rocks pressed against their growling bellies and gave them a sense of fullness. Over time, the hot stones were replaced by small, minimalist dishes such as miso soup, grilled fish and vegetables. By the 16th century, these delicate meals grew into a rarefied culinary tradition called kaiseki.

It's a good story about a fantastic cuisine. There are few kaiseki restaurants in the Bay Area but now there's 3-month-old Kaygetsu in Menlo Park. The food is extraordinary, and unless you've dined around Kyoto it's probably unlike anything you've ever had.

Kaiseki meals are designed to precede a formal tea ceremony and more recently have developed to be served with sake. The food celebrates the seasons, in both the choice of ingredients and presentation. Even the plates and glassware play on seasonality.

At Kaygetsu, there are currently two summer-themed kaiseki dinners: a six-course menu for $55 and nine courses for $75. While that may sound steep, the impeccable ingredients and the chef's deft hand justify the price. While Kaygetsu bills itself as "classic Japanese cuisine," it's like discovering a new galaxy of food.

I opted for the six-course meal. My first course arrived on a long narrow white plate with pointed ends, like an opened pea pod. Inside a hollow section of bamboo sat raw white shrimp crowned with glistening salmon roe. Next to it rested a candy-striped, egg-shaped container filled with tonburi, or "land caviar." Tonburi comes from the seeds of the broom cypress; it's hard to believe the slippery, salty-tangy black seeds aren't some kind of fish egg. The tonburi was topped with curls of enoki mushroom and mountain potato. On either side of these jewel-like bites were two shimmering orbs of translucent gelatin inside of which floated several bright green soy beans. Chicken teriyaki this ain't.

Before digging in, it's important to take a minute to appreciate what's before you. A kaiseki meal is meant to be savored with the eyes as well as the tongue. Look at the green maple leaves placed on the plate, a nod to summer. Note the precision with which the pickled carrots have been cut, the fineness of the minced green onions.

Each course looked like edible jewelry and was as exquisitely prepared as the last. Luscious and juicy slow-cooked eggplant. Rice cracker-encrusted salmon and shiso leaf. Water lily buds floating in an earthy, viscous broth dabbed with plum paste and mountain potato. Seared sirloin of buttery Kobe beef. The last course was a sweet red-bean purée encased in clear, chewy mochi. A pool of strawberry and green tea sauce ringed the dessert.

By the end of this slow-paced, two-hour meal, I felt serenely satisfied but not stuffed. A kaiseki meal is designed to leave you feeing about 75 percent full and 100 percent blissed out.

During the course of two visits, Kaygetsu's servers and busboys were graceful and attentive, pacing the meal just right. When asked about individual ingredients their knowledge of the complex menu showed.

If you're not interested in dropping the cash for a kaiseki dinner, there are a number of excellent a la carte items. They're like Japanese tapas. The kaiso salad ($11) was a beautiful tangle of seaweed, watercress and mizuna served with a barely salty, tangy plum dressing. The hamachi kama ($16), grilled yellowtail cheeks dusted with salt, was some of the best fish I've ever had, succulent, rich and swimmingly fresh. Soft-shell crab is often a drab, desiccated crustacean but here the soft-shell crab salad ($11) sings. It's served cold in a refreshing, electric vinaigrette. And don't miss the homemade sesame ice cream. It's subtly sweet and topped with a brown sugar sauce.

There's no tipping required at tiny, nine-table Kaygetsu. The restaurant tacks on a 16 percent service charge it says is distributed to the front and back of house staff. From busboy to server to chef, the staff at Kaygetsu more than earns it.
---
Kaygetsu
Address: 325 Sharon Park Dr., Menlo Park
Phone: 650.234.1084
Hours: 11:30am-2pm and 5:30pm-closing Tue-Sun (last reservation at 8:30pm)
Cuisine: Kaiseki-style Japanese
Wine and beer
---
Send a letter to the editor about this story to letters@metronews.com.
---
[ Silicon Valley | Metroactive Home | Archives ]