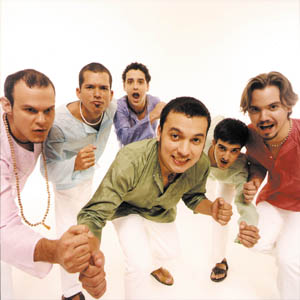 Photograph by Luaka Bop Records

Caracas Rock: For their latest CD, Los Amigos Invisibles recorded with house-music architects Masters at Work.

Frequent Funky Miles

The long, strange trip of Los Amigos Invisibles

By Yoshi Kato

IN THE LATE '80s, Deee-Lite, that delicious club confection, sang about a global village in the age of communication, like jacking an Ethernet cable to George Clinton's prophecy of "one nation under a groove" and DSLing a dance-floor-compatible vibe to all four corners.

Though Deee-Lite is no longer active, the tightly knit universe of international funkiness expands, inhabited by such denizens as Japan's Fantastic Plastic Machine and the Nortec Collective from Mexico. Representing Venezuela are Los Amigos Invisibles.

According to "Guelcome," the mission statement off its 1998 stateside debut, The New Sound of the Venezuelan Gozadera, the group presents a "fusion of different elements of Latin dance and sex culture." Los Amigos Invisibles, which consists of drummer Juan Manuel Rora, bassist José Rafael Torres, keyboardist Armando Figueredo, guitarist/songwriter José Luis Pardo, rapper Mauricio Arcas and vocalist Julio Briceño, has a typical enough backstory, albeit with a decidedly international twist.

The six members were attending two different high schools, performing in separate trios. A mutual friend suggested they meet each other. They jammed together in 1991, "and now, we've been all the same people playing together for all these years, just like a family--like husband, wife, kids, cousins," says Torres by phone from New York.

Like the Simpsons and their different personalities, each Amigo brings a different sensibility to the family's musical dynamic and overall identity. Percussionist Rora loves salsa; guitarist Pardo digs disco; vocalist Briceño praises funk. Torres is into Prince, George Clinton, Me'Shell N'Degeocello and the Cure.

The six friends released their debut album, A Typical and Autoctonal Dance Band, in Venezuela in 1995 and promoted themselves by hosting their own club events, with José Luis and Julio spinning house and funk. The club grew to become one of the hottest spots in Caracas. They tried to duplicate their club success in New York, where they all eventually settled in 2001, but they found that unless one is "a Ricky Martin," it takes at least two years to establish one's reputation in clubland.

The group focused on recording and signed with David Byrne's Luaka Bop label. Los Amigos have released two albums: The New Sound and Arepa 3000: A Venezuelan Journey Into Space. Using the dance music of nightclubs as a template, Torres and his band mates weave funk, electronic, Afro-Cuban, psychedelic and traditional Venezuelan elements into their mystical, musical concept.

"Las Licras Del Avila" from The New Sound combines a breezy bossa nova rhythm with '60s space-age effects and a lyrical electric guitar, while "Ponerte en Cuatro" mixes euphoric Latin percussion with an electronic bass line and a drum machine. Arepa 3000's title track manages to effortlessly play off an up-tempo beat with mellow vocals and keyboard parts. Bursting with confidence and a humid sensuality, "Mami Te Extraño" buffs a modern sheen and a world-weary spin on classic salsa.

Moving to New York strengthened the band's place in the world-music stratosphere. For Wednesday's show at the Edge, Los Amigos are likely to preview songs from The Venezuelan Zingason, which came out overseas on July 14. The band's fourth album was produced by house-music production deities Masters at Work, which according to Torres was a huge step in their development. "I think that's the biggest influence we've had from living in New York. To have a record produced by them is something we haven't got if we were living in Venezuela," Torries says.

Recording with Masters at Work tapped into an essential element of Los Amigos: harnessing and riding the elusive thing called vibe. "We really like the way they work; it's very free. It's just about the vibe," he explains. "They believe that the vibe that you have recording, you actually put in on the tape. So when you listen to the music, you're not just listening to the music but the vibe."
---
Los Amigos Invisibles perform at 7pm on Wednesday (Aug. 13) at the Edge, 260 S. California Ave., Palo Alto (650.289.0222). Tickets are $16.
---
---
Send a letter to the editor about this story to letters@metronews.com.
---
[ Silicon Valley | Metroactive Home | Archives ]