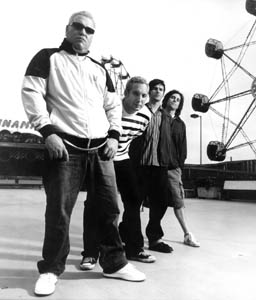 Photograph by Jay Blakesberg

The boys of summer hit the beach again.

Summer Rush

Did Smash Mouth's 'Get the Picture?' miss its prime time?

By Sarah Quelland

WITH VERY LITTLE FANFARE it seems, Smash Mouth's fourth studio album, Get the Picture? (Interscope Records), arrived in stores last Tuesday (Aug. 5). Much as it did with the November release of its 2001 self-titled Smash Mouth record (which included the sunny retro TV-show-theme-styled "Pacific Coast Party" and "Holiday in My Head"), the San Jose band may have missed the boat yet again by waiting for summer to set before releasing its latest burst of sunshine.

At least last time around, Smash Mouth was extremely visible thanks to prominent song contributions to Shrek ("All Star" and its cover of the Neil Diamond-penned Monkees hit "I'm a Believer"), its appearance in the comedy Rat Race and its conspicuous song placement in TV commercials for companies from Buick to Gatorade. This time, the release seems at once hasty and delayed.

Produced by Smash Mouth and Karl Derfler (No Doubt, Dave Matthews Band), Get the Picture? comes across as a snapshot of summer in the suburbs complete with bumper-to-bumper grumps, shopping mall fashions, late-night downtown crawls and The Sopranos on Sunday night. Neil Diamond wrote the first single, "You Are My Number One," and the album includes two sparkling pop-reggae versions featuring the froggy voiced Ranking Roger of the English Beat.

Typically upbeat with its eclectic fusion of surf, ska and space pop, the album has that Smash Mouth sound fueled by vocalist Steve Harwell, guitarist Greg Camp, bassist Paul De Lisle and drummer Michael Urbano. "Hang On" and "Fun" urge folks to stay positive in spite of the emotional and economic recession. There's a nice, easy honesty to "Looking for a Wall," where Harwell sings about nights on the town and says, "Me, I'd be happy just bumping into you." Songwriter Camp's sense of humor comes through on "Always Gets Her Way" ("She could never let her friends know she's pure punk rock at a ripe 27 / I know these things / I've seen the presets on her car stereo"), and "New Planet" showcases bassist De Lisle's goofy humor ("You were a rock, but I took you for granite," and "You were a peach, but I told you to can it").

Thanks to Shrek, Smash Mouth gained a new audience of young children. The band even celebrated its CD-release last Tuesday at the Toys "R" Us in Times Square, and Harwell appears in a back-to-school commercial for Mervyn's. The band seems to be embracing its new fan base. The new "Whole Lotta Love" sounds like it was strategically written for cartoon characters to pop up and sing the chorus ("Baby / Love / Baby / Love"). Similarly, "Seventh Grade Dance" seems written with the band's adolescent fans in mind--though ultimately Camp's lyrics simply explain that he feels the same way at Hollywood parties as he did back at his school dances.

The timing of its release could be better, but Get the Picture? is trademark Smash Mouth and serves as an appropriate follow-up to Smash Mouth. To help promote it, the band is throwing 20 backyard bashes sponsored by radio stations across the country. Contest winners get a beer and barbecue party in their backyard complete with a performance by Smash Mouth itself. Visit www.smashmouth.com for more information.

HOT TOPIC: Powerslave.com celebrates four years of covering NorCal metal with a party at the Pound in San Francisco with tribute outfits Teeze and Knights in Satan's Service, plus Iron Maiden covers by local band members at the end of the night. Tickets are $10, and the all-ages show starts at 8pm. ... Papa Roach plays a hometown benefit concert for Opportunity House and the Vacaville High School music program on Sept. 6. The show will be held at the Travis Credit Union Park in Vacaville, and tickets are $20. Visit www.paparoach.com for updates.

PLAN AHEAD: Friction, Alien Love Syndrome, Utopian Pipedream and Velvet Fury, Aug. 8 at the Quarter Note in Sunnyvale; Fu Manchu, El Buzzard and the Golden Gods, Aug. 8 at spy; Kung Fu Vampire, Aug. 8 at Waves Smokehouse; the Muckruckers, Cobra High, A Burning Water, the Librarians and Triple Nipple, Aug. 9 at the Mitchell Park Center in Palo Alto.
---
Send a letter to the editor about this story to letters@metronews.com.
---
[ Silicon Valley | Metroactive Home | Archives ]