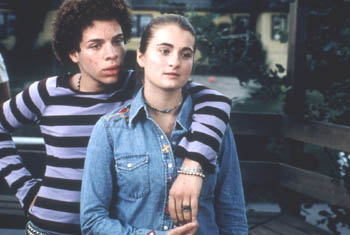 Photograph by Dennis Yeandle

Fame Game: Robin De Jesus and Joanna Chilcoat hope to hoof it to Broadway in Todd Graff's new film, 'Camp.'

Ovation Building

'Camp' zeroes in on people who think 'Fame' was the best movie ever made

By Richard von Busack

NOT A GREAT fan of Sondheim. If his best-loved song is "Send in the Clowns," that says it all, doesn't it? Krusty the Klown's version is the mightiest: "Send in the clowns, the laffy, daffy, clowns ... the soulful and doleful, schmaltz by the bowlful clowns!" The film Camp turns up for unadorned Stephen Sondheim genuflection, honoring those bitter-old-broad anthems in which some diva refills her cup of sorrow and gulps down one more round: laugh, you over-made-up clown, laugh. Still, the modern-day musical refuses to die, and Camp's appeal to rabid Broadway followers is undeniable. Within this cultural Venn diagram of musical lovers, Camp zeroes in on a tinier sliver: fans of the adult musical, as opposed to the tourist musical (Les Miz, The Lion King, etc.).

The action unfolds at Camp Ovation, a theatrical summer camp, where the chorus boys and toast-of-Broadway divas of 2020 are learning how to bounce their voices off the proscenium arch. The arrival of good-looking Vlad (Daniel Letterle) causes consternation. Shockingly, he's a seemingly serene heterosexual amid kids who knew they were gay when they were 5 years old. Vlad attracts his roommate, Mike (Robin De Jesus), a Puerto Rican who had been thwarted in his attempt to wear a gown to his senior prom. His singing also attracts the attentions of a budding fag-hag, Ellen (Joanna Chilcoat), but he drifts into the clutches of an evil blonde, Jill (Alana Allen), who is already a celebrity in her own mind. Jill is unwittingly setting herself up for a junior version of All About Eve. The stagey girl has a personal assistant, Fritzi (Anna Kendrick), who naturally is waiting for her moment to shiv her mistress right between the shoulder blades.

Watching Camp is like watching an unusually witty high school play, as directed by someone who thought Fame was the greatest movie ever made. When it comes to the dramatic underpinnings--well, the script is never the high point of a musical. Bert Hanley (Don Dixon) is a new teacher at Camp Ovation, an old crank of a legendary composer who concocted one undeserved flop. He has retreated into booze and bitterness. At first, he harangues this camp full of larval Patti LuPones and Mandy Patinkins ("What planet are you all from!?"). Then he is inspired by the children's example. As drama--well, in the words of the vampire fighter Xander Harris, "On a scale of one to 10, it sucked."

Moreover, some numbers are so cute they induce vertigo, such as the camp's staging of "Turkey Time," a holiday showstopper from the Bacharach/David musical Promises, Promises--a number tragically not performed in turkey costumes as I'd hoped. But there is one real highlight: Anna Kendrick sending over "The Ladies Who Lunch" so insanely big that she seems to draw Sondheim out of the ether. (They have to explain the man's cameo somehow.) Kendrick could be what Broadway hopes for (and some might dread): the next Liza Minnelli.
---
Camp (PG-13; 114 min.), directed and written by Todd Graff, photographed by Kip Bogdahn and starring Daniel Letterle, Robin De Jesus and Joanna Chilcoat, opens Fri at Camera 7 in Campbell and the Aquarius in Palo Alto.
---
---
Send a letter to the editor about this story to letters@metronews.com.
---
[ Silicon Valley | Metroactive Home | Archives ]