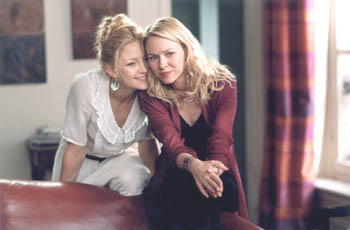 Photograph by Arnaud Borrel

Sister Act: Kate Hudson (left) and Naomi Watts wade through the marital morass that is Paris in 'Le Divorce.'

Slaves of Paris

Merchant and Ivory misfire on 'Le Divorce'

By Richard von Busack

A MOVIE SHOT on location in Paris can't be all bad, no matter how much the cast members persist in obscuring the scenery with their bodies. Or so you'd think until Le Divorce, one of Merchant-Ivory's most misfired pieces yet. Producer Ismail Merchant and director/co-writer James Ivory's sanitizing deliberation--that Classics Illustrated quality--seems most inappropriate when adapting a contemporary work. These filmmakers are among the last in the movie business who actually know how to read. Yet there's something distressing about filmmakers who treat material as disparate as Henry James and Tama Janowitz in almost exactly the same style. Whether the scenery is Victorian England or contemporary Paris, when watching Ivory's direction, there's the feeling that there ought to be intertitle cards: "Act 2, Scene 3: Dinner in the Country."

San Francisco writer Diane Johnson's novel Le Divorce is a satire of the cultural gap between California and Paris, with deep ingrained snobbery perplexing a couple of expatriate sisters from Santa Barbara. Isabel (Kate Hudson) comes to Paris to stay with her pregnant sister, the published poet Roxeanne (Naomi Watts). The younger sister arrives just as Roxeanne's French husband, Charles-Henri (Melvil Poupaud), runs off, to stay with a slutty Russian mistress. Charles-Henri, who is from a rich family (he has a "de" in his name), offers to give his wife a divorce. Roxeanne refuses on principle.

In the meantime, Isabel gets attracted to her sister's husband's uncle, the noted conservative politician Edgar Cosset (the Terence Stampish Thierry Lhermitte). Cosset, all business, proposes to make young Isabel his mistress at once, introducing her to haue cuisine and the intricacies of Parisian lingerie (don't get your hopes up, lechers--Hudson doesn't model any). Also, in the meantime, a painting of St. Ursula hanging in Roxeanne's flat--a present from her family--is recognized not as an ordinary keepsake but as a lost masterpiece by Georges de la Tour. (Odd that the thought hadn't crossed anyone's mind before.) The political situation of this painting, owned by a Yank but painted by a Frenchman, complicates the property settlement of Roxeanne's divorce.

Ivory's problem with this social satire is wishy-washiness unmitigated by any number of accouterments, costumes and locations, including the first scenes shot on the Eiffel Tower since the worst Bond movie ever, A View to a Kill. If we could feel either a sneaking sympathy or robust contempt for Leslie Caron (as the formidable matriarch, Charles-Henri's mother), if we could understand the reason for Roxeanne's refusal to divorce or have it made clearer that she was in the wrong situation to draw the line, then we'd have a point of view. Le Divorce would escape soap opera and sprout the wings of a novel or the teeth of a satire. As it stands, the sense is that everyone in the film is overbred. Stockard Channing, Bebe Neuwirth and Stephen Fry can't salvage matters. Le Divorce is awash with so much fake sophistication that one detail says it all: someone here has a pet dog named "Flaubert."
---
Le Divorce (PG-13; 115 min.), directed by James Ivory, written by Ruth Prawer Jhabvala and James Ivory, based on the novel by Diane Johnson, photographed by Pierre Lhomme and starring Kate Hudson and Naomi Watts, opens Friday at Camera 7 in San Jose and the Century Cinema 16 in Mountain View.
---
---
Send a letter to the editor about this story to letters@metronews.com.
---
[ Silicon Valley | Metroactive Home | Archives ]